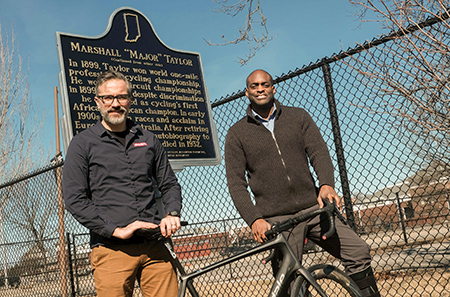 Major Taylor is having a moment.
The African-American cyclist—who took the world by storm at the turn of the 20th century by smashing world records under the pressure of intense racial discrimination—is finally receiving the national admiration he never garnered while alive.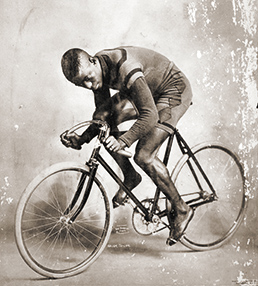 Marshall "Major" Taylor endured intense racial prejudice throughout his record-breaking racing career. (Photo courtesy of the Indiana State Museum)
The Indianapolis native was featured in the Hennessy cognac brand's first-ever Super Bowl commercial last month. The New York Times in January finally published an obituary for the so-called Black Cyclone nearly 90 years after his death, calling him "at once the LeBron James and Jackie Robinson of his time."
And Taylor fans here in Indianapolis are pushing to give him more visibility in the city—possibly through public art. Think on the scale of author and Indianapolis native Kurt Vonnegut.
Dan Lee, a cyclist and employee of Indianapolis-based bicycle-component manufacturer SRAM, said a growing group of people is trying to find new ways to honor Taylor locally. And they're not limiting their options.
"He did things that were transcendent," Lee said. "I would like something major, something significant. There needs to be something that people really know."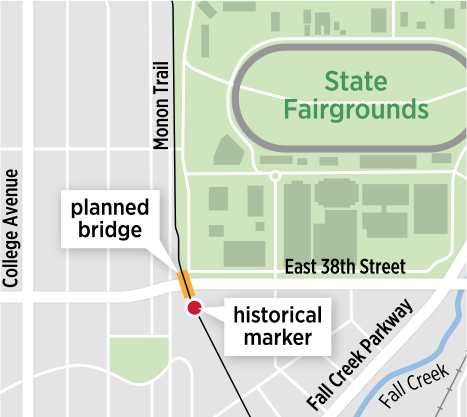 The group—which includes Indianapolis residents from biking, art, history, banking and community development groups—has a lot of ideas, including a larger-than-life mural similar to the ones of Vonnegut, poet Mari Evans, or former Indianapolis Colt Reggie Wayne downtown.
Members are also hopeful that a soon-to-be-constructed, $3.5 million Monon Trail pedestrian and bike bridge over East 38th Street will be named after Taylor, or at least that artwork near the bridge will feature the cyclist.
The bridge site is near a historical marker honoring Taylor, who raced at the old Capital City Track just south of the Indiana State Fairgrounds and the short-lived Newby Oval at East 30th Street and Central Avenue.
It's all part of a larger hope for the city to "lean into recognition of Major Taylor as an icon," said Anthony Bridgeman, a cyclist and vice president of community-development banking for PNC Bank.

"We know about Jackie Robinson, we know about Jesse Owens and other great African-American sports figures that broke incredible barriers, but the story of Major Taylor is one that's not told very often," Bridgeman said.
"To have this legendary figure as someone that lived and worked in midtown and came from Indianapolis—it's a huge thing that should be highlighted."
'He still won'
Taylor's story is remarkable: Born to a poor family in Indianapolis, Marshall "Major" Taylor got his start bicycling after his father's white employer, the wealthy Southard family, bought him his first bike.
During adolescence, Taylor lived with the Southards near downtown, and he earned money performing cycling tricks outside bike shops, including Hay & Willits at 77 N. Pennsylvania St., an area known at the time as Bicycle Row.
He performed in a soldier's uniform, earning him the nickname "Major."
The owner of Hay & Willits entered Taylor in his first race at age 13. He won, and his career took off—with Taylor setting records and thrilling crowds with his style and skill.
But race organizers frequently kept Taylor from competing because of his race, and he often was the victim of bigotry and physical assault.
Once, in fact, he was strangled by an opponent.
"Ice water was thrown at him and nails laid in the path of his bicycle by members of rival racing teams," according to The New York Times. "Riders routinely jostled and elbowed him—and he still won."
Through it all, he remained optimistic and open-hearted, stating in his 1928 autobiography that "Life is too short for a man to hold bitterness in his heart."
Taylor was the first African-American cycling world champion and the second black athlete to win a world championship in any sport, according to The New York Times.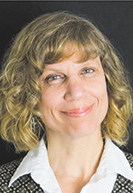 Moore
And yet he died a poor man after losing his fortune on unsuccessful business ventures and in the Great Depression. He was 53 when he passed away in 1932 in the charity ward of Cook County Hospital in Chicago.
He'd lived there his final two years, penniless and estranged from his wife and daughter.
"Because he was black, he was a curiosity when he was racing," said Julia Muney Moore, director of public art at the Arts Council of Indianapolis. "Afterward, he just became a casualty of the day."
Beyond cycling
Taylor's story of determination is starting to resonate nationally.
"When people first hear about Major Taylor, their first reaction is often, 'How come I didn't know about that guy?'" said Lynne Tolman, president of the Major Taylor Association in Worcester, Massachusetts, where Taylor spent most of his adulthood.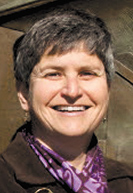 Tolman
"For a while, it was only people in the cycling world who knew who he was. But gradually, the circles are expanding."
Kisha Tandy, a curator at the Indiana State Museum, has spent years managing a Major Taylor collection, including scrapbooks, letters, postcards and trophies from his racing career.
Tandy said she has had "continuous inquiries" about Taylor over the years but has noticed a recent uptick.
"It has been rewarding to actually see his life and him getting recognition," she said. "His story is definitely one of overcoming obstacles, not giving up, perseverance and being a champion. That's a tremendous legacy. What a great example for young people."
Indianapolis already features a few tributes to Taylor: The velodrome at the Indy Cycloplex is named after the cyclist, for instance, and artwork at Indianapolis International Airport features him.
But beyond that, few symbols of his influence are visible around town, Moore said.
"If you're not interested in bicycle racing, you're not necessarily going to go to the velodrome," Moore said. "There aren't a lot of visual signifiers to really elevate Major Taylor. Art can do so much to cement your idea of a person in your head."
And Taylor's Indianapolis fans say public art could be the best way to tell his story to a wider audience.
Tolman, who visited Indianapolis last year for the rededication of Taylor's Monon Trail historical marker, said she's encouraged to see Indianapolis residents champion Taylor.
"Indianapolis is obviously where Major Taylor was born and raised, so that's got to be one of the places where it starts to raise his profile," she said. "That location near 38th Street is key. When they realize this happened in their back yard, it really helps resonate."
Seizing opportunity
Taylor's fans see a golden opportunity to honor the cyclist through the 38th Street bridge; construction is scheduled to begin late this year.
But Moore said the decision is in the hands of the city's Department of Public Works.
Asked if the city plans to incorporate Taylor artwork into the bridge, department spokeswoman Betsy Whitmore said the city currently is "focusing on meeting the federal deadlines and criteria necessary for bridge construction." But she said the department would schedule a public meeting in the coming months regarding the bridge's design.
The idea of commissioning a Taylor mural came to Lee in 2014, when he retraced a bicycle race Taylor completed that ran from Massachusetts Avenue downtown to the town of Matthews, near Marion.
"I started my ride right underneath the Kurt Vonnegut mural," Lee said. He learned later that Richmond, Virginia, already has a mural of Taylor. "If Richmond, Virginia, can have one, why can't Indianapolis, where he grew up? I just think those big murals are so inspirational."
That ride to Matthews was how Bridgeman and Lee connected and became friends. They got the ball rolling on how to pursue wider visibility for Taylor, Lee said.
Bridgeman said it's important to honor Taylor amid "all of the challenges we face in America in terms of division and diversity and a lack of inclusion"—and to inspire new generations.
When he was growing up and becoming interested in cycling, Bridgeman said, he knew about Greg LeMond and Lance Armstrong. When he learned as a college student about Taylor, it "totally blew my mind."
"To know we had another American cyclist that preceded all of them, who was a world champion, who was someone of color in a sport where there's a void of people of color today, was something that was phenomenal," he said.
"It's definitely a story that should be told and should be more widely known among Hoosiers and Indianapolis residents and folks that come to our city."
Lee said the group is open-minded about how to honor Taylor but is determined to find a way to do so.
"I realize it could take years," he said. "Things really can happen if people don't worry about who gets credit. I think everyone has a larger vision in mind. I'm confident something will happen—I just don't know exactly what."•
Please enable JavaScript to view this content.