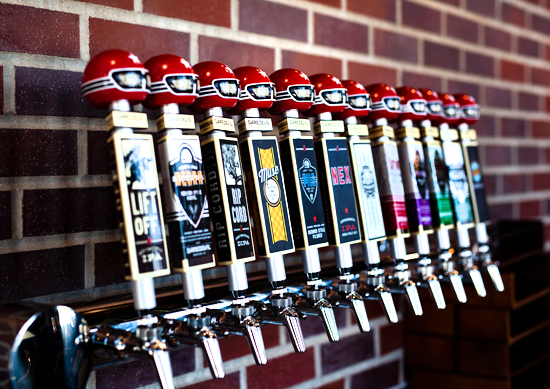 Speedway-based Daredevil Brewing Co. will open a taproom in the Garage Food Hall at the Bottleworks District on Mass Ave, developer Hendricks Commercial Properties announced Tuesday.
The taproom will open in 2020 as the north-end anchor to the food hall near 10th Street and the intersection of the Indianapolis Cultural and Monon trails. The Bottleworks location is expected to seat about 70 people and offer carry-out beer. It will be the second satellite taproom for the growing brewery.
Daredevil began production in Speedway in 2012, opening a brewery and taproom on two acres of a 14-acre redevelopment project along Main Street. The company recently opened another taproom at the Ironworks Hotel Indy—another Hendricks project—in the Keystone Crossing area. That location, called Daredevil Hall, takes up 4,200 square feet and includes a restaurant.
The Art-Deco food hall will be among the first components of the 12-acre Bottleworks campus to open, with a projected premiere date of spring 2020. Housed in former Coca-Cola bottling plant garages, the food hall will total about 30,000 square feet and could feature up to 20 local vendors.
Daredevil Brewing co-owner Shane Pearson said in a written statement that he likes "the history, location and tradition of Bottleworks."
He owns the company his brother Michael Pearson, and both are engineers by trade.
The brewery's Lift-Off IPA is among the state's best-selling craft beers, though Daredevil offers a full line of brews including the J.W.P. American Stout, Rip Cord Double IPA and Muse Belgian Golden. Daredevil was named the state's Brewery of the Year in 2017 and 2018.
Bottleworks has lined up several tenants over the past several months. In February, it announced local record store Square Cat Vinyl would open a space in the food hall. The Living Room Theater, Pins Mechanical and High Alpha, an Indianapolis-based "venture studio," also are slated for the larger development, which was first announced in 2015.
Bottleworks will include multifamily housing, condos, more than 100,000 square feet of retail space, 170,000 square feet of office space, a hotel and other components, totaling upwards of 1.5 million square feet of development. The project will be split into at least four phases.
Please enable JavaScript to view this content.