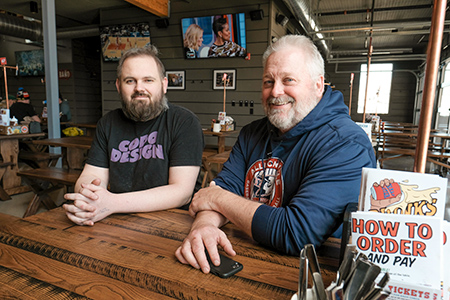 You won't find exotic offerings on the menu at a Sahm's Restaurant Group eatery—nor will you find the restaurants themselves in foodie hot spots like Mass Ave or Fountain Square.
"That's just not who we are," said Ed Sahm, 58, who opened his first place, Sahm's Restaurant, in Fishers in 1986.
Instead, the company focuses on filling underserved niches, making its customers happy with unpretentious food, and building deep connections with the neighborhoods in which it operates.
"I think what makes us successful is, most of our conversations do not center on, 'What is another city doing? What is another restaurant doing?'" said Ed's son Eddie Sahm, 32, a co-owner in the business.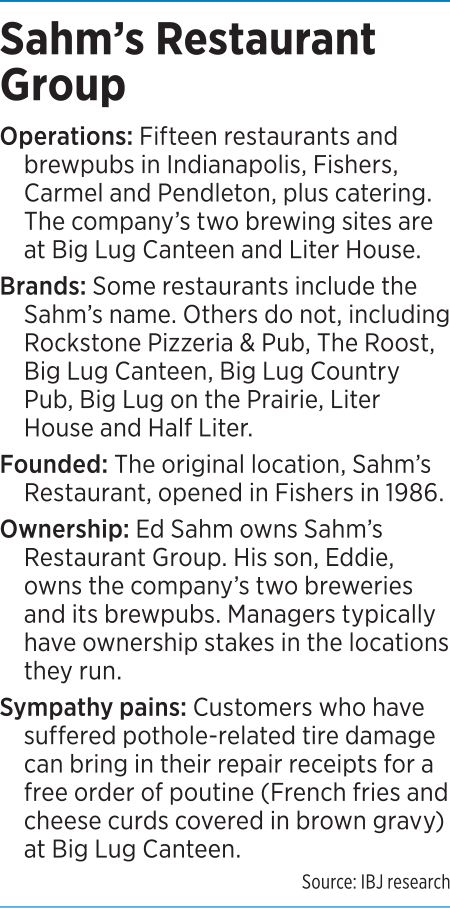 It's an approach that seems to be working.
The family-owned company doesn't disclose overall revenue, but it now has 15 restaurants in Indianapolis, Hamilton County and Pendleton, along with a growing catering business, two breweries and more than 400 employees.
Sahm's currently does about $3 million annually in catering, which Ed Sahm said he expects to grow to $6 million over the next two years with the addition of three catering hubs and several new venues.
The Big Lug brand is another growth avenue for the company, he said. Sahm's recently signed on with local beer distributor Zink Distributing. And with its second brewery (which opened last year), the company hopes to increase production from its current 3,500 barrels a year to 5,000 or more a year by 2020.
The Sahm's approach to business is evident in its newest addition—Half Liter, a Texas-style barbecue-and-beer joint that opened March 4 at the corner of East 53rd Street and Winthrop Avenue. Burnt Ends, Frito Pie, Cornbread & Jam and a Smoking Goose Hot Link are among menu choices.
Half Liter shares a building with Liter House, a German-themed brewpub the Sahms opened last summer, though the two are separate establishments.
Sahm's got into brewpubs several years ago because the younger Sahm believed Indianapolis needed places that put equal emphasis on beer and food. "We could have something that was missing in the scene here."
None of the brewpubs includes the Sahm name, and that's by design.
When Eddie Sahm graduated from Purdue University in 2009 with a degree in hospitality and tourism management, he decided to join his family's business because it would offer him a path to management and the creative freedom to try new things.
He started out as owner and manager of Sahm's Place, at 2411 E. 65th St., taking out a loan from his family to do so and paying it back over the next seven years.
After about five years, the son was eager for a new challenge.
"I became very good at running a Sahm's restaurant," Eddie Sahm said. "I understood where I needed a different form of expression."
In opening a place of his own, the son didn't want to feel he was trading on his family's name—and he wanted the freedom to depart from the Sahm's brand of family restaurants.
"Sahm's limits you to a degree," he said. "Everyone knows what it is, and they love it, but you can't change it."
Brewpubs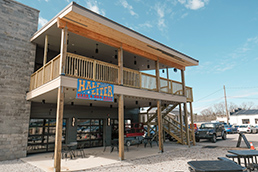 Half Liter, a Texas-style barbecue-and-beer restaurant, opened March 4 at the corner of East 53rd Street and Winthrop Avenue. (IBJ photo/Eric Learned)
Thus was born the company's first brewpub, Big Lug Canteen, which opened at 1435 E. 86th St. in Nora in 2015. The menu includes house-brewed beers like an English brown ale called Kings Jive and an IPA named Wooden Tooth. The food includes Flaming Dragon Scallops, Gumbo Speedman and Cauliflower Wings.
Sahm's has opened six restaurants since then, all with a pub/ale house concept.
With Liter House and Half Liter, the Sahms also saw a chance to connect with SoBro and nearby neighborhoods through the Monon Trail, which runs directly behind the property.
When Sahm's took over the 13,000-square-foot building from its previous occupant, the short-lived Bent Rail Brewery and Restaurant, it added the 5,000-square-foot section that now houses Half Liter. The addition includes a second-floor deck and a big fireplace inside, meant to welcome Monon Trail users in both warm and cold weather.
An outdoor patio packed with picnic tables, to be enhanced this year with shade-providing plantings, sits between Half Liter and the Monon.
"I think this is going to be the first place in this area that takes the Monon very seriously," Eddie Sahm said.
He hopes Liter House and Half Liter are as big a hit with trail users as is Big Lug Canteen, which is also Monon-adjacent. In nice weather, he said, Big Lug's 75 or so bicycle parking spots often fill up, and about 75 percent of patrons arrive at the restaurant via bicycle or on foot.
At some point, the Sahms would like to open a third restaurant along the Monon, likely south of Half Liter/Liter House.
Community focused
Sahm's has a long history of opening restaurants in places previously occupied by other operators, in neighborhoods that don't always have many other eateries.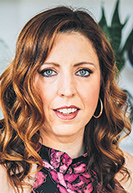 DiLiberto
"I like to go where others were—or won't go—because it links you up with your community," Ed Sahm said. "They embrace you. They're glad you're here."
The restaurants also reach out by hosting community fundraisers and special events. Several Sahm's locations offer trivia nights, movie nights and live music.
Liter House recently began offering periodic "Schnitz and Giggles" comedy/dinner events. It also hosts Broad Ripple's winter market, which runs December through April.
"I do think [Eddie is] interested in building community, and that's not something that every restaurant sets out to do," said local food blogger Audrea DiLiberto.
Sahm's has used a community-focused approach from the beginning.
When Ed Sahm opened his first restaurant in Fishers, at the corner of East 116th Street and Allisonville Road, the town had about 4,000 residents and few sit-down restaurants. A truck-stop-style restaurant called Butler's previously occupied the spot, recalled former Fishers Town Council member Walter Kelly.
"Sahm's helped give us a nicer place," said Kelly, who has lived in Fishers since 1976.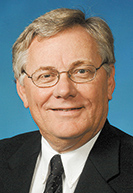 Kelly
Since then, the restaurant has built a loyal base of customers who have followed it through multiple moves. Sahm's Restaurant—with items like Chicken Cranberry Salad, Meatloaf Melt and Top Sirloin on the menu—is now operating at its third Fishers location, at 11505 Allisonville Road.
"Sometimes when businesses move, even over a short distance, it can affect their clientele—but that did not seem to happen," Kelly said of Sahm's. "I go there probably two times a week."
Sahm's now has four Fishers restaurants.
Ed Sahm, who lives in Fishers, is known for supporting the community through his restaurants, Kelly said. Whether it be youth teams or local fundraisers, Kelly said, Ed has always been willing to help by providing food or in other ways.
That support, he said, earned Ed Sahm a key to the city of Fishers—an honor the city bestows at most once per year. "He's just a favored son," Kelly said.
Close to home
This community-focused approach means Sahm's keeps its operating footprint small by design.
Father and son are both intimately involved in day-to-day operations, and visit their restaurants as often as possible. During a recent interview with IBJ at Half Liter, father and son paused to taste-test a barbecue sauce an employee brought seeking their opinions.
The restaurants also draw their staff from the areas in which they operate.
"We engrain ourselves in these neighborhoods," Ed said.
So Sahm's is not interested in opening restaurants in pricey neighborhoods, where their workers couldn't afford to live, and the family doesn't want to operate in places too far from its core territory.
Ed Sahm grew up not far from where Liter House now stands. He now lives near Fishers' Sahm's Restaurant Group headquarters and its Hamilton County restaurants. The younger Sahm's Broad Ripple home is near several other Sahm's eateries.
"We're not going to be as good as we could be if Ed and I are not directly involved," the son said.
Part of being involved, he said, is responding to customer feedback.
One example: When Big Lug opened, Eddie Sahm put poutine on the menu—a Canadian dish that features French fries covered with cheese curds and gravy.
After a short time, he noticed the poutine was not selling well and customers were giving it bad reviews online.
The problem: Poutine calls for a soft style of fry, which Big Lug customers found too soggy for their taste. So Big Lug switched to a crispier fry that is not traditional but which customers liked better.
'It kind of rubs off'
A former employee, Chris Eley, said a willingness to change is one of Sahm's strengths. "They don't try to pretend that they're something that they're not," Eley said. "At the same time, they're not afraid to experiment and try new things."
Eley now owns Smoking Goose Meatery, Goose the Market and Oca, and he supplies meat to many of the Sahms' restaurants.
That hands-on approach and intense neighborhood focus have led the Sahms to conclude that places as close as the south side of Indianapolis and Greenwood are outside their comfort zone.
The only way they'd reconsider, Ed Sahm said, is if they had the right employees who wanted to live and work in those communities.
Sahm's typically has operating partners at each of its establishments—management staff who own a stake in the restaurant.
Those partners come from within the company's ranks, which dictates how quickly and where Sahm's will open restaurants. "That's the number-one trigger," Ed Sahm said. "We won't say yes to anything unless there's someone ready for their shot."
The Sahms' deep involvement in their restaurants sets a strong tone, said Big Lug Brewing Head Brewer Scott Ellis, who oversees the breweries at both Big Lug Canteen and Liter House.
"They still are very hands-on and just very hard-working and passionate about the hospitality industry as a whole," Ellis said. "The culture that they bring, it kind of rubs off on the people that are working there."
At the same time, he said, the Sahms also have faith in their employees and don't micromanage.
Ellis started working with Eddie Sahm in 2014 to help develop the Big Lug concept.
"I kind of had full rein on designing the brewery the way I wanted it," Ellis said. "They trust me to make the right decisions and to make a good product to sell."•
Please enable JavaScript to view this content.