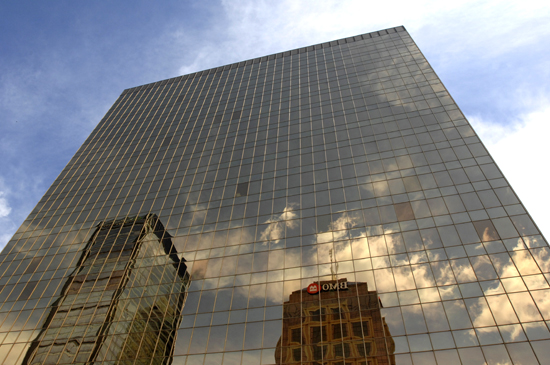 Indianapolis developers Gershman Partners and Citimark this week bought the iconic downtown office tower known as the Gold Building and two adjacent properties—the office building at 251 E. Ohio St.. and the parking garage between the two buildings—for an undisclosed price.
The buyers, which wrapped up the purchase from Kansas City, Missouri-based Mission Peak Capital on Tuesday, have their sights on improving the office buildings to boost occupancy, which is between 50 and 60 percent.
Gershman Partners principal Eric Gershman said the new owners are "exploring everything," including revamping the Gold Building's emblematic gold facade. He said Gershman and Citimark are assessing what that would cost.
.The Gold Building—officially named Market Square Center, 151 N. Delaware St.—was built in 1975 and has 20 floors and 420,500 square feet of space. The 251 E. Ohio St. office building, officially known as Two Market Square Center, was built in 1985 and has 11 floors and 215,000 square feet.
The buildings have long struggled. Mission Peak bought them out of foreclosure for $20.2 million in 2016 after the former owner, Hertz Investment Group of Santa Monica, California, defaulted on a $28.5 million loan.
In May 2017, Mission Peak said it planned to spend $8 million on improvements and was contemplating enclosing the walkway between the two office buildings. Those plans never came to fruition.
Gershman said the new owners haven't ruled out doing something similar.
"[It's] definitely being evaluated," he said. "We are seriously looking at activating the street levels to make it more connected to the neighborhood."
For now, he said, the primary focus is addressing the buildings' deferred maintenance issues.
Gershman said the buildings would remain primarily for office use, but the owners are contemplating additional uses.
The properties will be managed by Gershman and Citimark, which also own and manage the nearby Lockerbie Marketplace, which has office and retail tenants, including a Needler's Fresh Market grocery.
The area around the Gold Building and the 251 E. Ohio St. building has seen a burst of activity in recent years, including development of town homes, construction of a Cummins Inc. divisional headquarters and construction of the 360 Market Square apartment tower.
"We like the amenities in the area and want to continue to develop along the east corridor of the [Central Business District]," Gershman said.
Please enable JavaScript to view this content.