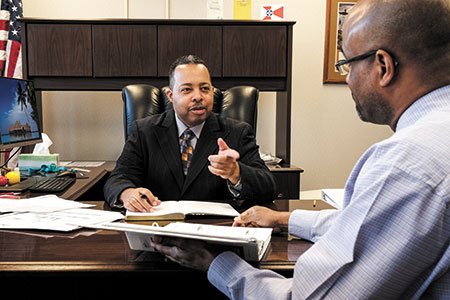 John Hall knows he's in for a challenge reforming the Indianapolis Housing Agency. In fact, that's what drew him to the city.
When Mayor Joe Hogsett's search for a new leader of the agency—which manages and provides affordable housing for low-income residents—prompted a recruiter last fall to contact Hall, he wasn't looking for a new job.
He was content as director of the public housing authority in Wichita, Kansas.
But after a Google search revealed problems at Indianapolis' agency, Hall said he became intrigued about the opportunity to correct them.
For one, the U.S. Department of Housing and Urban Development had released an audit in August showing the agency was not administering its housing-choice voucher program in accordance with federal regulations. The agency's longtime director, Rufus "Bud" Meyers, had stepped down after 18 years. And there were reports that crime was up at several of the agency's properties.
"I went through a range of emotions," Hall, 48, told IBJ. "I generally get really upset when I read articles that show people in my industry not doing the best job that could be done and residents are not receiving the benefits of the services designed to help them improve their quality of life."
He decided to apply. And Hogsett chose him in February from more than a dozen applicants.
Now, Hall is charged with sorting out the agency's finances and improving the city's federally funded voucher program, which serves about 8,000 people, and 16 public housing properties, encompassing 2,300 units.
A former field office director for HUD, Hall has been described as a change agent—one who Hogsett hopes will forge a new path for Indianapolis' troubled agency.
Hall told IBJ that learning about Indianapolis' troubles prompted him to think, "There's a better way to do this."
"Maybe that's my niche in my career," Hall said, "to come in and clean up and reform and show the tenants, the city and the industry how it can be and should be done."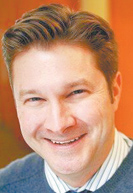 Bennett
Deputy Mayor Jeff Bennett said Hogsett believes Hall is "the right person at the right time"—with the experience to make internal changes to satisfy HUD's concerns, while at the same time rebuilding relationships with the community and housing clients.
"He has an internal job to do and an external job to do," Bennett said.
Already, Bennett said, Hall's expertise is leading to encouraging results managing the voucher program, which helps cover a portion of rent for people who qualify based on income and other factors.
"He's been on the job 21 days [as of March 25], and he's identified already [that] there are 1,000 housing vouchers that need to be deployed," Bennett said. "That's 1,000 families that could be housed. We're going to get the 1,000 vouchers out the door as quickly and efficiently as we can."
Serious concerns
But Hall also needs to tackle long-term structural challenges, including an overall shortage of affordable housing. The Indianapolis Housing Agency's waitlist to receive housing vouchers, also known as Section 8 vouchers, is typically flooded with tens of thousands of excess applications when it sporadically opens every few years.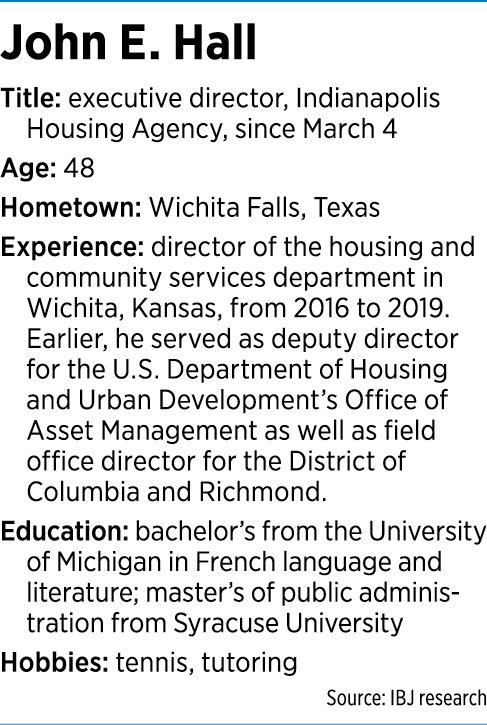 Bennett said the mayor would eventually like to see an expansion of the agency's services, including the number of vouchers offered, an increase in the number of affordable units, and new development opportunities for low-income housing.
Hall said his immediate goals are to respond to federal officials' concerns—and to improve agency processes to ensure they don't come up again.
HUD has said the agency's occupancy rate at its properties is too low. And in an August audit, HUD said the agency could not provide appropriate financial documentation for some of its transactions. It also found the agency failed to pay housing assistance to a program landlord.
"As a result, the agency and HUD lacked assurance that the agency's accounting entries were accurate and that the agency appropriately wrote off nearly $200,000 in accounts receivable," according to the report.
Hall said HUD's concerns "are serious."
"We have to move posthaste and be strategic in what we're doing to resolve the issues but also to strengthen the agency and increase our level of productivity," he said.
HUD, among other suggestions, recommended the agency "implement adequate procedures and controls to address the weaknesses."
Gina Rodriguez, a HUD spokeswoman, said the federal agency is "working collaboratively with [Hall] to work through some of these complicated issues and expectations for significant improvement."
On Hall's end, that will include retraining the agency's approximately 150 staff members on correct processes, while holding people accountable. Hall said he has started meeting one-on-one with staff to assess where people "fit in the organization" and how they carry out the mission.
"We've been faltering, it appears," he said. "I've got to reset the level of expectations."
The red flags raised by HUD should be correctable, said Michael Allen, president of IHA's board. "This is not uncommon to happen to a housing agency," said Allen, an attorney at Ice Miller. "I'm looking forward to working with John in putting together new best practices, procedures and processes and to get better as an agency."
Short- and long-term
Improving the experience for residents is also an immediate priority for Hall.
Several of IHA's properties are aging and not well-maintained, and crime reports have increased. Hall has already reached out to Police Chief Bryan Roach about analyzing the agency's crime data to get a better sense of the problem.
Hall said he is planning to visit each property every six weeks, to give residents opportunities to meet and talk with him.
"It will be an opportunity to tell me if the hot water is not working or if there are pests," he said. "Whatever the issues are, I want to capture them to see if we can come back and start to resolve them."
The agency will also have to wrestle with long-term affordable-housing challenges—and stakeholders say they are hoping IHA will make some key policy changes.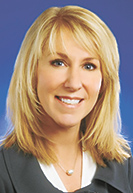 Seiwert
Sherry Seiwert, president of Downtown Indy Inc. and a newly appointed IHA board member, said the city has seen a "significant transformation" with a boom in residential housing over the past decade, particularly in market-rate rental housing. And rents and housing prices have been rising in and around downtown, which has made it harder for low-income people to find affordable, quality and safe housing.
"When I think about needs for affordability in our downtown market, it's more important than ever that we maintain the rental housing stock we have with IHA," Seiwert said. "If we want to be a livable, inclusive city, that's a very important component."
According to Downtown Indy Inc., downtown has 8,764 apartment units, 28 percent of which qualify as affordable to the low-income population.
Seiwert said she would like to see the agency increase the number of housing vouchers, particularly to fill a "gap in our urban market" for families who earn roughly $30,000 to $60,000 annually.
Voucher holders
Amy Nelson, director of the Fair Housing Center of Central Indiana, said, while an expansion of vouchers is "certainly needed," she also wants IHA to expand its role advocating on behalf of people who struggle to use their vouchers.
In 2015, the Indiana General Assembly passed a law that forbids cities, including Indianapolis, from requiring that landlords accept housing vouchers.
"Our voucher holders just simply can lawfully be discriminated against and kept out" from housing they would otherwise be eligible for because they are paying with a voucher, Nelson said.
"It isn't just about us getting more vouchers," she said. "It's about making sure the vouchers are used in the way they're actually designed to be used."
City-County Council President Vop Osili said he would like IHA to expand opportunities for ex-offenders to find housing.
Currently, IHA policy sets the waiting time for people with criminal histories to be accepted into housing at five years post-conviction.
He would like to lower that to three years post-conviction to "ensure we reduce barriers and challenges to housing" for that population.
He would also like to see IHA expand opportunities for residents or voucher recipients to grow from renting to home ownership, possibly through partnerships with other social service agencies.
"Home ownership is a cornerstone, historically, of family wealth," Osili said. "If we want to be able to address that, we have to be intentional about it. I'm trusting that IHA and the board will be intentional about providing opportunities for long-term family sustainability."
Hall said expanding opportunities for Indianapolis residents to access affordable housing is important—but first he has work to do to make IHA "a high-performing agency."
"It's not going to be easy," he said. "We're going to lose some along the way, but we're going to have a lot of good results."•
Please enable JavaScript to view this content.