Nigel Riggins, left, and Ben Diallo
An Indianapolis-based startup is aiming to reinvent the currency exchange market by connecting international travelers directly to the currencies they need.
Founders Ben Diallo, Nigel Riggins and Kameelah Shaheed-Diallo are launching a new app, CashSwap, on April 2 at John F. Kennedy International Airport. A wider rollout is planned for later this year. 
CashSwap, the first runner-up in this year's Pardi Gras competition—sponsored by the Black Hatch Fund—allows international travelers to swap needed cash with other travelers directly in the airport.
The app, said the company's founders, saves users money by cutting out unnecessary fees and allowing travelers to connect with one another.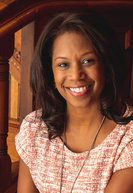 Kameelah Shaheed Diallo
Similar to platforms like Airbnb and Uber for everyday transactions like renting a room or catching a ride, CashSwap is a peer-to-peer platform that connects international travelers directly to each other and removes the middle man and multiple fees associated with currency exchange.
 
"When traveling, I'm certain there is usually someone in the airport who has the currency I need returning from the location I am headed. If our business can make it easier to connect those people, both parties save time, money and receive the cash they need." said Diallo, CashSwap's CEO. 
In 2016, Diallo, a Butler University graduate and New York transplant who has built a reputation here as a clothing designer and by operating men's clothing stores, enlisted a developer and began creating a way to simplify the currency exchange process. 
CashSwap's location technology works exclusively in airports to connect international travelers, Diallo explained. Travelers open the app and enter the currency and amount they have and the currency they need.
The app displays the current market exchange rate in real time and identifies connections with other travelers using the app with the needed currency. 
Once travelers agree to the swap, they are each charged a one-time swap fee of $3.99. Travelers then meet to swap currencies. In traditional currency exchange, travelers must head to one specific location in the airport and are charged at least two fees—a service fee starting at $9.95 or percentage of their overall amount being exchanged, plus a conversion fee that is added to the standard market rate.
Safety is a primary concern for CashSwap. The app's safety features include photo verification, and counterfeit money scanning will become available soon.
Diallo, the owner of locally based J. Benzal's men's clothing store, often travels internationally and said he was inspired to start CashSwap after standing in line at the currency exchange at the Tokyo airport.
The woman in front of him needed American dollars and Ben needed the currency she had. He thought it would have been easier and cheaper for the two of them to just exchange money with one another instead of going through the currency exchange, and the idea for CashSwap was born.
"Around the world, airports offer a similar safe traveler experience with numerous opportunities to connect with other travelers," said Riggins, the company's chief operating officer. "We want to continue that sense of security with CashSwap." 
Riggins has a long history in banking and finance, having previously worked for Forethought Financial Services Inc. for more than a decade as well as stints working for Krieg DeVault and in management for Fifth Third Bank. 
 
"In today's world, currency exchange is unnecessarily expensive and time consuming because of the monopolies and inefficiencies in the market," said Kameelah Shaheed-Diallo, CashSwap's general counsel. "We've created a solution that benefits the travelers and disrupts the current market."
 
 
 
 
Please enable JavaScript to view this content.