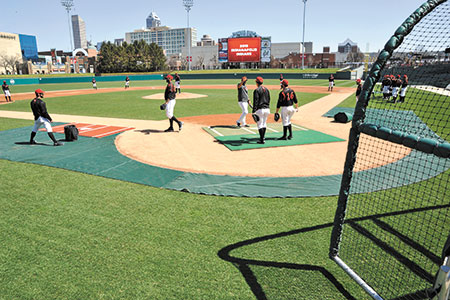 In some ways, the Indianapolis Indians are looking forward to the end of this season—even as it's just getting started.
About $2 million in upgrades to Victory Field are scheduled to begin after the 2019 campaign concludes in September, most notably an overhaul of the existing suite area behind home plate.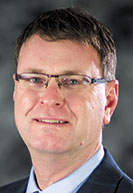 Lewandowski
General Manager Randy Lewandowski said the proposed home-plate club—which doesn't yet have a sponsor or an official name—has been in the works a few years and will debut next season.
He said the change—funded by Victory Field's owner, the Capital Improvement Board—is one of the most significant in the venue's 23-year history.
The club will carve out about 4,500 square feet of indoor space currently occupied by four suites, as well as the press box and the radio and control rooms, which will be moved to another area near home plate.
While details about the new club's amenities have not been finalized, the area is likely to include beverage rails, movable seating, lounge areas and other modern features for fans who want a different game experience than what's offered by traditional, fixed seating.
"We think it's going to be the best part of the ballpark," Lewandowski said. "There is a need and a want for this kind of experience here, and we have an opportunity to move forward with it now."
The home-plate club is the result of feedback from ticketholders and others who desire a unique environment at Victory Field, he said, noting the upgrades will offer "a premium experience we haven't been able to have until now."
Lewandowski said the team—which opened its season April 4 and has its home opener April 11—sees the new space as part of a larger effort to evolve with its fan base.
"If you continue to stand pat because you've had some success, then things are going to pass you by," he said. "It's about staying current … reacting to what our fans have indicated there's a need for."
The Indians are perennially one of the top-drawing teams in minor-league baseball.
Last year, the Triple-A affiliate for the Pittsburgh Pirates drew 619,122 fans, or an average of 8,845 for its 70 home games. That was second only to the Charlotte Knights, which drew 619,639, according to BaseballAmerica.com.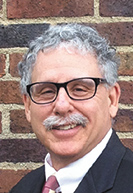 Rosentraub
Mark Rosentraub, a professor of sports business at the University of Michigan and formerly a dean at IUPUI, said creation of the home-plate club jibes with what many professional sports teams are doing.
"Today's fans really want to walk around, mingle with people," he said. "You really can't do that in a fixed seat, so you're seeing stadiums across the country trying to emphasize social interaction."
In addition to creating the new club, the Indians want to expand offices for their staff, which now tops 50—more than twice as many employees as the team had when Victory Field opened in 1996.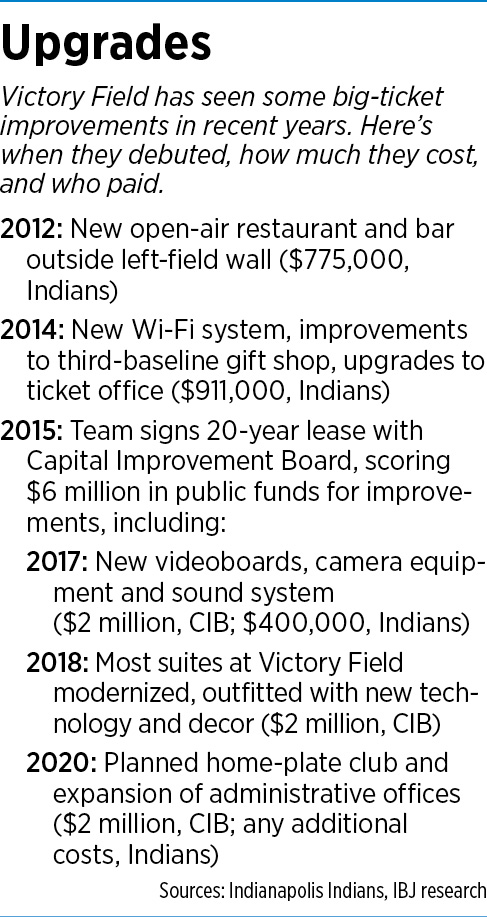 Lewandowski said about 3,000 square feet of office space will be added above the main ticket office.
The team this year is also introducing new ticketing software through California-based Tickets.com's ProVenue service. Aside from the software "being easier to navigate," Lewandowski said, fans are not likely to notice much of a difference.
"Our history and our research tell us that more and more purchases are being made from mobile [devices]," he said. "This is just helping us adapt to that."
The 12,230-seat downtown venue has seen a flurry of publicly funded improvements since the end of the 2016 season.
Most came as part of the Indians' 20-year lease with CIB signed in 2015. The deal calls for CIB to invest $6 million (three $2 million installments over four years) in venue upgrades.
The most visible so far might be the $2.4 million in upgrades to video and sound equipment and video boards (the team covered about $400,000 in overages), and a $2 million overhaul of 24 suites along the first- and third-base lines.
The Indians themselves have invested an estimated $6 million in the venue since it opened, which has funded Wi-Fi upgrades, new terraces, a restaurant and other improvements. The team and CIB split the $18 million it cost to build the stadium.
The new lease, which became effective in 2017, does away with the Indians' rent payments, instead diverting those funds toward the budget for continued upkeep and improvements.
The team—which generated revenue of $14.5 million in 2018—covers all operating expenses.
CIB in March released a bid package for the improvements. It expects to select a contractor on May 10, with construction starting in September.
Rosentraub, the sports business professor, said the Victory Field upgrades are modest compared with what he's seeing nationally. Some 20-year-old venues are receiving tens of millions of dollars in renovations, he said.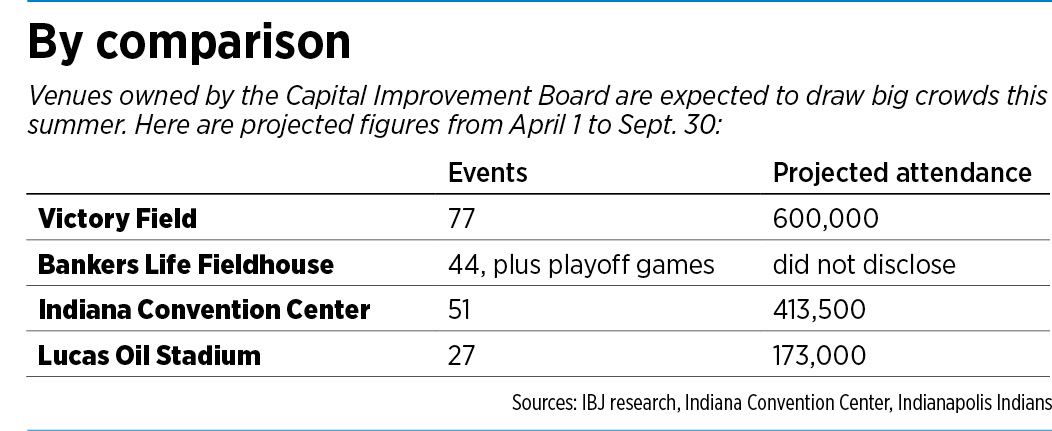 The Indians must be "much more sensitive to what the consumer wants as an experience" than teams in higher levels of professional sports, Rosentraub said, noting minor-league teams are generally more oriented toward the community experience than on-field results.
Lower-tier clubs often rely on game-day promotions and gimmicks to draw crowds, such as superhero nights, kids' nights, bark-in-the-park events, and giveaways.
The Indians are no exception, with half of their home games this season involving a promo. A new promotion is Thirsty Thursdays, which will offer discounted drinks (including alcohol) on certain Thursday night home games, in a bid to win over young professionals who want to mix baseball with beer or other beverages.
Lewandowski doesn't diminish the importance of on-field results—the Indians historically have been solid performers but barely missed the playoffs last year. But he acknowledged that quality, family-oriented fan experiences are what get most people through the turnstiles.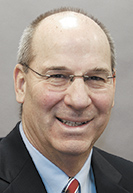 Levengood
The Pittsburgh Pirates control the Indians roster, just as other Major League Baseball teams control the rosters of their minor-league affiliates. But Lewandowski said the Indians still can do a lot to fill the stands.
"It's all about fan experience, and that's what's going to drive business for us ultimately," Lewandowski said. "We rely a lot on our promotions … [though] we do expect to have a strong team on the field this season."
CIB Executive Director Barney Levengood said Victory Field's location on the west side of downtown is a key factor in its success.
"The setting really enhances the experience; it's a downtown location and it has all the amenities that go along with that," he said. "The game hasn't changed in over 100 years, but it still draws big crowds to downtown."•
Please enable JavaScript to view this content.