The Central Indiana Community Foundation has a new five-year plan to make Indianapolis a more inclusive city—and it involves tackling criminal justice reform, reinvesting in poor neighborhoods, and training 5,000 community leaders and residents about institutional racism.
The powerful foundation—which controls about $800 million in charitable assets—changed its mission last year to reflect its new focus on equity and tackling racism.
The new strategic plan, called "Inclusive City," which CICF announced to its stakeholders this week, outlines what actions it will take to put that mission into practice.
Among the goals: creating new affordable housing along transit stops, addressing infant and maternal mortality in minority communities, creating new bike lanes in minority communities, and tackling higher disciplinary rates among students of color in local schools.
The push is aimed at helping all central Indiana residents reach their potential by confronting the reality that race and the economy are intertwined.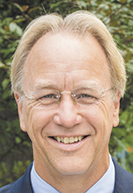 Payne
Numerous studies have highlighted gaps in upward mobility between black and white Americans. For instance, for every dollar the average white worker in Indianapolis earns, a black worker earns 56 cents, according to U.S. Census data.
"This is the first five-year plan of what will be a generational commitment," CEO Brian Payne said.
If the plan is successful over time, Payne said, Indianapolis has the potential to "become a different city."
"We [could] become a city that could solve some of the problems and leads to helping tens of thousands or hundreds of thousands of people being more able to reach their full potential," Payne said.
Annie Smith, a retired United Way executive and CICF ambassador for the far-east side, said CICF's plan "is taking a bold stand."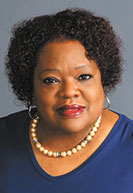 Smith
"It's not going to be easy," Smith said. "I might not even see it in my lifetime, the results of this work they are embarking on, but it's important work."
Financial firepower
To fund the strategic plan, the foundation will direct about $17.5 million over five years—about half of its annual $7 million in disbursements from the Indianapolis Foundation—to initiatives related to these goals. CICF is also launching a new "Equity Partners Fund" to raise money to help support the new strategies.
While it works on the new goals, Payne says the foundation will also continue its bread-and-butter focus on working with donors to invest in causes important to them, and grant awards to not-for-profits.
"We're not abandoning that," said Payne, 60.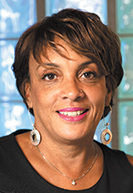 Ross
However, the plan will take CICF in new directions, too.
CICF plans to step up its advocacy work, a new strategy for an organization that previously prided itself on neutrality.
The plan includes advocacy-specific goals such as "raising awareness of and addressing the racial disparities in educational outcomes," "championing policies that support economic justice," and "advocating for bail access and reform."
The group recently advocated on behalf of a comprehensive hate crimes bill in the Indiana General Assembly.
Pamela Ross, CICF's vice president of opportunity, equity and inclusion, said "changing systems is new for us" but that it's an important shift.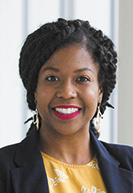 Merritt
"We can't just sit back and say, 'It's too bad,'" Ross said. "Now we have to get ourselves in the fight. We're not the experts, but we know there are those that have been fighting these laws and policies. We will use our influence and resources to get in that fight with you versus taking a neutral stance."
Breanca Merritt, founding director of the Indiana University Public Policy Institute's Center for Research on Inclusion and Social Policy, said CICF's new strategic plan "is overall a huge opportunity for central Indiana."
"It brings racial equity to the forefront in a way we've not seen in central Indiana," Merritt said.
CICF's work could create "a greater level of responsibility for non-profits," Merritt said, with CICF making sure its grant dollars are tackling challenges from an equity lens.
"To be able to have dollars attached to purposeful pursuits of some of these topics is crucial," Merritt said.
The strategies
Some of CICF's new goals are concrete and short term, such as its plan to send 5,000 central Indiana community leaders and residents in a wide variety of industries to anti-racism training.
The intensive two-day training, called Undoing Racism, teaches the nation's history of racial injustice and how some of those systems persist today. All 46 CICF employees have completed the course.
Ross said the training could help some of the most powerful people in Indianapolis think about whether operating with a "business as usual" approach is harming or excluding minority communities.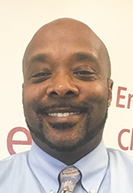 Mason
She said the training can be life-changing—helping people who have the power and heart to make changes recognize they're part of "a system that perpetuates continuous racist policies and things that were created to keep black people down."
"You can't walk away from that when it's very grounded in factual information," Ross said. "Once you know something, you can't un-know it."
Tony Mason, CEO of the Indianapolis Urban League, who has attended an abbreviated version of the training, said it would be extremely beneficial for Indianapolis leaders to learn about how implicit bias may affect decisions they make.
"At some point, we've all had some bias," Mason said. "No one is innocent of that in all of our respective lives. I think it helps to call attention to instances in our everyday existence where we see things we just don't understand.
"Sometimes we want to judge and blame people who are struggling, when, in fact, there is more at play in situations."
Tying into transit
Another prong of the strategic plan is to help people without means have better access to jobs by increasing the amount of affordable housing near IndyGo's bus-rapid transit lines. The first of those lines, the Red Line, is under construction between Broad Ripple and the University of Indianapolis.

Payne said he worries that property values and rents near the Red line will rise to the point that "only the wealthy people who already have cars will live near transit and the people who need to won't be able to afford it."
That means making sure "some of that land, as much as possible, is developed for people of moderate means and low means," Payne said.
The effort has had hits and misses so far, Payne said.
For example, CICF tried to buy the once-affordable Wheeler Arts Community apartments in Fountain Square, in hopes of working with Riley Area Development Corp. to keep a significant number of the 36 apartments affordable. But Core Redevelopment outbid CICF and is making the units market rate.
But CICF was successful in helping the Indianapolis Neighborhood Housing Partnership buy an old church in Garfield Park, half a mile from a bus-rapid transit stop. INHP hopes to develop a mixed-use site there with a mix of affordable and market-rate apartments.
Long-term strategies
It could take years to move the needle on other CICF goals, such as the foundation's new focus on criminal justice reform.
CICF wants to see reduced suspension and expulsion rates in Marion County schools, especially for children of color. It also wants to tackle the issue of bail reform, particularly eliminating cash bail, which leads many low-income people to stay in jail while their wealthier neighbors are able to await trial at home.
Payne said he was initially hesitant about tackling criminal justice reform, a "hugely challenging ambitious thing," on top of CICF's other work.
"My staff came back," Payne said, "and said, 'How are we going to say with a straight face that we're going to dismantle systemic racism but we're not doing anything about the most systemic racist system in America?'"
Ross, one of the CICF staff members who pushed for tackling criminal justice reform, said she realizes making a dent in racist practices requires CICF to build a broad range of community alliances.
"This is not CICF saying, 'We've got this,'" Ross said. "We're not going to be able to do this by ourselves. We're trying to build awareness and trying to see where we can build meaningful partnerships."
The work has already led CICF to pursue new partnerships with groups it hasn't worked closely with before, such as churches.
The Rev. Anastassia Zinke of All Souls Unitarian Church, 5805 E. 56th St., said she and CICF officials have had several meetings over the past year to discuss how they could collaborate—whether through bringing speakers to Indianapolis, facilitating discussions or investing church funds into specific initiatives to tackle racial inequity.
"I've been really impressed with how CICF is thoroughly and systemically and intentionally pursuing things in an anti-racist way," Zinke said. "A lot of organizations say they want to, but either don't understand what that means or don't put the supports in place to make that happen."
She added: "I think most community foundations think just about how they can do the work of granting and giving out the money. CICF is going for a much more transformative change. It's kind of a rallying cry."
Mason, the Urban League leader, called CICF's plan "courageous."
"It's the humane thing to do, but if we're talking about the economic growth of the city and the region, this is something that requires all of our attention and participation," Mason said. "This could be a pivotal moment for our people and for our city."•
Please enable JavaScript to view this content.