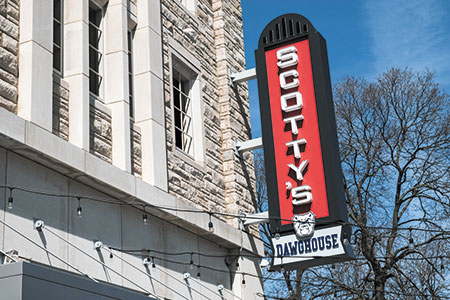 The Indianapolis-based Scotty's Brewhouse chain plans to restructure its ownership as it works to emerge from bankruptcy, squeezing out the Arizona-based company that acquired a minority stake in Scotty's in 2016.
In December of that year, Scotty's founder Scott Wise sold the company to Scottsdale, Arizona-based Due North Holdings LLC and Japanese firm Sase Kosan K.K. for around $10 million. Sase Kosan became the majority owner, while Due North became a minority owner and took an active role in running the company.
Due North, formed in 2014, operates and franchises restaurants in the quick-service and family-dining sectors.
But things haven't worked out as planned.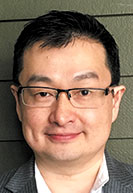 Yamazaki
Scotty's filed for Chapter 11 bankruptcy protection in December, and it closed four corporate-owned stores then. One more corporate store is set to close in the coming days. 
It now plans to transfer management responsibility to Sase Kosan while parting ways with Due North altogether.
"They're going to be out of the picture," said Benito Yamazaki, a certified public accountant with the Indianapolis office of Los Angeles-based Hotta Liesenberg Saito LLP. The firm is helping Scotty's restructure as the restaurant company works its way through Chapter 11 bankruptcy.
Under the proposed new ownership structure, Sase Kosan would own Scotty's along with ZGrowth Capital Fund L.P., which now has a 10 percent ownership stake in Scotty's.
Sase Kosan and ZGrowth have provided Scotty's with $600,000 of debtor-in-possession financing to see the company through bankruptcy.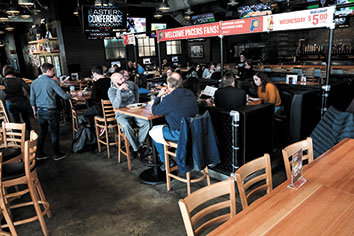 Scotty's slid into bankruptcy two years after founder Scott Wise sold the business. (IBJ photos/Eric Learned)
Sase Kosan director Morio Sase is also the CEO at Tokyo-based Hotland Co. Ltd., which operates Cold Stone Creamery and Coffee Bean and Tea Leaf restaurants in Japan, along with other restaurant brands in several Asian countries.
ZGrowth Capital Fund is a private-equity vehicle for ZGrowth Partners, a Miami-based franchise advisory company.
Details of the proposed new ownership arrangement, which is still being worked out, will be included in a plan of reorganization that Scotty's has yet to file.
The company, which entered bankruptcy owing hundreds of thousands of dollars in past-due rent, is also talking with its landlords to see whether they will renegotiate payment terms.
"Part of the advantage of Chapter 11 is you can renegotiate contracts, renegotiate leases," Yamazaki said.
It's too early to say what percentage ownership Sase Kosan and ZGrowth would each have in the reorganized company, or what will happen with Wise's current 5% stake in Scotty's Holdings.
It's also uncertain whether Scotty's will be able to restructure the company as it hopes.
In bankruptcy proceedings, interested parties in the case can file objections to a debtor's plan of reorganization. Ultimately, it's up to the court—in this case, the U.S. Bankruptcy Court in the Southern District of Indiana—to approve the plan, which must happen before a debtor exits bankruptcy.
Due North Holdings did not respond to multiple phone messages and e-mails seeking comment for this story. Wise, who told IBJ he wanted to consult with his attorney before commenting on the matter, did not follow up by providing comments.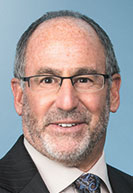 Jaffe
It won't be long before the picture becomes clearer.
That's because, by law, bankruptcy-related landlord/tenant issues must be worked out quickly, said Jay Jaffe, a partner at the Indianapolis office of law firm Faegre Baker Daniels LLP.
Unless a landlord consents to different treatment, Jaffe said, a debtor has 210 days from the time it files bankruptcy to either assume or reject its lease with that landlord.
This means that retailers and restaurant companies, which typically operate from leased locations, must formulate their plans of reorganization quickly.
"Even the mammoth retail cases like Sears resolve themselves very quickly—because they have to," Jaffe said.
Scotty's said it expects to file its plan of reorganization soon, with the goal of exiting bankruptcy this summer.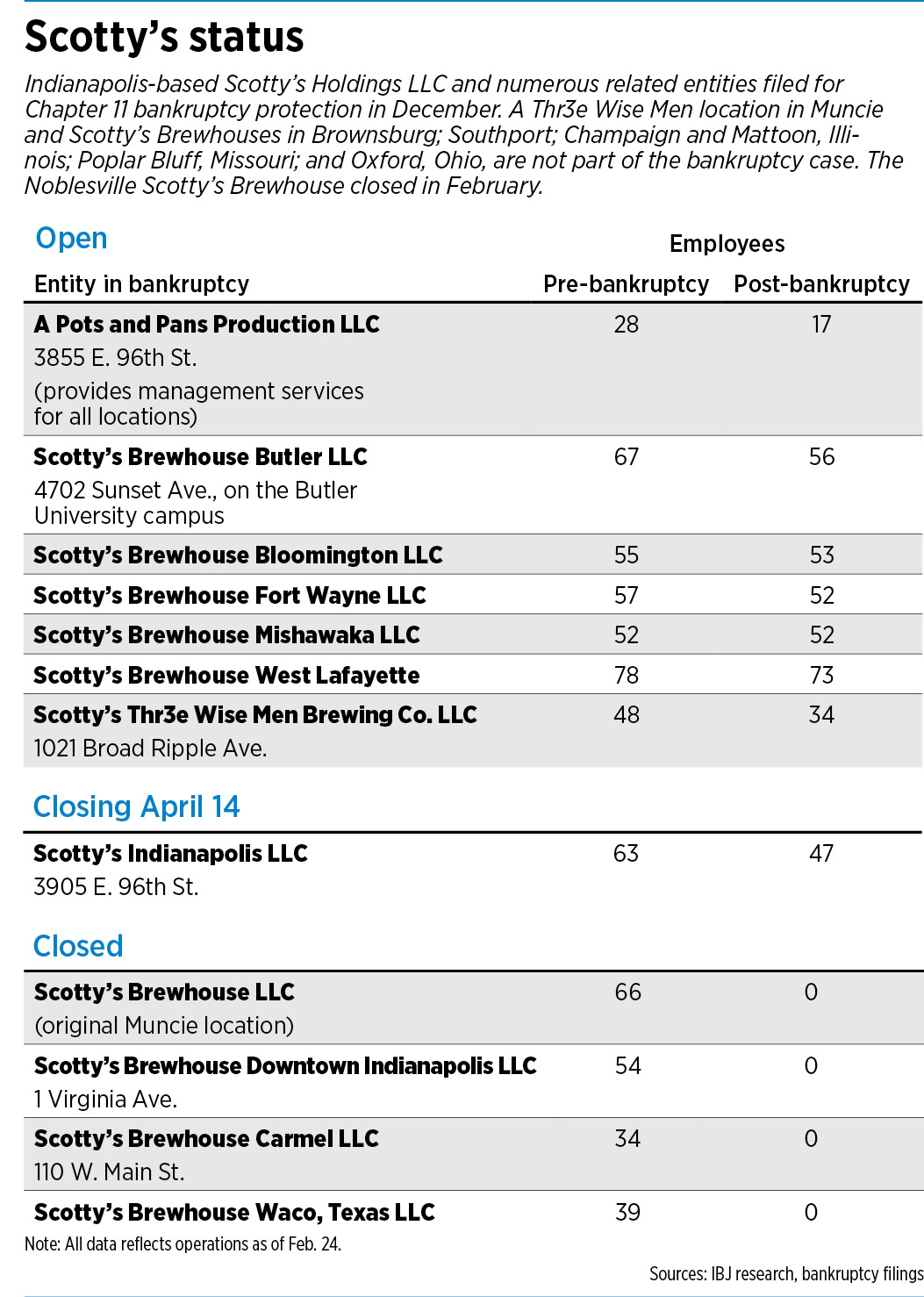 Whatever happens from this point, Scotty's has become a smaller company than it was a few months ago.
The company's 96th Street restaurant will close at the end of the day April 14, and in December Scotty's closed four other low-performing sites: downtown Indianapolis, Carmel, Muncie and Waco, Texas. A Scotty's in Noblesville, which was independently owned and not part of the bankruptcy cases, closed in February. A Scotty's in Southport that's also independently owned closed April 10.
That leaves Scotty's with five corporately operated restaurants (Butler University campus in Indianapolis, Bloomington, Fort Wayne, West Lafayette and Mishawaka) and five operated independently under management contracts (Southport and Brownsburg in Indiana; Champaign and Matoon in Illinois; Oxford, Ohio; and Poplar Bluff, Missouri).
The company has Thr3e Wise Men Brewing Co. units in Broad Ripple and Muncie.
The bankruptcy only includes corporately operated stores, including the Thr3e Wise Men in Broad Ripple.
Scotty's has also shed hundreds of employees. According to bankruptcy filings, Scotty's had a total of 641 employees pre-bankruptcy, and that number had dropped to 384 by the end of February. Some of that was because of restaurant closures, but most of the restaurants that survived reduced their staffing to some degree.
Yamazaki said Scotty's should be able to operate profitably without more closings, but he stopped short of promising all remaining restaurants would stay open. "I cannot guarantee anything."
Meanwhile, the company says it's also working to improve the quality of both its food and its service, which it acknowledges has slipped since the ownership change.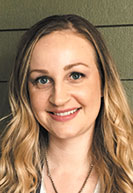 Merder
"After Scott wasn't in the day-to-day operations, a lot of things were different," said Ashley Merder, Scotty's Brewhouse brand manager. "There were some questionable decisions made by previous leadership."
A few examples: Scotty's stopped wrapping its cutlery in thick blue towels—handy for cleaning one's hands after eating wings and other sticky foods. The restaurant also took its tater tots and house-made pies off the menu, and it switched to a commercially-made ranch dressing rather than making its own.
"Things like that outraged our guests," Merder said.
(The tater tots came back, though the blue towels and pies did not.)
"I think it just goes back to, we lost sight of the quality and the service," Yamazaki said.
Scotty's is now doing several things to improve the customer experience, Merder said.
A month or so ago, Scotty's began sending corporate "coaches" to each location to help employees adhere to company operating standards. The coaches advise employees on anything from the most efficient way to prep ingredients to the proper way to wipe down customer tables, Merder said.
Merder said the company is also working to improve employee morale.
Corporate managers are making decisions about the company as a group, which Merder said was not always the case previously; and they are making a point of visiting Scotty's locations in a show of support for employees.
Merder and Yamazaki declined to identify specific individuals whom they feel contributed to Scotty's problems.
"I'm not here to trash anyone," Yamazaki said. "I cannot just point the finger at Due North. It was all management."
Merder said the local members of management who were involved in bad decisions are no longer with the company.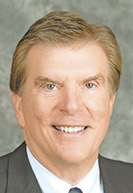 Delaney
The troubles facing Scotty's are common to restaurants that go through ownership changes, said Steve Delaney, a real estate broker with CBRE.
"Service, food quality, cleanliness can all suffer when the original owner/operator leaves," Delaney said.
Scotty's Brewhouse was especially susceptible to this dynamic because Wise was so closely associated with the company he founded, Delaney said. "People knew who he was. Once he left, I think operations suffered, because it was his baby."
Another factor, Delaney said, is that there are more places like Scotty's—offering American casual cuisine and craft beer—than there were in 1996, when its first location opened.
"I think the restaurant category that Scotty's is in is very crowded at this time, which is part of the problem they're facing," Delaney said. "I hope that the turnaround is successful."•
Please enable JavaScript to view this content.