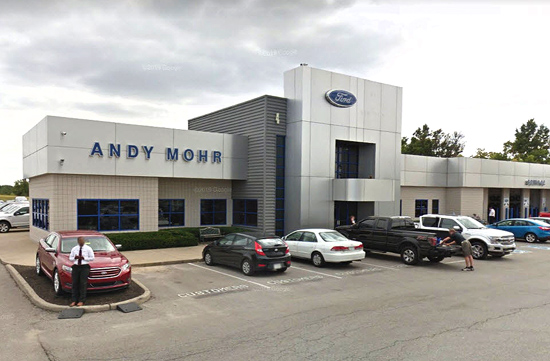 A class-action lawsuit filed Wednesday against Andy Mohr Automotive Group alleges the Indiana company violated a state law prohibiting deceptive consumer sales tactics.
The suit, brought by Marion County resident Robert Lutz on behalf of "hundreds or thousands" of people who have purchased vehicles at various Andy Mohr dealerships in the last six years, was filed in Marion Superior Court.
The complaint alleges that Andy Mohr dealerships have violated the Indiana Deceptive Consumer Sales Act by "engaging in an unfair scheme to charge vehicle buyers an unlawful 'document preparation fee.'" 
The complaint says the $199 fee "does not reflect the expenses actually incurred for the preparation of documents."
"Instead, defendants use the document preparation fee, not to merely cover the expenses actually incurred for preparing documents, but as a tool to extract additional profits from consumers in an unfair and prohibited manner," according to the complaint.
Indiana code states that with few exceptions it is an unfair practice for dealers to require vehicle purchasers to pay a document preparation fee as a condition of the sale unless the fee reflects "expenses actually incurred for the preparation of documents."
The complaint names 14 Andy Mohr-related entities as defendants. 
Among other requests for relief, the complaint seeks the return of the "improperly received and retained funds" back to vehicle purchasers.
Brad Todd, president of Andy Mohr Automotive Group, did not immediately respond to a message left by IBJ seeking comment from the defendant.
The complainant is represented by Indianapolis law firm Cohen & Malad LLP, which specializes in class-action suits.
Please enable JavaScript to view this content.