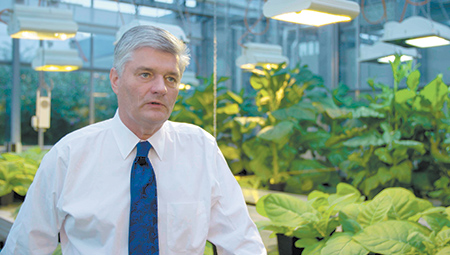 The top executive of the Indiana Biosciences Research Institute is stepping down after just 18 months in the job, citing health reasons.
Dr. Rainer Fischer, 60, who has diabetes, said Wednesday he is giving up his roles as CEO and chief scientific and innovation officer immediately. He will take a new position as senior executive for innovation and discovery. The institute plans to conduct a search for a new CEO.
In an interview, Fischer said he has "not been feeling very well lately" and felt he could be more valuable in a less-demanding position. Earlier this month, he  revealed that he had diabetes in a letter in the organization's annual report.
"I believe I can do more for this organization in another role," Fischer said. "I see it as a positive step."
The organization, launched in 2013, conducts research in such areas as cardiovascular disease, diabetes, obesity and nutrition, looking to produce new diagnostic tools, drugs or agricultural technology. The goal is to commercialize breakthrough research by partner companies or startups.
Fischer joined the IBRI in April 2017 as chief scientific and innovation officer after serving 19 years as senior executive director of the Fraunhofer Institute for Molecular Biology and Applied Ecology in Aachen, Germany.
During his time there, Fischer grew the institute from 40 to 680 employees, raised with his team almost one billion euro in extramural research funding and established collaborations in more than 25 countries. He also has co-founded five biotech startups, holds 40 patents, has 64 patents pending, and has published more than 500 scientific papers.
In October 2017, Fischer was also named CEO, succeeding David Broeker, who stepped down to found Zorian Medical, an Indianapolis-based medical device startup.
The IBRI has 35 employees. Last year, it had operating expenses of $9 million and an endowment balance of $111.6 million. Partners include Eli Lilly and Co., Roche Diagnostics, Corteva Bioscience, Cook Medical, Indiana University Health, Indiana University School of Medicine, Purdue University and the University of Notre Dame.
Please enable JavaScript to view this content.