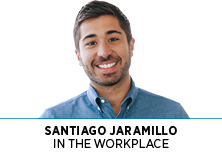 Early in my previous company's history, I had a revelation as a leader.
We were using metrics, paired with our natural instincts and intuition, to prioritize the highest-value strategy in every function of our business (sales, marketing, customer service, etc.). But when it came to people and culture, we were just guessing—using gut feelings to make decisions, or worse, delegating our people and culture strategy to a "culture committee" that scheduled more "fun" social gatherings.
When I looked at our profit and loss statement, our biggest expense by far was payroll. So we were spending the most money on people, but had the fewest key performance indicators in place to measure and optimize their success and that outsized spend. The best metric we had was, unfortunately, turnover, and the best feedback loop to find out what needed to be improved within our culture was the exit interview—both incredibly lagging indicators and way too late in the life cycle.
Data-driven people strategy
What I learned from that experience is that, as business leaders, we have to hold our people and culture initiatives to the same standards that we hold every other function. A marketing leader wouldn't sign off on the launch of a million-dollar ad campaign without seeing some metrics that can guarantee at least some return on investment. So why do so many organizations continue to invest resources in expensive new employee initiatives based on gut feeling alone?
Putting a greater focus on data and outcomes when it comes to workforce initiatives can often require a mindset shift and buy-in across an executive team. Ideally, human resources leaders and CEOs will co-own driving people and culture strategy forward.
The business landscape today has changed, and the HR leader role is no longer an administrative position—it should be data-driven and strategic. By making initiatives like building a workplace of choice and increasing employee engagement a top priority, HR and the C-suite can work together to contemplate and deliver real change.
An honest look at the state of employee engagement
As leaders, we have to take a hard look at what's working well in our organizations and what's not. When it comes to employee engagement, CEOs and senior executives are generally the most engaged people in a company, so sometimes we can fall into the trap of thinking everyone else is just as engaged. But when you get a few layers down in an organization, things can look a lot different. That's where employee metrics come into play.
Tracking employee engagement metrics across the company allows leaders to see which teams are succeeding and which ones might be struggling. Which exceptional mid-level managers in the organization are providing great employee experiences, and which ones are potentially causing great people to leave?
We have to pose these tough questions and get to the bottom of any challenges before they become full-blown problems with costly consequences. That requires asking the right questions, listening to employees, and taking action on the feedback they provide.
The most effective people-first CEOs are all-in on culture and work side by side with their HR leaders to execute mission, vision and values. The most effective HR/people leaders today are data-driven and strategic.
The better you know your people and culture key performance indicators and have a plan for measuring them, the more effective your strategy will be, and the more equipped you'll be to unlock your employees' and organization's full potential.•
__________
Jaramillo is co-founder and CEO of Emplify.
Please enable JavaScript to view this content.