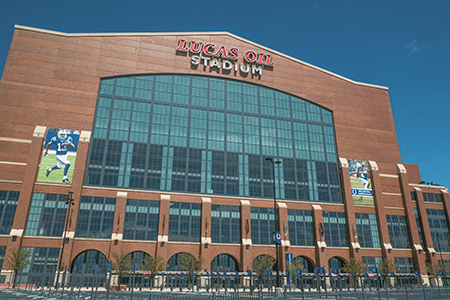 Legislation that will help fund a $360 million renovation of Bankers Life Fieldhouse will actually do much more: It will bail out the Capital Improvement Board, which is headed for insolvency without the additional revenue.
In fact, even if two key bills become law, the CIB's own estimates still project deficits in some future years.
And that likely means the CIB won't have extra cash to pay for future renovations and expansions at the other sports and convention facilities it owns, raising the specter that the quasi-governmental agency will return to the Statehouse at some point to seek more money.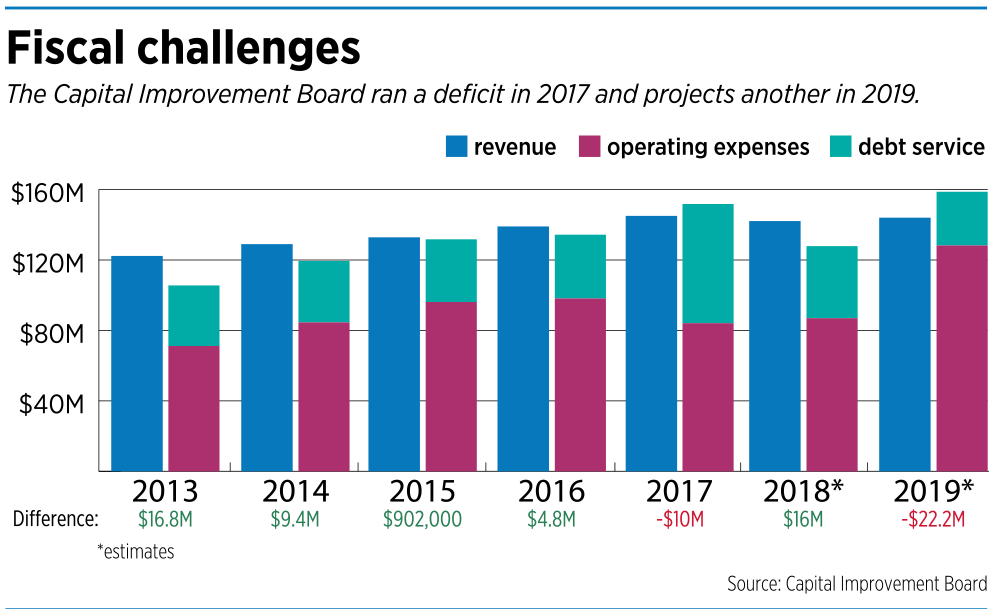 The bills—which are eligible for final passage as early as next week—fund what CIB leaders have repeatedly described as a 25-year financial vision.
But the plan doesn't take into account that the Indianapolis Colts are almost certain to seek major renovations to Lucas Oil Stadium—already 10 years old—during that 25-year span. And there's no money set aside for future expansions of the Indiana Convention Center, beyond a planned ballroom that is to be paid for with city tax revenue.
Sports and tourism experts say both of those projects are possible needs before 2044.
Instead, the CIB vision focuses on funding its part of the Bankers Life Fieldhouse renovation—$270 million—and shoring up the revenue it needs for operations and maintenance of its facilities.
CIB leaders acknowledge that, without additional revenue, the agency will hit a "fiscal cliff" in 2028.
In a report outlining its 25-year vision, the CIB wrote: "If left unchanged, existing funding sources would be materially insufficient to sustain the CIB beginning after 2028, with insolvency likely regardless of whether a new long-term agreement is struck with the Indiana Pacers."
Even if the bills pass, as expected, the CIB's budget will be lean—and even could be in the red—in many years.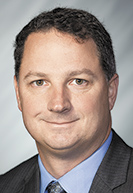 Huston
Fishers Republican Rep. Todd Huston, a key state budget writer and sponsor of one of the bills related to the CIB budget, said he doesn't view the proposals as bailing out the agency. He described the anticipated deficits as a "cash flow issue," not a real financial problem.
"We feel very good about it," Huston said.
But Heywood Sanders, a University of Texas at San Antonio professor and author of several studies on convention centers, said it's clear the CIB has a budget problem and needs additional revenue from the state—even beyond just money for Bankers Life Fieldhouse improvements.
"I think what you're seeing is a problem that they're trying to deal with without acknowledging it," Sanders said.
A perfect storm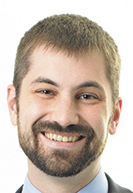 Cook
Several factors created the perfect storm that led the CIB to ask state officials for help.
First, the city of Indianapolis announced it would immediately pull back as much as $8 million it provides annually to the CIB from the downtown tax increment financing district so it can redirect that money to pay for bonds for a proposed $120 million convention center expansion at Pan Am Plaza.
Now, city officials say they will redirect only the amount actually needed each year for the payments. Financial projections show that will mean an annual loss to CIB of $4.7 million to $6.7 million through 2042.
"We're going to back out what we need, but we don't currently believe it will be the full $8 million amount," said Thomas Cook, chief of staff for Indianapolis Mayor Joe Hogsett.
Several other CIB revenue streams are set to expire or be redirected starting in 2023. A 4% admissions tax and 2% car-rental tax will sunset in 2023 if lawmakers and the City-County Council don't take action. Together, those taxes generated $9.2 million for the CIB in 2018.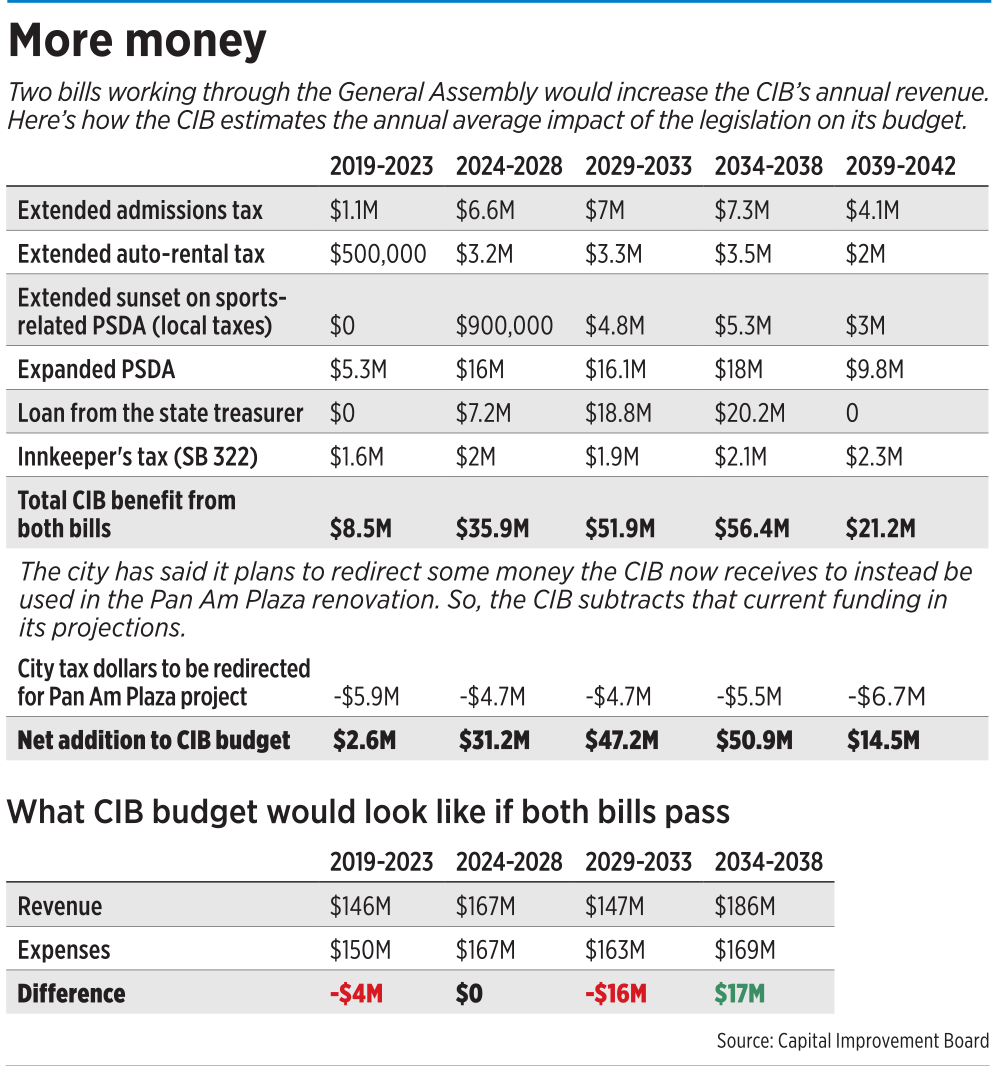 But the biggest hit would come in 2028, when multiple sources of state revenue—a mix that includes innkeeper's taxes, food and beverage taxes, and more car-rental taxes and admissions taxes—are set to be diverted from the CIB to the Indiana Finance Authority, which will use the money to pay down debt issued for Lucas Oil Stadium. That funding accounted for $42.4 million in 2018.
Finally, a portion of revenue the CIB collects from what's known as the professional sports development area would also expire in 2028, which would drop another $4.1 million from its revenue stream.
In total, that's $55.7 million less annual revenue than in 2018.
It's not all bad news in 2028, though. The CIB expects to have paid off all its existing debt by then, freeing up $27.9 million a year.
Still, the annual net impact would be a $27.8 million decrease in funding if lawmakers don't take any action.
While that's significant, it's no surprise. The expiration and diversion of taxes were part of the arrangement former Gov. Mitch Daniels' administration and lawmakers approved when the state agreed to issue bonds to fund construction of the $720 million Lucas Oil Stadium, meaning the CIB's budget shortfalls have been predicted for more than a decade.
Still, CIB officials probably had good reason to think they wouldn't really face a crisis. Sanders said once taxes are imposed, they "almost never" actually expire.
"The taxes aren't going away," he said.
Even Huston didn't necessarily expect the taxes to sunset. "I think the sunset was just an opportunity that the Legislature put in place to do a review of how the CIB is doing and how it's operating," he said.
Developing a solution
CIB and Hogsett administration officials began talking to lawmakers last year about developing and funding a 25-year plan that would address its two looming challenges: the CIB's future shortfalls and the Indiana Pacers' desire for significant upgrades at Bankers Life Fieldhouse in exchange for a long-term deal to stay in Indy.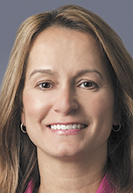 Kennedy
CIB President Melina Kennedy has said repeatedly that thinking long term—beyond the fieldhouse renovation—is the fiscally responsible attitude.
"We have time because those sources don't expire until 2028, but we believe acting now makes sense," Kennedy said. "We should be thinking about the long-term future now and not waiting until there's a cliff."
That led Senate Appropriations Chairman Ryan Mishler, R-Bremen, to introduce Senate Bill 7, which has been winding its way through the General Assembly.
In its current form, the bill would extend the admissions and auto-rental taxes—which would otherwise expire in 2023—until 2040, the year the Lucas Oil bonds are paid off. It would also expand what's included in the professional sports development area.
The existing PSDA is a mostly downtown zone that captures state income and sales taxes collected at Lucas Oil Stadium, Bankers Life Fieldhouse, Victory Field and four downtown hotels—plus the Indianapolis Colts' northwest-side practice venue.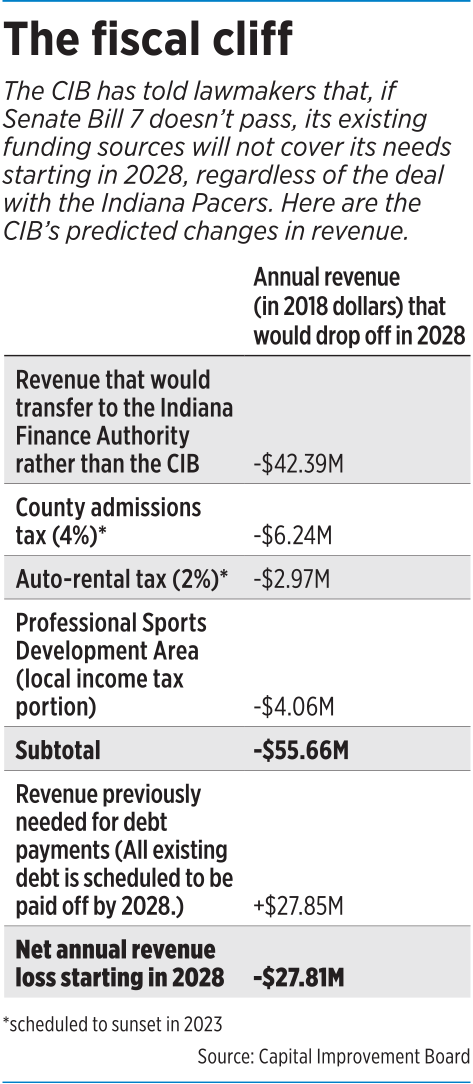 The CIB receives up to $16 million a year from the sports arenas and up to $8 million from the hotels. Any additional tax revenue goes to the state.
SB 7 would add eight existing downtown hotels to the zone and cap the CIB's revenue on a sliding scale. The CIB would be allowed to capture up to $9 million in additional revenue in fiscal year 2022, up to $12 million in 2023, up to $16 million in 2024-2033, and up to $18 million in 2034-2041, if the properties in the zone generate that much tax revenue.
The legislation also authorizes the state treasurer to essentially lend the CIB money to make up for the revenue set to be diverted away from the agency starting in 2028. The CIB estimates that annual loan could range from $7.2 million to $20.2 million, depending on the year.
The diverted CIB revenue would be deposited into a restricted reserve account—to be used if necessary for Lucas Oil bond payments or significant repairs at the building. After 2040, the state could use money left in that fund to repay itself for the loans.
The SB 7 provisions hinge on the CIB's securing a 25-year deal with the Pacers, which the agency's board approved April 12.
The deal could cost the CIB $800 million over the life of the contract—an amount that includes annual payments to the Pacers for operating the fieldhouse as well as the agency's $270 million share of the $360 million renovation.
A second piece of legislation is also expected to give the CIB a small revenue boost. Senate Bill 322, which would close a loophole in online sales and hotel tax collection, could generate an additional $1.6 million to $2.3 million annually.
"To be candid, this is one that was not on our radar screen when we had originally started structuring this," Cook said. "We didn't anticipate that revenue."
The CIB declined to provide annual projections of the legislation's impact on its revenue streams but instead provided annual averages in five-year increments.
From 2019-2023, the legislation could generate an average of $8.5 million annually for the CIB, an amount that jumps to an average of $35.9 million from 2024-2028. That would be more than enough to cover the "fiscal cliff" of $27.8 million the CIB is facing in 2028.
The highest five-year average is expected to be from 2034-2038, when the CIB could see $56.4 million per year.
But is it enough?
In recent years, the CIB budget has sometimes dipped into the red.
In 2017, the operating deficit was $10 million (on spending of $152 million), according to the 25-year vision it provided to IBJ. Preliminary—meaning unaudited—numbers show the CIB was in the black by $16 million in 2018. And budget data the CIB posts on its website projects a deficit of $22 million this year.
CIB Executive Director Barney Levengood said deficits are funded by the CIB's reserves. As of the end of 2017, the agency had $133.6 million in unrestricted cash reserves.
Even with the additional revenue authorized by SB 7 and SB 322, the CIB might still have some lean and even some deficit years.
From 2019-2023—assuming the bills pass—the CIB projects an annual average deficit of $4 million. It expects to break even from 2024-2028. But the deficit would return for 2029-2033, when expenses are projected to exceed revenue by an average of $16 million.
Then from 2034-2038, the CIB projects an annual average surplus of $17 million.
Levengood said it's common for budgets to have good years and bad years.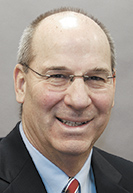 Levengood
"Well, like in any budgets, you always have concerns," he said. "But can you imagine projecting out the life of the IBJ for the next 25 years? So when you do this, you have to try to budget conservatively, thoughtfully, and we think we did do that."
Those projections allow the CIB to finance its commitments in the Pacers deal and assume an additional $150 million for already-planned maintenance and upgrades at Lucas Oil, the convention center and Victory Field.
"Just about every month, we're fixing something, repairing something," Levengood said. "So, those monies will be going toward those and, quite frankly, it's not as exciting as some of the other things."
But the legislation would not provide enough funding for a major renovation at any of those facilities.
"If the Colts sneeze, the Pacers get a cold," former CIB board member Milt Thompson said. "You have to have long-range plans for both of them."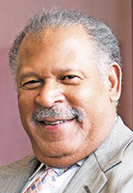 Thompson
Sanders said, given the convention center has been expanded about once a decade since it opened in 1972, it's realistic to expect another expansion will be proposed before the end of the 25-year plan.
"Competition doesn't go away," he said. "Lots of other folks are expanding and adding other things that are designed to enhance the competitiveness of their centers. … They expand with the argument that everyone else is expanding so they have to keep up."
Huston said the funding mechanisms provided in the legislation are appropriate for today, but he left the door open for the CIB to be back again before 2044.
"I've learned that nobody ever goes away and stays away," he said.
Kennedy declined to say whether the CIB would have to return to the state again before 2044, focusing only on the current legislation.
"We think it's a responsible plan for the next 25 years," she said.•
Please enable JavaScript to view this content.