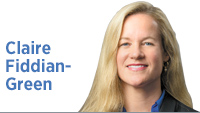 If a person in the United States is diagnosed with cancer or diabetes, in many cases, she can access excellent, evidence-based medical care that is paid for by insurance.
Contrast that with the common experience for someone suffering from a substance-use disorder, who is often put on a waiting list for treatment that might or might not be evidence-based, and who is forced to pay for most of this care out-of-pocket. Yet, cancer, diabetes and substance-use disorder are all serious diseases. Why, then, do we treat them differently?
This was a topic David Sheff, author of the memoir "Beautiful Boy" about his son Nic's battle with addiction, explored during a recent event at Butler University. David and Nic have been courageous and unsparingly honest by sharing their family's heart-wrenching experiences as Nic became addicted to drugs at a young age and cycled in and out of treatment.
It wasn't until years later, when Nic was diagnosed with depression and bipolar disorder, that he finally received the medical care necessary to address the underlying causes that contributed to his early experimentation with drugs.
Nic's story is uplifting: Following his dual diagnoses of mental-health and substance-use disorders, Nic has been in recovery for nine years. Tragically, other families whose loved ones have grappled with addiction have not been so lucky. In 2017 alone, more than 72,800 Americans died from a drug overdose.
According to the U.S. Substance Abuse and Mental Health Services Administration, 8.5 million adults in America had a co-occurring mental illness and substance-use disorder in 2017. The administration also notes significant gaps nationwide in treatment capacity for affected individuals.
The Sheffs' story and these national statistics are a sad commentary on our country's non-existent system of coordinated care for people who suffer from mental illnesses, addiction or both.
As a society, we should be ashamed of the way we condemn people who suffer from mental-health or substance-use disorders—and their loved ones—to navigate their way through treatment without comprehensive support. It's as if we collectively shrug our shoulders and say, "These diseases are too hard to handle, so you're on your own."
During the Butler event, David Sheff reflected on the question he wished the well-meaning people in his son's life had asked: What were the underlying causes that led Nic, at age 11, to use drugs?
David believes that, had his son undergone a mental-health evaluation as a child, Nic's depression and bipolar disorder would have been identified and treated sooner, potentially helping Nic and his family avoid many harrowing years while Nic was using drugs.
David concluded with a simple vision: that our society comes to view mental health on par with physical health and act accordingly. For example, as parents, we take our children to the pediatrician for their annual well-child checkup. What if we added mental-health screenings to this yearly visit to identify any mental illnesses in our children early on? What if mental illness and addiction were universally understood to be chronic diseases, and we did not judge those with these diseases as immoral or weak-willed, but instead helped connect them with evidence-based treatment?
We need to take bold steps to address our country's addiction crisis. Step one should be to screen children annually for mental illnesses and connect those who need it with effective and affordable treatment, without delay.•
__________
Fiddian-Green is president and CEO of the Richard M. Fairbanks Foundation and a former adviser to then-Gov. Mike Pence on education issues. Send comments to ibjedit@ibj.com.
Click here for more Forefront columns.
Please enable JavaScript to view this content.