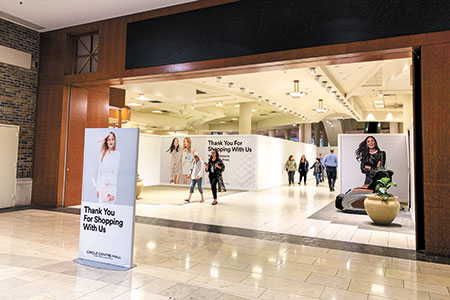 One year after the closure of Carson's at Circle Centre, city and mall officials are still looking for the right tenant—or mix of tenants—to fill the massive footprint.
The building's prominent 1 W. Washington St. address appears to have done little to lure a large retailer for the three vacant stories—totaling about 144,000 square feet—but city leaders said they are confident a new use for the space will be found soon.
The vacancy has stirred conversations about the best reuse, including the possibility of multiple tenants or non-retailers, along with questions about why finding a new tenant has been so challenging.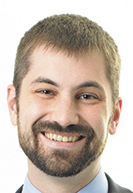 Cook
"It would be very easy to put something in that space very quickly," said Thomas Cook, chief of staff for Mayor Joe Hogsett. "But we want the best use of that spot, not just the first use proposed."
Filling the void has been a priority for the Hogsett administration since Carson's announced in January 2018 its plan to close, amid financial troubles (and later, bankruptcy) for its parent company, Bon-Ton, then co-headquaratered in Milwaukee, Wisconsin, and York, Pennsylvania.
The space has received preliminary interest from a handful of big-box retailers, but that doesn't mean it's being reserved exclusively for retail, or even a single tenant. A source told IBJ Target is among the retailers considering the space, but the source was not aware of active negotiations between the mall and the Minneapolis-based chain.
City officials declined to say who has inquired about the space, and a Target spokeswoman said the company does not have "anything to share." Target has 11 stores in the Indianapolis area.
Cook and others have shied away from speculating on when the space might be reoccupied, or by whom.
"We don't have any preconceived notions of a timeline," Cook said. "But it's not as if we are necessarily comfortable with letting it sit completely empty, either."
The city doesn't actually have the final say. The decision will be made by Indianapolis-based mall manager Simon Property Group and mall owner Circle Centre Partnership, which comprises nearly 20 companies and investors.
But they're getting plenty of help.
Develop Indy, the Indy Chamber-backed economic development arm for the city, and the Department of Metropolitan Development have worked closely with the ownership group and Simon since Carson's announcement. Those talks picked up after the store officially closed in April 2018.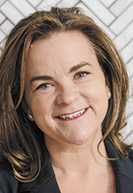 Esselman
"It's very much a collective effort to figure out what the next iteration of that space looks like," said Catherine Esselman, senior project manager for Develop Indy. "It's great real estate. … The role that [the city is] trying to play is a bit of a matchmaker to get the right users in downtown spaces."
Those discussions have included working through details of a market viability report on the downtown corridor, commissioned by Develop Indy.
Details of the report are expected to be made public in mid-May, but Esselman said it indicates the city is missing out on tens of millions of dollars because of retail voids.
"There's a lot of gaps in services and products offered downtown," she said, pointing to sporting goods, home furnishings and specialty clothing stores as examples.
Dividing the space
The former Carson's space is likely to be split between at least two tenants, given few retailers are continuing to build out large-format stores, Esselman said.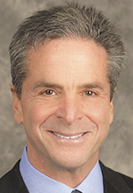 Perlstein
That trend is one of many that has challenged brick-and-mortar developers—and malls—the past several years, particularly as companies grow more reliant on online sales.
Mark Perlstein, first vice president of Los Angeles-based CBRE's Indianapolis office, said he expects Simon and mall ownership are looking at every possibility—both retail and non-retail.
"I'm sure they're doing a lot of shuffling around right now trying to determine the best use for the space," Perlstein said. "It's a complicated space, but it's a great piece of real estate."
He said the vacancy "is certainly not helping the mall. Until they come up with a viable solution, I think that's going to continue."
One use that has been discussed—albeit informally—is converting at least two of the floors into apartments or a boutique hotel.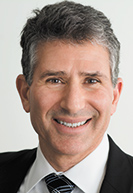 Tikijian
George Tikijian, an apartment broker with Cushman & Wakefield, said the idea is intriguing but carving the space into apartments would be challenging.
"From a location standpoint, I think it'd be pretty cool," he said, "and there would be a demand for people who want to live adjacent to the mall, but I don't know how it would be configured."
The city is particularly interested in finding the best use for the first floor, which fronts two of the most heavily trafficked downtown streets—Meridian and Washington, said Emily Mack, director of Indianapolis DMD.
"This building is really situated where it's along what I call 'Main and Main,' because these roads are really the primary arteries for our city," she said. "You couldn't have a better location, but finding a great use is challenging."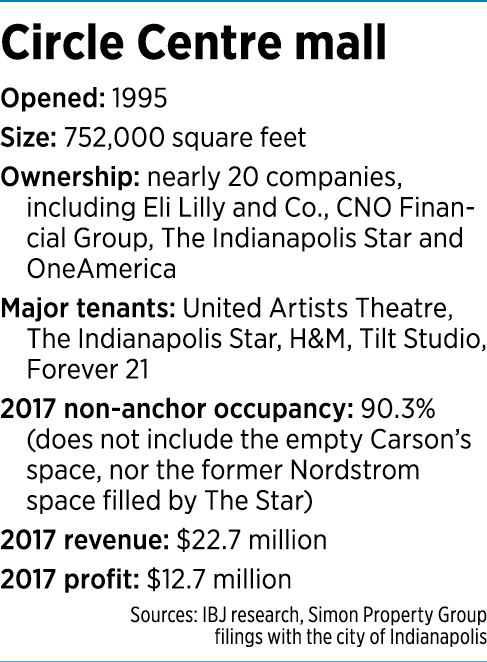 Having a first-floor retailer that will draw people into the mall is "critically important," Mack said. But since most retailers would be unlikely to use the upper floors, she added, that leaves "a number of options" upstairs, including office or other commercial purposes.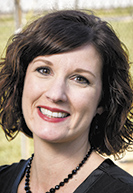 Mack
Perlstein, a commercial broker, said the building's prominence along the thoroughfares makes it a logical location for restaurants looking to capitalize on the downtown market.
Seventeen restaurants—many of them high-end—operate in spaces adjacent to the mall with direct access from the sidewalk. Another 15 fast-food and casual-dining restaurants operate inside the mall, either in their own spaces or in the third-level food court.
But making room for more restaurants could be cumbersome for Simon, which posted profit of $12.7 million in 2017, despite efforts to attract new stores and reverse declining foot traffic in the mall's interior.
Spiffing up
For city officials, moving the mall forward is about more than the former Carson's space. It means trying new approaches and attracting people to experience the downtown corridor in a new way.
"We have to get creative when we think about what the mall could look like," Esselman said. "It's not going to look like it did when it was built [in the early 1990s] some 20 years down the road."
The ownership group is making some improvements even before the future of the Carson's space is settled.
A $20 million overhaul of the mall's public-facing spaces includes new flooring and lighting, facade improvements and new gathering spaces.
The project was announced last year, just weeks after Carson's said it would close, and is seen by city leaders as evidence of ownership's commitment to the success of Circle Centre.
Simon's revitalization efforts also include adding experiential tenants like arcade Tilt Studio a few years ago and Helium Comedy Club this year.
"It's about making some investments to make the [mall] more visible and viable," Mack said. "Reinventing big buildings like that is hard … but I think what they've done already definitely helps."•
Please enable JavaScript to view this content.