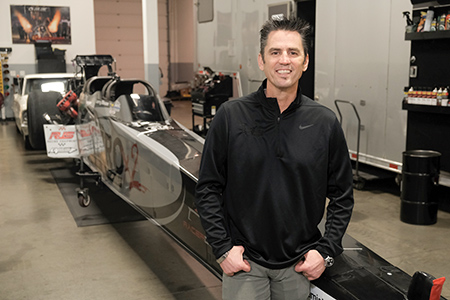 Champion drag racer Larry Dixon of Avon has filed a federal antitrust lawsuit against the National Hot Rod Association, alleging the California-based organization—which owns Lucas Oil Raceway in Brownsburg—wrongfully suspended and blacklisted him in 2017.
At issue is Dixon's private development and exhibition of a two-seater dragster car, which gives paying fans the ability to partake in the thrilling speeds of drag-racing as a passenger. He rolled out the two-seater to capitalize on the growing fan-experience market as drag racing enjoys a resurgence in popularity.
The complaint, filed April 11 in Indianapolis, alleges Dixon's two-seater dragster was blacklisted from more than 140 NHRA-member racetracks, a snub he believes is aimed at giving other two-seaters the NHRA endorsed a competitive edge.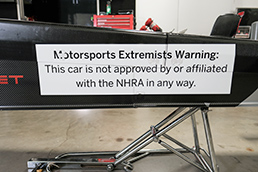 A sign on Larry Dixon's two-seater car eschews any NHRA connection. (IBJ photo/Eric Learned)
The move was "an obvious effort to use NHRA's unfettered control over professional drag racing to control the market in which two-seater exhibition cars compete for business," according to the complaint.
Dixon "has now been entirely deprived of his livelihood and sole source of income by this unjustifiable suspension—which is, in effect, a lifetime ban from NHRA—unless he relinquishes an investment of hundreds of thousands of dollars, as well as the future profits that he could derive from that investment," according to the complaint.
"It's disappointing it's had to get to this point," Dixon told IBJ of filing the suit. He said he had hoped to be able to come to an understanding with the NHRA. Dixon is a three-time NHRA national champion, and competitions have been his main source of income since 1995.
"There's a lot of it I don't understand," Dixon said. "This has absolutely put me out of business as a professional racer. I don't want anybody else to have to go through something like this."
The NHRA would not comment on the dispute. Senior Director of Public Relations Jessica Hatcher said the organization does not comment on pending litigation.
Dixon is an Indiana drag-racing legend. He got his start as a crew member for another legend, Don Prudhomme, and took over as driver for the team when Prudhomme retired in 1994.
He raced for that team for 15 years before driving for Alan Johnson/Al-Anabi Racing and then forming his own team, Larry Dixon Racing, which is based in Brownsburg.
His father, Larry Dixon Sr., raced in the 1960s and 1970s, and won numerous regional races and the 1970 winter regionals in Pomona, California.
NHRA's 2017 suspension of Dixon set off a mini-firestorm in the drag-racing world.
"For a professional drag racer to be suspended, it's big," said Troy Wilson of the Nostalgia Drag Racing League in Brownsburg. "It was a big deal because Larry is highly regarded in the sport of drag racing, as was his father. He has a huge fan base."
Entrepreneurial drive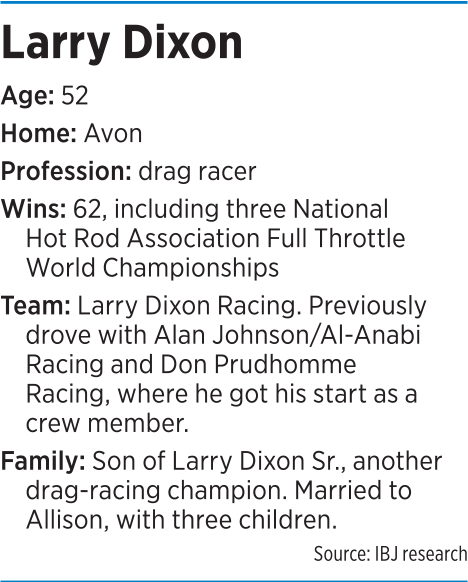 The demise of Dixon's longtime relationship with NHRA came as a shock, Dixon told IBJ.
He suggested to the organization in 2016 the idea of using a two-seater vehicle to promote the sport, an "unfulfilled opportunity for the serious drag-racing fan."
NHRA officials "expressed enthusiasm for this idea," the complaint said, as did others, including sponsors and racetracks.
Dixon then formed Championship Adventures LLC with co-investor Nick Salamone, and the pair spent "hundreds of thousands of dollars" over the next two years to develop the car, the lawsuit said.
The two-seater was ready to display in fall 2017, at the SEMA, or Specialty Equipment Market Association, show in Las Vegas. At the time, Dixon distributed a press release unveiling Larry Dixon Top Fuel Experience, billing it as the "fastest ride in drag racing."
The nitro-burning, 10,000-horsepower two-seat "ride of a lifetime will accelerate up to 4Gs and 250 miles per hour in a 1/8th-mile run with the 62-time NHRA national event winner at the control," the release stated.
"We got huge, huge response, and literally got over 1,000 email inquiries on that car," Dixon said of the two-seater's unveiling. "It went off better than I expected."
But the car was not a hit with the NHRA. On the first morning of the show, an NHRA representative "strategically visited Championship Adventures' booth at a time when Mr. Dixon was not there, intending to conduct an unauthorized 'inspection' of the prototype of the two-seater car," the complaint said.
The NHRA inspector saw an expired NHRA sticker in the car, which Dixon said was there "simply because the chassis for the prototype for the two-seater dragster was originally a car that had competed in the NHRA."
"No one had removed the sticker, as there was no need to remove an expired sticker when the car was not built as a competition car," according to the complaint.
The NHRA official "demanded that the sticker be covered up," and the person manning the booth complied. Later, when Dixon returned to the vehicle, he saw the sticker had been removed. His complaint alleges that an NHRA inspector removed it.
Days later, Dixon received a "statement of action against participant" notice from the NHRA, which said Dixon had violated the group's rules and was indefinitely suspended as a driver, team owner or crew member. The notice stated that the NHRA chassis tag on an unauthorized and unapproved two-seat dragster incorrectly "implied NHRA's approval" of the car.
"As you were told by NHRA officials on multiple occasions, NHRA has not and will not approve a two-seat top fuel dragster for a variety of reasons," the notice stated. "The two-seat top fuel dragster concept presents serious safety concerns that have not been satisfied and that we do not believe can be satisfied."
The suspension "crushed me," Dixon told IBJ.
Unsuccessful appeals
Dixon argues he did not intend to imply that the NHRA had sanctioned the car. His team also doesn't believe Dixon needed the NHRA's approval to display a prototype at the SEMA show, an event the NHRA participates in only as a vendor.
"NHRA in its more than 66-year history has never announced that an expired sticker must be removed, nor had it ever issued a penalty for the display of an expired sticker," Dixon's complaint stated. "NHRA's intent was not to protect the integrity of NHRA-sanctioned races; NHRA intended to destroy [Dixon's] ability to compete in the markets at issue in this case."
Dixon was unsuccessful in the NHRA appeals process, which the complaint alleges was a sham. The complaint says Dixon was told not to retain legal counsel, could not attend his own appeals hearing, and was not allowed to see evidence presented against him.
In the NHRA's April 2018 decision on Dixon's appeal, the organization stated Dixon "could not compete in NHRA as a driver or team owner unless he would 'ensure' that the two-seater dragster would not be operated anywhere in the world, with it being 'the committee's strong recommendation' that he 'dismantle' the car," according to the complaint.
After Dixon tried to initiate a "final appeal," the complaint says, the NHRA in July 2018 declared "Mr. Dixon guilty of all charges, but with his suspension purportedly lifted for 'time served.'"
However, the NHRA continued to ban the two-seater dragster from all its member tracks, with the complaint alleging that the organization contacted its member racetracks, sponsors and others instructing them not to do business with Dixon with respect to the two-seater.
Meanwhile, the complaint alleges, the NHRA approved or endorsed three other two-seater dragsters that it is directly profiting from.
Drag racer Doug Foley's Pure Speed company is booking rides in June and August at Lucas Oil Raceway. A "dragster blast ridealong" costs $199.
"NHRA member track owners had no choice but to comply with NHRA's request given NHRA's monopolistic power over professional drag racing and its concomitant power over member tracks' financial wellbeing," the complaint stated.
The lawsuit accuses the NHRA of defamation and alleges it violated Dixon's due process rights, the Sherman Antitrust Act and state antitrust laws.
The lawsuit alleges Dixon "has been deprived of his very livelihood for more than a year, and that deprivation will continue unabated at least until NHRA corrects those defamatory statements."
Dixon is asking for unspecified damages, attorney's fees and a jury trial. He says he also wants the NHRA to clear his name.
While Dixon is technically able to compete in NHRA races, he has had trouble attracting support from sponsors or being hired as a driver because most people still think he is suspended.
"Technically the [suspension has] been dropped, but they haven't let anybody know that," he said.
Dixon's future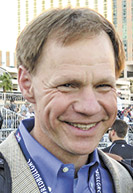 Frost
Two-seater car experiences are becoming more popular in drag racing and other auto sports, said Tim Frost, publisher of the Illinois-based National Speedway Directory.
The Indy Racing Experience, begun in 2001, offers fans two laps around the Indianapolis Motor Speedway in a two-seat IndyCar at up to 180 mph for $499.
But Dixon said he hasn't been able to take many fans for rides in his two-seater, since most tracks are affiliated with the NHRA and have been instructed not to work with him.
"I'm like cancer right now," he said. "It's made it a challenge."
Since the suspension, Dixon said, he has had to become "a one-man band," because he can't afford to keep on his three full-time crew members.
His driving was his family's main source of income. A "down year" as a hired driver typically brought in $125,000, but he said he had "up years where I could be approaching seven figures."
"Last year was the first year I didn't make one dollar out there," he said.
Observers say the dispute with NHRA has slowed Dixon's career at a time drag racing is on the upswing.
"Drag racing is huge," said Wilson of the Nostalgia Drag Racing Association. "It's making a big comeback. The attendance is back up. It's good-quality family entertainment."•
Please enable JavaScript to view this content.