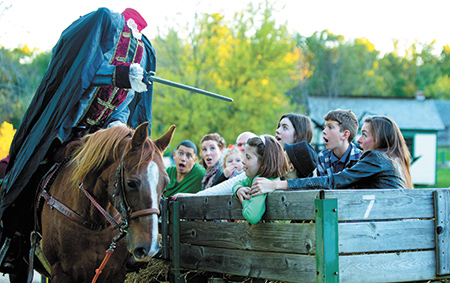 Conner Prairie saw attendance slip in 2018, but the interactive history museum in Fishers still enjoyed the second-highest visitation mark in its 85-year history.
A total of 402,261 visited Conner Prairie in 2018, a 6 percent decline from 2017's record mark of 428,602.
Museum officials announced the latest attendance mark Thursday in a public meeting that unveiled the newly renovated Chinese House and the brand new Bluffs at Conner Prairie event venue.
The museum and Carmel-based hospitality company Ritz Charles teamed on a $3 million project to renovate the 111-year-old Chinese House, near 131st Street and Allisonville Road, and add the 250-person Bluffs event space along the White River.
Ritz Charles provided the majority of the funding for the construction of the pavilion and received exclusive operating rights to provide food and beverage services at the venue and the Chinese House.
Among other 2018 highlights announced by the museum Thursday:
—   Visitors came from 46 U.S. states and 22 foreign countries;
—   7,704 families consisting of 36,756 adults and children joined Conner Prairie as members. That was down from a record high of 8,267 families consisting of 39,332 adults and children in 2017;
—   a record 2,317 campers participated in the Summer Day Camp program;
—   18,966 people took flight in the museum's tethered helium balloon, generating revenue of $205,090;
—   122,140 people attended Kroger Symphony on the Prairie;
—   a record 28,038 people attended the Headless Horseman fall festival;
—   7,388 people attended three free admission days, including a record 5,312 during Smithsonian Museum Day;
—   337 adult and youth volunteers gave a combined 20,732 hours of service to the museum.
The Chinese House was built in 1907 by the Atkins family of Indianapolis on land originally owned by William Conner. Indianapolis automobile industry executive Eugene Haslet Darrach purchased the house and property in 1915.
Eli Lilly, then president of Eli Lilly and Co., acquired the home in the late 1940s to use as a family country retreat. He gave the house its name after decorating it with Asian furniture and having Chinese symbols painted on the ceilings.
Conner Prairie had used the 925-square-foot building as a small event venue, with room for about 65 guests.
Please enable JavaScript to view this content.