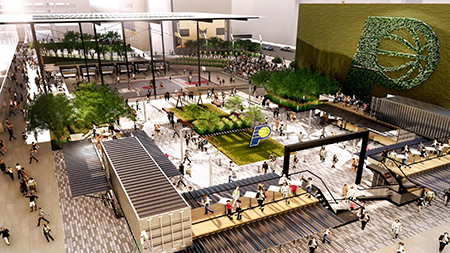 Less than two weeks after the Capital Improvement Board signed a 25-year, $800 million agreement with the Indiana Pacers, the Legislature passed a bill that will fund that deal.
But the bill—which is now awaiting Gov. Eric Holcomb's signature—is about much more than just helping to fund a renovation and expansion of the Pacers' home arena, Bankers Life Fieldhouse.
The legislation also gives the CIB millions in new dollars to help it make ends meet over the next quarter century. Without that money, the CIB would be headed to insolvency.
Podcast host Mason King talks with IBJ reporters Lindsey Erdody and Mickey Shuey about the legislation, the Pacers deal and what the changes at the fieldhouse will look like.
To learn more about the legislation and how it impacts the CIB, read Erdody's story here. To learn more about the public plaza that will be included in the Bankers Life Fieldhouse project, read Shuey's story here.
News clips courtesy of WTHR-TV Channel 13 and WISH-TV Channel 8.
Click here to find the IBJ Podcast each Monday. You can also subscribe at iTunes, Google Play, Tune In and Spotify. Here are some of our recent podcasts:
IBJ Podcast: Why tech execs bought The Vogue in Broad Ripple
IBJ Podcast: Bill Oesterle's TMap is asking former Hoosiers to come back home
IBJ Podcast: Lessonly's Max Yoder on teamwork, vulnerability and how they're connected
IBJ Podcast: IndyGo's electric buses won't go as far on a charge as the manufacturer promised
IBJ Podcast: How a local tech pioneer is trying to save a once-promising Indy startup
Please enable JavaScript to view this content.