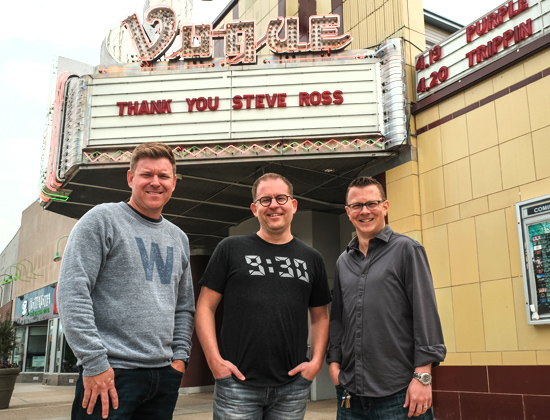 Three tech entrepreneurs—High Alpha's Eric Tobias and Mobi's Scott Kraege and Andrew Davis—have long been fans of live music. But they've taken that hobby one step further by purchasing The Vogue nightclub in Broad Ripple.
Tobias talks with podcast host Mason King about what the trio plans to change at the 81-year-old venue (think glass barware and a larger green room)—and what they think the club is already doing well.
Plus, hear how the new owners want to expand the number of events at The Vogue by expanding the types of programming to include things like live podcasts. 
For more information, see IBJ reporter Susan Orr's story about The Vogue's ownership change.
And thanks to Cody Diekhoff—who performs as Chicago Farmer—for giving us permission to use audio from his 2018 show at The Vogue in this week's podcast.
Click here to find the IBJ Podcast each Monday. You can also subscribe at iTunes, Google Play, Tune In and Spotify. Here are some of our recent podcasts:
IBJ Podcast: Bill Oesterle's TMap is asking former Hoosiers to come back home
IBJ Podcast: Lessonly's Max Yoder on teamwork, vulnerability and how they're connected
IBJ Podcast: IndyGo's electric buses won't go as far on a charge as the manufacturer promised
IBJ Podcast: How a local tech pioneer is trying to save a once-promising Indy startup
IBJ Podcast: He grew up in Sahm's restaurants; now he's expanding the business
Please enable JavaScript to view this content.