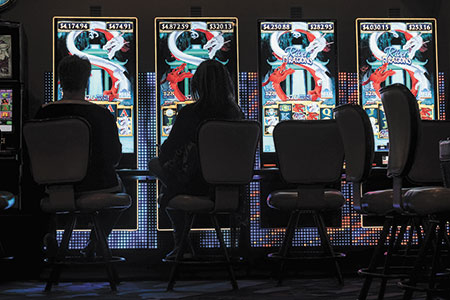 Lawmakers passed a historic gambling bill this legislative session, with some observers describing the changes as the most significant in the industry since the Legislature authorized riverboat casinos in 1993.
So, what does that mean for Hoosiers? Whether you're a gambler who loves blackjack or a sports fan who wants to bet on a basketball game or someone who wants to work at a casino, this legislation will have an impact.
Gov. Eric Holcomb had not acted on the bill by IBJ's deadline, telling reporters on April 29 that he needed more time to read it, but he has not threatened to veto it.
Here's a look at what you need to know—all of which assumes the bill becomes law.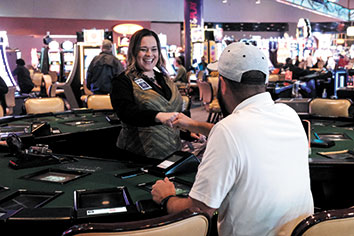 Gamblers at Harrah's Hoosier Park in Anderson must play table games through a computer, but employees, like Jennifer Koger, are often on hand to simulate the feel of a dealer. Legislation awaiting action by the governor would allow the racino to staff games with live dealers. (IBJ photo/Eric Learned)
Place your bets
Sports betting will be legal on Sept. 1.
"I think you're going to see a very heavily marketed rollout of this opportunity for Hoosier citizens," said Matt Bell, president and CEO of the Casino Association of Indiana.
Who can place bets: anyone age 21 or older
What you can bet on: Sports books can offer bets on any professional or college sport.
What you can't bet on: high school or other youth amateur sports and e-sports
How it will work: Casinos, horse-track race casinos and off-track-betting facilities will have to apply to the Indiana Gaming Commission to be allowed to offer sports wagering. Bell said he hasn't heard about any casino that is not planning to pursue the opportunity. Once their application is approved, casinos can work with up to three vendors to create a sports-betting platform.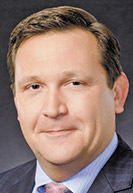 Bell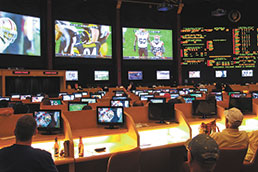 Indiana casinos are expected to dedicate floor space to new areas of sports betting, like this one at a Las Vegas casino. (Photo courtesy of Nick_Nick/Shutterstock.com)
How you will place your bet: Casinos will provide ways for individuals to sign up and prove their age—either online or in person—then bets can be placed at the casino or through an online platform offered by the casinos, including on smartphones. Geo-fencing software—which allows the computer or device to detect where you're betting from—will be used to ensure that people in other states cannot place bets remotely through an Indiana casino.
Casinos can partner with well-known entities like DraftKings or FanDuel or William Hill to create and host their sports books.
But you might not be able to bet everywhere in the state, even by smartphone. Bell said the Gaming Commission will decide whether to allow sports venues to use geo-fencing to prevent people from gambling at a live event.
"I think that's something to watch for," he said.
Other changes: Bell predicted that casinos will redesign their facilities to accommodate specific areas for sports betting, with large TVs to show games and outcomes—similar to sports books in Las Vegas casinos. Bell said the casino operators see this as a way to attract a younger audience to the property.
"That's the crux of the excitement for our properties," he said.
Live dealers
Indiana's horse track casinos—Harrah's Hoosier Park in Anderson and Indiana Grand Racing and Casino in Shelbyville—will be allowed to have live dealers at their table games—rather than using computer dealers—starting Jan. 1. That's a year earlier than originally planned.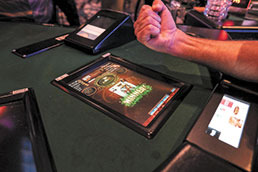 At Harrah's Hoosier Park, blackjack isn't dealt by a live dealer. (IBJ photo)
"I think our Indiana racinos are very excited to offer this amenity to its players sooner," Bell said. "This will undoubtedly offer a more enhanced experience."
What's changing: Racinos currently offer only electronic games, meaning customers gamble on computers rather than at a table with an in-person dealer and against other in-person players.
What this means: Bell said the racinos will redesign parts of their casino floors to add space for live-dealer tables—and the Indiana Gaming Commission will have to approve those plans.
What games to expect: Bell said the racinos will likely offer the same games customers see at other casinos—blackjack, poker, roulette, craps, etc.
Job creation: Bell estimated that 60 to 70 full-time live dealers at racinos would be needed, and the growth of table games would spur creation of 650 to 700 related jobs.
Gary casino shuffling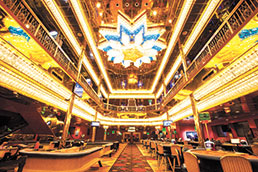 Majestic Star Casino
Majestic Star I and Majestic Star II, both on Lake Michigan's Buffington Harbor in Gary, are expected to close and be removed from the dock. One of those casino licenses will then be used for a $300 million casino to be built along the Interstate 80/94 corridor.
Who's in charge: Indianapolis-based Spectacle Entertainment owns the Gary casinos and plans to build the new one.
Exact location: John Keeler, general counsel for Spectacle, said he expects the company to share that information within 30 days.
The timeline: Keeler said construction should start within a year. "The way the bill ended up, there's a lot of incentive to move quickly," he said.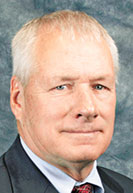 Keeler
What about the boats? Majestic Star I and Majestic Star II will remain open until the land-based casino opens.
Staffing up: Spectacle expects to keep the existing 800 staff members from the Majestic Star casinos and add 400 jobs.
What the new casino will offer: Keeler said the company is working on those plans now. The legislation allows for up to 2,764 gambling positions (for customer participation, in a game or at a machine). Keeler said he couldn't confirm that Spectacle will use the full allotment, but will likely use "a big chunk" of them. "We've got a lot of things on the table."
Terre Haute casino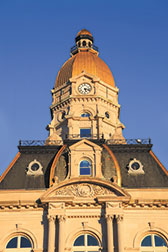 Vigo County Courthouse (Photo courtesy of Shutterstock)
If the two Gary casinos consolidate into one along the interstate—as expected—Terre Haute will be allowed to have a casino, the first in that part of the state.
What comes next: Voters in Terre Haute's Vigo County have to approve a referendum supporting a casino. The referendum could be placed on ballots either this November or in May 2020. Terre Haute Mayor Duke Bennett said officials are still deciding on the best time for the referendum.
"Although we're anxious to get started, we want to make the decision on when to host the referendum with some good data, and we're still waiting on that data," Bennett said in an email.
Who would own it: That's still unknown. Interested casino operators would submit proposals to the Gaming Commission. The selected operator would have to pay a $5 million license fee and invest at least $100 million in the casino.
What it would be like: That would depend on the owner, but 1,500 gambling positions would be allowed.
One option: Spectacle has already expressed interest in pursuing a Terre Haute casino and proposed a $100 million to $150 million facility. Keeler said the casino could create 300-400 jobs.•
Please enable JavaScript to view this content.