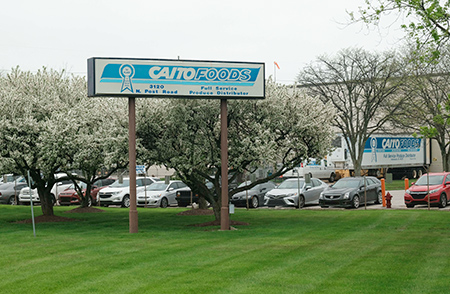 Wolfe and Swickard Machine Co. last year faced a labor shortage: The Indianapolis manufacturing firm was striking out in finding skilled workers, let alone those with manufacturing experience, to fill open jobs.
So President Joe Williams turned to candidates with a different type of background: ex-offenders.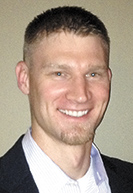 Williams
"If I could hire people that were skilled in manufacturing from the get-go, that would be the avenue I'd pursue," Williams said. "Those people just aren't out there. We recognized, if we're going to grow our business and get the work out the door, we had to do something different."
The idea of considering workers with criminal backgrounds—who typically have much higher unemployment rates than the general population—to fill open jobs was suggested to Williams by Develop Indy, the economic development arm of Indy Chamber.
Develop Indy connected Williams with PACE, an Indianapolis not-for-profit that helps people coming out of the criminal justice system re-enter the community.
So far, Williams has hired several people recommended by PACE, also known as Public Advocates in Community Re-Entry.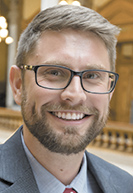 Nicolini
"A lot of the candidates coming through PACE are motivated, and when they get an opportunity, they're extremely grateful for it," Williams said. "There are those that aren't, but I would say the majority of them are motivated to learn and do better. I personally believe in second chances."
Since late 2017, Develop Indy has directed 112 businesses to PACE for help finding workers from the ex-offender community, a labor force the economic development agency considers an untapped resource in the tight market. So far, PACE has successfully placed about 120 ex-offenders in open jobs at the companies.
"We're really excited about the early results of this partnership and equally excited about the potential to scale this," said Ian Nicolini, who oversees Develop Indy as vice president of Indianapolis economic development for Indy Chamber.
The push helps address two challenges: Indianapolis businesses, wrestling with a tight labor market as unemployment hovers at 4%, need workers. And ex-offenders, thousands of whom resettle here annually as they exit the criminal justice system, need jobs.

Local statistics are hard to come by, but a 2018 study from the Prison Policy Institute found the U.S. unemployment rate for the formerly incarcerated is about five times higher than that of the general population.
The new strategy for Develop Indy comes as community leaders promote the idea of "inclusive growth"—which includes re-engaging marginalized populations, such as those with criminal backgrounds—in an effort to tackle rising inequality in the city.
"We're making investments in businesses, and we want to ensure our workforce is in a position to benefit," Nicolini said.
"Our competitiveness as a regional economy, as a city, depends on increasing participation in the workforce. We have a business case that says a more inclusive economy is a more competitive one."
'A warm hand-off'
There's nothing inherently complicated about Develop Indy's partnership with PACE, Nicolini said. Develop Indy staff is simply mentioning to businesses the possibilities of re-entry hiring and PACE's ability to help them find candidates, then making an introduction.
"It's essentially a warm hand-off," Nicolini said. "It is largely relationship-driven."
But the partnership has been a "game-changer" for the not-for-profit and the clients it serves, PACE Executive Director Rhiannon Edwards said.
"We have more partner employers now than we've ever had, and I've been here for more than 10 years," Edwards said.
Now, she said, PACE can devote its time and "shoestring budget" to vetting clients and trying to match them with open jobs at the various employers. In 2018, PACE served about 4,400 clients, including 1,500 new clients, on a$1 million budget.
In addition, the jobs available to PACE clients through the partnership are typically higher-quality and better-paying than what PACE was able to find before, she said.
PACE staff members previously spent fruitless time and effort cold-calling employers they believed might be open to hiring their ex-offender clients, Edwards said.
"It was touch and go who would talk to us," she said. "It was a whole different world."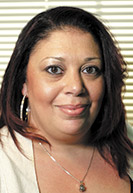 Edwards
Edwards said social services agencies like hers typically try to persuade businesses to work with them using the "bleeding heart" approach—leading with their mission, not a business case.
In contrast, Develop Indy makes a compelling economic case that resonates with employers, she said.
"This partnership is opening access to a whole different group of [businesses] that may have never been advocates," Edwards said.
"Now, they're turning into advocates indirectly. I think we're building long-term engagement."
'Always hiring'
Another local firm that has been connected to PACE through Develop Indy is produce distributor Caito Foods.

Caito talent consultant Laura Hester said the firm is "always hiring" for jobs, especially in food manufacturing, warehousing, production and assembly. Entry-level production workers make $12 per hour. Those with higher skill sets start at up to $14 per hour.
"We bring in several temps every week to fill these roles," Hester said. "Our turnover rate is high. It's cold; it's wet; we're working with perishable foods. We require you to work weekends, and long hours."
Caito Foods performs background checks, and Hester said the company hires people with criminal backgrounds on a case-by-case basis.
About One City Worlds Apart
This is the latest story in an occasional series examining the growing gap between the affluent and poor in Indianapolis and ways to address the problem. Read the earlier stories
here
.
But she is interested in giving more PACE clients a chance.
So far, the company has interviewed a handful of candidates and hired a few.
Hester, who started at Caito as a quality assurance employee, said she believes Caito could give advancement opportunities to "candidates [that] might have a hard time finding a job in other places.
"I tell people all the time, there's so much opportunity here," she said. "We have so many success stories like that, associates who started on a production line and now they're a supervisor."
Taco Bell's Indiana operations director, Joe Unger, said he is in early talks with PACE about re-entry hiring after being connected by Develop Indy.
But he said the company is still evaluating whether a partnership would work.
"There's some things on people's backgrounds that we just cannot bring to our workforce," Unger said.
"As of right now, it's in the very early stages of talking and trying to figure out if there is anything we can do with the ex-offenders. I truly believe in rehabilitation myself. I believe there's good people that make wrong decisions."
Success over scale
Businesses are becoming more open to the idea of hiring ex-offenders because of the labor-market crunch, said Jeff Korzenik, chief investment strategist for Cincinnati-based Fifth Third Bank.
"It's absolutely driven by the labor shortage and a high business confidence," Korzenik said. "This is arguably the tightest labor market in 50 years, maybe ever. All of that has employers willing to consider things they may not have considered once upon a time."
But the low unemployment rate is not likely to stick around forever. Korzenik said advocates for re-entry hiring have an interest in starting slow and "getting it right" so the partnerships remain during economic downturns.
"It will be in the long run more successful if you place 50 good hires than 200 questionable hires," he said.
"If businesses go into this blindly, or a non-profit tries to deliver a person not ready for employment, you will have haphazard results and employers will not look to this labor pool in the future."
PACE's Edwards said success over scale—and making businesses feel comfortable—is her priority for the partnerships.
PACE works with businesses to find employees who meet their needs, including screening for different levels of offenses.
"We are very, very picky about who we send to [employers]," she said. "If we send a whole bunch of bad candidates, it makes the whole re-entry community look bad. We don't want to scare them away."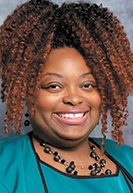 Evans
Trelles Evans, director of mission advancement for re-entry and disability services for Goodwill of Central and Southern Indiana, said she was encouraged to hear about the partnership between PACE and Develop Indy.
Evans said that, for many years, organizations like Goodwill that had a social-impact mission built into their business model were just about the only employers wiling to hire ex-offenders.
She said she wants to see more employers get involved.
"The biggest thing is fear of the unknown," Evans said. "They've served their time. Let's put that aside and allow them to be people that can move forward. They're getting shut down before they even get in the door."
New approach
The partnership with PACE is part of a fundamental shift in Develop Indy's strategy toward economic development, Nicolini said.
Develop Indy is in the process of finalizing a new incentive strategy shaped by the "inclusive growth" mission and will launch it later this year.
But it has already made other changes, such as the way it approaches meetings with businesses considering expansions in central Indiana.
In the past, those meetings were mostly transactional, focusing on such issues as what tax incentives the business might benefit from.
"It lacked some of the human touch," Nicolini said. "That doesn't leave a lot of opportunity to better understand companies' goals and values."
He said Develop Indy has become more targeted, reaching out to what he calls "opportunity industries" that pay a living wage and offer a ladder into the middle class, such as logistics and manufacturing.
And while continuing to offer incentives, Nicolini said, the agency is also leveraging its community connections—such as its relationship with PACE—to help firms meet various business and philanthropic needs.
"We're trying to get away from the high volume and get more into the high touch," he said. "We need to play a stronger role in connecting growing companies to the city's civic infrastructure."•
Please enable JavaScript to view this content.