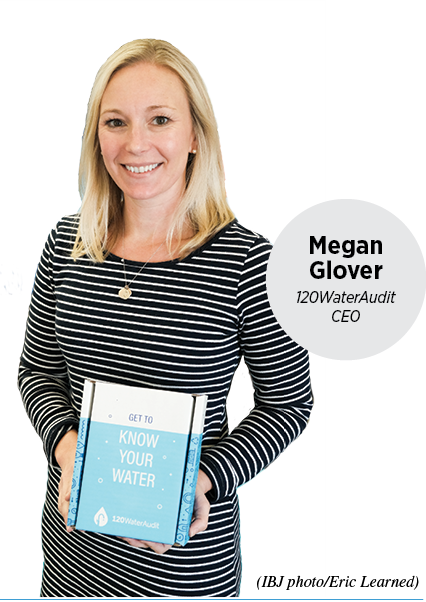 Megan Glover, an Angie's List and Compendium Software alum, started 120WaterAudit in 2016 with the idea of targeting residential consumers nationwide with a water-testing kit that cost $120 every four months.
With water problems in Flint, Michigan, top of mind, the market had some traction. But in 2017, Glover encountered strong interest in the service from a different clientele base—municipal water utilities.
120WaterAudit repositioned itself in response and that change has paid dividends. The company snagged clients in several states, but the big win came in April 2017 when it won a sizable contract with the state of Indiana.
120WaterAudit raised $2 million in seed funding last year and is now raising capital for an ambitious Series A round, which the company hopes to close in the third quarter. CEO Glover, 37, said 120WaterAudit expects to grow its headcount from 18 to about 100 full-time employees by 2022.
What was your original motive for starting 120WaterAudit?
120WaterAudit was co-founded by myself, [ClusterTruck CEO] Chris Baggott … and Dave Kohl, who owns a number of environmental labs on the East Coast, Pennsylvania and Ohio. 120WaterAudit was actually started as a side hustle if you will. Because we identified a need for a better way for the average consumer to test their water. As a mother with two young children, I did a lot of research. And there was a void … of easy, accessible water-testing kits average consumers could use to test water at home.
Later, you pivoted the company. When and why?
When we launched the water-testing kit, it was backed by software. I'm a technologist. I spent the last 15 years of my career building and growing B2B software [for] service companies here in Indy. When we launched the consumer kit, the actual inbound demand for it started to come from municipalities and facilities such as school districts. We realized that drinking-water compliance rules were starting to change across the country, which were forcing these municipalities and these school districts to test their water like they never had before. And they didn't have a good solution to do that.
When I started working with municipalities and school districts, my first question would be, "Where's your software to manage all of this data?" They didn't have anything. Paper or filing cabinets were their best resources for that data. We realized how void of modern business applications our clients were in executing these drinking-water rules.
How difficult has it been for your company to raise money?
I have been very impressed … raising our seed capital. There is a lot of capital to deploy here. Especially what I would call seed stage, or friends and family high-impact angels. We've raised almost our entire $2 million from within the state of Indiana. We are a community that wants to foster innovation and growth.
For our [Series A], which is going to be $5 million-plus, we are looking at some growth-stage funds here in Indiana. But we are certainly looking outside of Indiana as well. We are trying to stay local to the best of our ability, but we've got to find a strategic capital fit for our business in order to achieve our next five- to seven-year goals. And that's probably going to come from outside the state.
How will you use the Series A funds?
The majority of that is going to go to sales and marketing, followed by research and development, followed by operational growth needs, such as real estate and other operational headcount.•
Please enable JavaScript to view this content.