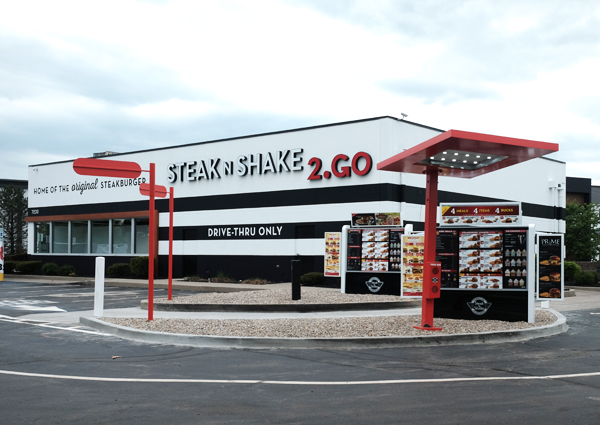 Steak n Shake has rolled out a new-concept restaurant in Indianapolis that fits right in with its growing strategy to escape its roots as a sit-down diner and become more of a chain known for fast food.
Steak n Shake 2.Go opened two weeks ago at 7230 Woodland Drive, near 71st Street and Interstate 465 on the city's northwest side, in a formerly traditional Steak n Shake that was closed and remodeled. The new concept offers drive-thru, delivery and mobile-order pick-up services, but no table service.
Judy Kadylak, senior vice president of marketing for Indianapolis-based Steak n Shake, said the new operating model is the first one the company has tested.
"We are very excited about the potential of this model as we already do a majority of our business through the drive-thru and, without the dining room, we are able to provide an extremely competitive and efficient drive-thru experience to our guests," she said in an email to IBJ. "This also gives us the ability to operate the unit with significantly less labor, which, during a time of low unemployment, can be hard to find."
Sardar Biglari, CEO of Steak n Shake parent Biglari Holdings, said in his most recent letter to shareholders that about half of the chain's revenue comes from takeout and drive-thru business—an increase of 52 percent since he took over Steak n Shake a decade ago.
Biglari's strategic emphasis has concentrated on cheap meals and faster service. He said the chain must continue to improve in that area if it wants to return to profitability after a money-losing 2018.
"Whereas we adopted Henry Ford's pricing philosophy—lower prices, higher volume—we failed to implement his highly efficient assembly line methods," Biglari wrote in his 12-page letter. "To be a market leader in the fast food business, we should have paid greater heed to becoming, well, fast."
The new concept, if it proves successful, will also offer lower operating costs for franchisees. Steak n Shake is putting a growing emphasis on converting many of its company-owned stores into franchises.
Steak n Shake had 413 company-owned restaurants and 213 franchised units as of Dec. 31 but has closed at least 60 company-owned stores since then. It said those closures are "temporary" while it finds franchises to take over the locations.
Please enable JavaScript to view this content.