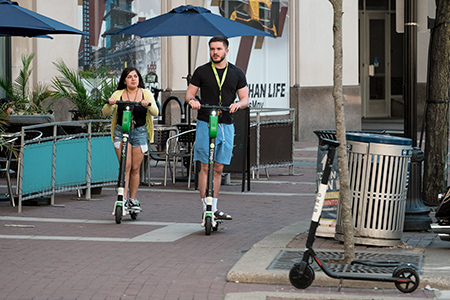 Dockless electric scooters are omnipresent downtown, popular with tourists and partiers, but could they actually make it easier for residents of other areas of the city to get to work or school?
City officials and transportation advocates want to increase access to scooters for low- and moderate-income residents and others who live outside the Mile Square, Mass Ave and Fountain Square, the areas where they're most heavily used now.
Proposed Department of Business and Neighborhood Services regulations for scooters and other mobility devices would do just that. Among other requirements, the rules would force most scooter companies to put at least 10% of their devices in certain "access" areas in Marion County.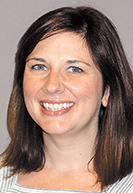 Seeder
Those areas include parts of the near-west side, Riverside, the northwest side, the Crown Hill neighborhood, Martindale-Brightwood and the far-east side.
"Access zones are something we've been looking at for a long time and something that's common in other cities with scooters," said Sonya Seeder, administrator of the city's license and permit services.
"We went through and identified areas that have a need for last-mile transportation. The effect will be, scooters will be available to more citizens of the city."
The access areas were chosen based on residents' reliance on non-automobile forms of transportation, proximity to future bus-rapid-transit lines, and analysis of scooter rider behavior, according to the Department of Metropolitan Development.
The proposed regulations, which could be adopted as soon as May 10 by the department's board, also cap the number of scooter companies operating in Indianapolis at six and limit the number of scooters companies can place on city streets at any given time, using average daily ridership as a guide. The overall cap would be 1,000 devices per company.
The city has so far doled out four licenses: to Lime, Bird, Spin and Lyft, all out-of-town firms that have also recently deposited their scooters in dozens of other U.S. cities.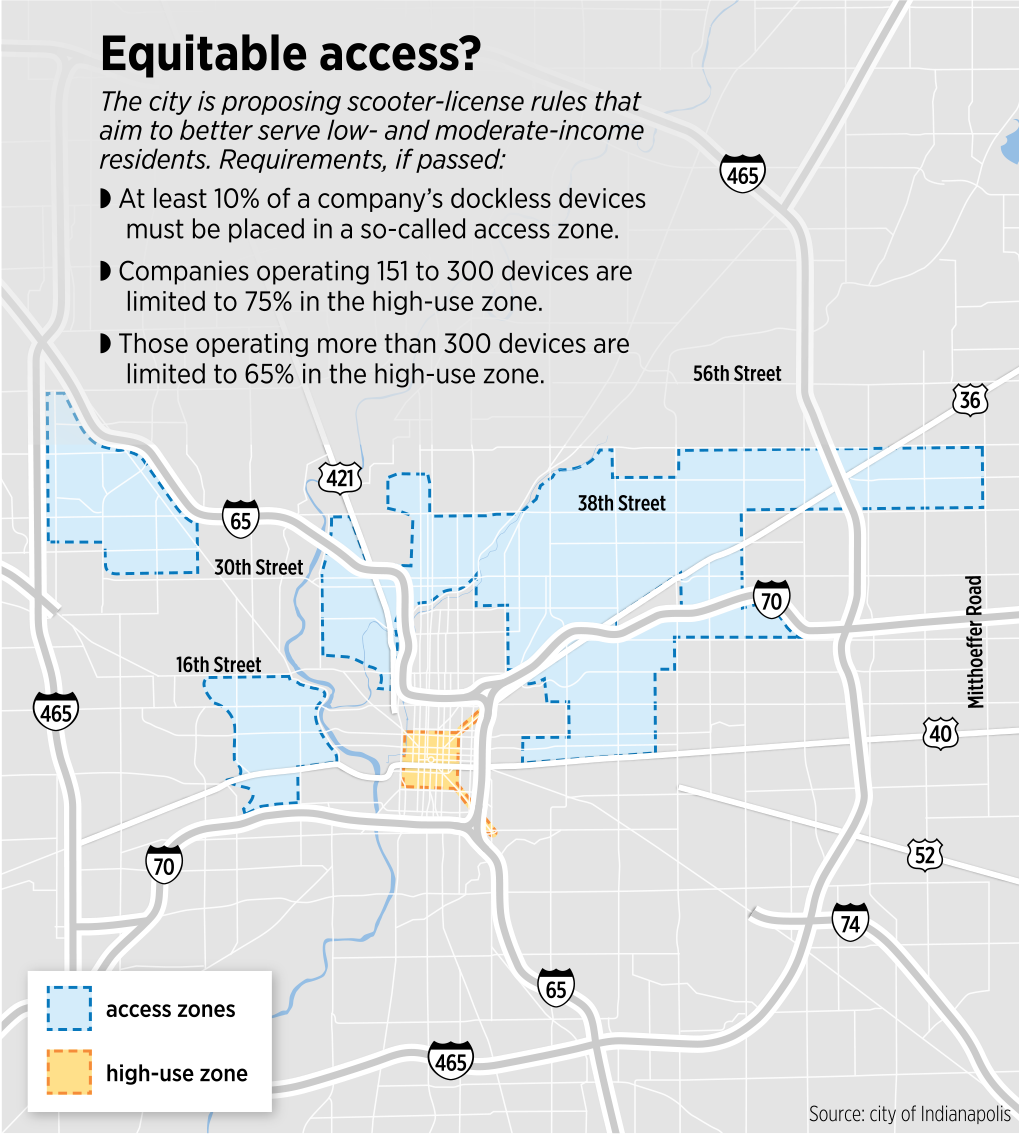 As the devices become more popular, more local governments have started imposing regulations to increase access to residents who wish to use them for basic transportation, said Sharon Feigen, executive director of the Chicago-based Shared-Use Mobility Center, an advocacy group that says it's dedicated to "achieving universal, affordable and sustainable mobility in urban and metropolitan regions of the U.S. through the efficient sharing of transportation assets."
"A number of cities have put in requirements … to have some kind of equitable distribution of the vehicles," Feigen said. "A mode of transportation that can maybe help somebody get to work or get around cost-effectively, and in an environmentally sound way, needs to be everywhere. It shouldn't be relegated to only one area."
For instance, Louisville, which Indianapolis officials say they looked to as a guide, requires companies to place scooters proportionally in various distribution zones, a policy "intended to ensure that no singular zone is intentionally overserved or underserved."
Overall, Feigen said, the result in cities with regulation has been "a lot of interest and utilization in lower-income areas."
"It really can supplement the transit system and be an alternative to driving a car," she said.
Zach Adamson, vice president of the City-County Council, said the access areas would require scooter companies to "stick with what they assured us was the real motivation" behind their services: mobility.
"This was all billed under the guise that [scooters] would serve people needing last-mile connectivity," Adamson said. "I don't believe we're seeing that manifest."
Limited solution
Still, advocates for better transportation in Indianapolis say scooters are far from a final answer for Indianapolis' transportation challenges.
"We should not be thinking of the scooter as being any kind of mobility panacea," said Ron Gifford, project manager of the Personal Mobility Network, an initiative of the Central Indiana Community Foundation. "They serve a niche part of the community. If you're traveling alone and live a half-mile or mile away from an IndyGo line, and you had access to a scooter at your apartment complex, it could shorten your commute."
However, Gifford said, "you're not going to use a scooter to transport your child to school or day care or go to the grocery." And it's not a good option for older residents or those with other mobility challenges or disabilities.
Even so, Gifford said he is supportive of efforts to place scooters in areas besides downtown.
"We think it's really critical that there should be equitable access to these options within the community," he said.
"If a company is coming into the community and its business model is based on the premise of using the community's infrastructure, in exchange, the options should be available throughout the city. It's pretty straightforward."
Other factors
IndyGo spokesman Bryan Luellen cautioned that "physical availability is just one part of the equation. The ability to pay and the existence of safe facilities are integral to the usefulness of shared-mobility services."
Luellen said "the built environment is a critical consideration" in how useful and safe scooters will be for people in many neighborhoods.
"The existing infrastructure in many areas of the city has been built as car-priority. And while Indianapolis has come a long way to improve bike and pedestrian infrastructure, there's still an enormous need."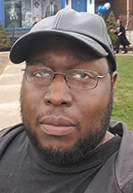 Paschall
Wildstyle Paschall, a music producer and community activist who lives near 30th and Martin Luther King Jr. streets—an area within one of the city's proposed access zones—said cost is also a limiting factor.
"Sometimes it's two or three dollars in addition to [bus fare]," Paschall said. "I'd rather just walk or ride a bike."
Paschall said he sees scooters in his neighborhood occasionally, but "typically it's people just having fun on them, more so than taking them to a destination."
He said the city's goal to increase access to scooters could change that.
"It will help people in some areas, especially where the bus lines don't run as well and they're further away," he said.
The Personal Mobility Group, which IndyGo is part of, is also studying how residents' access to new transit options is affected by factors like smartphone and credit card ownership, Gifford said.
"If you don't have a smartphone with data access wherever you are at the moment, or you don't have a banking instrument, whether it's a scooter or Uber or Lyft or any other option, it's not really accessible to you," he said.
'Some concerns'
In addition to mandating that companies place scooters in access zones, the new rules would require firms with more than 150 scooters place no more than 75% in the high-use area in and near downtown. Those with more than 300 scooters could place no more than 65% in the high-use area.
Three of the four firms with Indianapolis licenses didn't respond to requests for comment. Lyft's head of bike, scooter and pedestrian policy, Caroline Samponaro, told IBJ in a statement that the company is "reviewing these proposals and [looks] forward to working hand-in-hand with the city of Indianapolis as we prepare to launch Lyft scooters.
"Like our government partners, we want to see more sustainable transportation options that are equitably distributed and affordable for all, and we believe that Lyft scooters will help to achieve this goal," Samponaro said.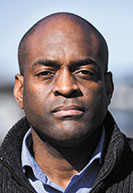 Bridgeman
Seeder said the Department of Business and Neighborhood Services has talked with all the scooter companies about the proposed rules. "They have expressed some concerns," she said.
Three of the five BNS board members told IBJ they support some of the rules but have questions. Another couldn't be reached. The final member directs the department that drafted the rules.
Even if the city rules don't pass, conversations about accessibility won't end, said Anthony Bridgeman, a PNC Bank executive who serves on the board.
"I'm really gratified that we are looking for the scooter providers to provide greater access to mobile transportation options for folks in communities outside of downtown."•
Please enable JavaScript to view this content.