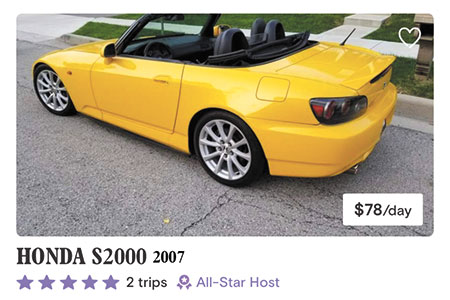 Local Uber and Lyft driver Bill Lantz was taking a group of firefighters downtown last month for the Fire Department Instructor's Conference when he heard them talking about an "Airbnb for cars."
They told him the name of the company—Turo—and, just a few weeks later, Lantz is offering two vehicles for rent on the car-sharing platform.
Similar to peer-to-peer home-sharing platforms, car-sharing apps help individuals make their vehicles available to others for a fee. Turo and Getaround are two of the biggest platforms.
"I'm amazed," said Lantz, who offers his 2016 Hyundai Sonata and 2015 Ford Escape through Turo. "One car has been rented out the whole month."
The peer-to-peer car-sharing industry is still relatively new and small in Indiana, but a regulatory battle between the new companies and traditional car rental agencies has been playing out in statehouses across the country as more platforms start offering services.
The fight, which is similar to those that took place between hotels and Airbnb and between taxis and Uber and Lyft, came to the Indiana Statehouse this year, leading lawmakers to establish regulations and taxes for the car-sharing industry.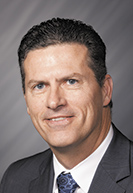 Eberhart
The legislation, authored by Rep. Sean Eberhart, R-Shelbyville:
◗ prohibits vehicles with unaddressed safety recalls from being shared on any platform,
◗ outlines insurance requirements to prevent gaps in coverage,
◗ prohibits local communities from imposing additional regulations on the industry,
◗ allows airport authorities to impose their own car-sharing rules,
◗ and establishes an excise tax for the service.
"It's going to continue to get more popular," Eberhart said. "And it was unregulated and untaxed."
In other states, San Francisco-based Turo has opposed legislation that would treat the platform the same way it treats car rental companies. But Turo officials say Indiana has set an example for other states because it recognized the platform as a facilitator for car sharing rather than as a car rental company.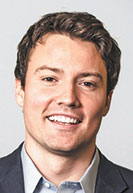 Bertuca
"Indiana is the first state that created this robust framework," said Lou Bertuca, director of government relations for Turo. "We're really excited about it."
Getaround, which doesn't operate in Indiana now but hopes to in the future, is also pleased with the outcome.
"We appreciate the Indiana Legislature's efforts to thoughtfully and carefully work with all stakeholders to craft a law that will promote car-sharing in the state," Brian Pogrund, Getaround's director of markets for North America, said in an email.
Even Enterprise Holdings, which has lobbied in other states to regulate and tax car-sharing companies the same as the rest of the car rental industry, was OK with the final language. Spokeswoman Laura Bryant said in a written statement that Enterprise was pleased lawmakers agreed peer-to-peer platforms "not only should be held accountable, but that their transactions should be taxable in support of state and local governments." She said Indiana's "common-sense legislation" would treat car-rental transactions "more consistently."
How it works
People who want to rent out their vehicles—who are called hosts—must sign up for a car-sharing platform, then create a profile and upload photos of their vehicle.
Hosts set their own daily rates and decide when to make their vehicles available. They also determine how and where pickups and drop-offs will occur.
Lantz, for example, said he offers three options: He can bring the car to someone flying into the Indianapolis International Airport. He and the renter can meet at the location where he stores the vehicles when they are not being used. Or, he can drive the car to a downtown location.
Bertuca said the convenience of not having to go to a car rental office is one perk of the platform. A car might be available in your neighborhood, for example. Plus, he said, the platform offers a better selection of cars and more affordable prices.
"I think you get a better bang for your buck," Bertuca said.
Hosts carry their own insurance on their vehicles, but Turo also provides $1 million in liability insurance. So if anything happens while someone is renting the vehicle, the accident is covered by Turo.
Individuals looking to rent vehicles through the platform also create profiles, and Turo does a background check before approving drivers. Once approved, a driver can search for available vehicles based on location and dates needed and submit a request to book.
Cars can be booked for a day or longer on Turo, and the average trip is three days. The company has more than 1,300 hosts in Indiana and more than 55,000 users signed up.
For example, a check on May 14 found more than 50 cars available on Turo for a one-day booking on May 20, leaving from the Indianapolis International Airport. Among the options were a blue 2016 Hyundai Sonata sedan for $30, a bright yellow 2007 Honda S2000 convertible for $78, and a red 2017 Tesla Model X for $326.
The average host earns $150 per month from the platform, but some are making much more.
Aaron Juarez, a northwestern Indiana resident who joined Turo in September, said he earns $800 to $1,000 per month renting a 2013 BMW X1.
Juarez said that is about double what his car payments and insurance cost.
"The car is paying for itself, and I'm kind of building equity at the same time," he said. "I'm definitely happy about it."
Juarez said he wasn't using the vehicle before renting it out, because he had purchased it to help his girlfriend at the time. After they broke up, the car went unused.
"The BMW was literally just sitting there," Juarez said.
Lantz, who joined Turo in April, said he bought the two vehicles specifically to earn money by renting them out on Turo.
"I'm having a good time," he said.

Regulating the industry
The nationwide regulatory debate about peer-to-peer car-sharing often focuses on defining the industry and determining how to tax it.
Vehicle-sharing companies say they are not like car rental companies because they don't maintain a fleet, so they shouldn't be taxed as such.
The platforms also argue for lower tax rates than what's imposed on car rental companies because their hosts have had to pay sales tax when they purchased their vehicles. Car rental companies do not pay sales tax when they buy cars for their fleets. That tax exemption totals $3 billion nationally, according to car-sharing companies.
But car rental companies, like Enterprise Holdings Inc., argue that, while Turo and other platforms are using a different business model, the basic transaction is the same—someone is renting a car—so it should be taxed in a similar way.
And car-rental taxes can add up to a significant amount.
In Indiana, car rental companies have to collect a 7% sales tax on all transactions, plus a 4% excise tax. In Marion County, rental companies are required to impose an additional 6% excise tax. Even more taxes are applied if someone rents a car at the airport.
Eberhart said lawmakers used the car rental tax structure as a model to establish the taxing system for car-sharing platforms, but opted to significantly reduce the rates. The legislation, which goes into effect Jan. 1, imposes a 2% statewide excise tax and allows for Marion and Vanderburgh counties to impose an additional 1% excise tax.
Car-sharing platforms will also be subject to the state's 7% sales tax.
Turo's Bertuca said the Indiana tax structure and rate are reasonable.
"I think the key part is, the Indiana Legislature identified and recognized that traditional rental car companies already have these giant advantages," Bertuca said.
Car rental companies like Enterprise have also raised insurance and safety concerns about car-sharing, and Indiana's law addresses both subjects. It requires a platform to maintain insurance to eliminate any possible gaps in coverage.
"There's no reason that anyone should be uncovered at any time," Eberhart said.
And similar to a federal law regulating car rental companies, Indiana's law also prohibits vehicles with active safety recalls from being shared on platforms.
The law won't allow local communities to further regulate the industry, but it does give airport authorities the power to establish rules around how car-sharing can operate at those locations.
The Indianapolis Airport Authority doesn't have any rules in place yet, but the board is monitoring the situation.
"We will consider establishing reasonable standards where necessary to ensure the safety and convenience of our passengers, while assuring service and quality remain at the highest possible levels," the airport authority said in a prepared statement. "We would anticipate beginning to consider these standards no sooner than the third quarter of 2019."•
Please enable JavaScript to view this content.