This week, thoughts on Fox's "Glee" and the Indianapolis Symphony Orchestra's opening night.
__________
It may not be the hottest show on TV (for non-sports programming, that's
still "House," "Grey's Anatomy" and "The Office"), but Fox's
"Glee," co-created by Indiana native Ryan Murphy, is surely the one generating the most buzz
in the A&E world.
Focused on the members of
a high school glee club, its teacher leader, and those in their orbit, "Glee" is an odd but
often endearing and surprising mix. After four episodes, it still seems to be wobbling
toward what will ultimately be its tone. But that's to be expected with a show trying to create
its own way.
Terrific performances are certainly a plus. Having
seen Lea Michele ("Glee's" Rachel) on Broadway in both "Ragtime" and "Spring
Awakening," I can attest that this isn't just a case of a young actress
playing close to home. The woman has range (and can sing). And likely to be the show's
first Emmy winner is Jane Lynch in a tightly controlled yet over-the-top performance as cheer coach Sue
Sylvester. An award should be given to anyone who can keep a straight face while starting a televised editorial
with, "You know, caning has fallen out of fashion in the United States …" and later state, "Not everyone
is going to have the walnuts to take a pro-littering stance."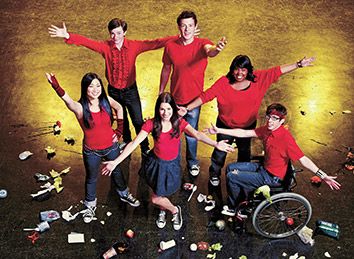 Broadway vet
Lea Michele, center, leads the junior side of the cast of TV's "Glee."
(Photo courtesy Fox)
Audiences—and execs at Fox—seem willing
to stick with the show. It recently overcame a major new-show hurdle—an entire season of episodes
has been ordered. Even if it's quickly canceled, it will at least produce
a full-season DVD set.
At best, though, the show
could have staying power, allowing for its characters to graduate as newcomers flow into the student
body (although, come to think of it, television shows set in high school rarely
make such evolutionary steps, instead forcing their teens to age awkwardly a la the "Welcome Back,
Kotter" sweathogs).
After four episodes of viewing, I've
enjoyed it but still can't say I love the show—or that I'm willing to make it appointment
TV (Hulu.com, where you can see past episodes on demand, solves that problem). Its
ambiguity about its own reality has kept me at some distance. I'm not referring
to the high-quality musical numbers coming from the alleged misfits. That's to be expected.
What's hard to settle into are characters who are sometimes cartoons, sometimes soap opera serious, and sometimes heartfelt
realistic, often all in the same scene.
Example: In episode 4, suspension
of belief is required to buy that, after being caught dancing to Beyonce's
"Single Ladies" by his macho father, gay teen Kurt (Chris Colfer) would lie about being on
the football team, actually land a spot, then convince the squad to learn a dance number to distract
the opposition and win the big game.
"Glee" has a lot of
that sort of thing. If you're a realist, you'll be spending a lot of
time saying, "Oh, come on."
But if you accept "Glee"
as an anything-can-happen high school fantasy, it's hard to care about characters and their problems.
And these are pretty big problems. Which brings up another issue: The show (and
by "the show," I include its network's marketing folks) tries
to have things both ways when it comes to audience appeal.
Using "American
Idol" as a lead-in to the high-profile premiere of the pilot episode back
in May sent the message that "Glee" is appropriate for the "High School Musical"
crowd. But newcomers should know that "Glee" is decidedly not "HSM."
It deals steadily—sometimes seriously, sometimes glibly—with teen sex.
"You got me drunk on wine coolers," explains a teen mama-to-be, "and I felt fat that
day." On the football team, a player reacts to some standard "Yo mama" trash talking
by stating, factually, that he slept with the other player's mother … on the other player's
bed.
"Glee" isn't as raunchy as the movie "American
Pie." Its adult sensibility is more akin to "Election," the satiric high school film.
The difference here, beyond "Election's" being an R-rated film
as opposed to an ongoing TV show, is that "Glee's" flawed main
characters aren't too flawed. As desperate and attention-seeking as she may be,
Rachel remains interesting and likable. She'd be no match for Reese Witherspoon's scary, ultra-focused Tracy Flick
in "Election." And teacher Will (Matthew Morrison) might make mistakes, but he remains likable throughout, unlike
Matthew Broderick's movie equivalent. Even if he eventually succumbs to his attraction for germophobe guidance counselor
Emma (Jayma Mays), no doubt the audience will be on Will's side. I'm still undecided.

__________
The Indianapolis Symphony Orchestra offered a wandering, overstuffed opening night
concert Sept. 26 that eventually arrived at a magical place courtesy of pianist Gabriela Montero.
To be sure, there were memorable moments and strong
playing elsewhere in the evening. The "March" section of Leonard Bernstein's "Divertimento
for Orchestra" allowed the entire company to go into full-bore calliope mode
and guest narrator F. Murray Abraham proved either an excellent actor or was genuinely
moved by the sweep of Aaron Copland's "Lincoln Portrait" as played by the ISO.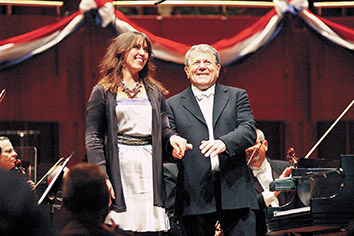 Pianist Gabriela
Montero joined Raymond Leppard for the ISO's season-opening concert. (Photo courtesy
Indianapolis Symphony Orchestra)
Montero's three works in the second act, though, proved the most riveting.
John Williams' "Air and Simple Gifts,"
written for a presidential inauguration, worked beautifully without the rest of Montero's
high-powered D.C. collaborators (Yo Yo Ma, Itzhak Perlman and Anthony McGill). Here, violinist and ISO
Principal Concertmaster Alexander Kerr, clarinetist David A. Bellman and cellist
Perry Scott were more than up to the task.
Montero was back
later in the evening for a strong "Rhapsody in Blue," which found a thrilling balance between
her singular, improvisational style and the ISO's aggressively tight playing of
the Gershwin classic, giving the piece a fresh rather than museum-quality sound.
An enthusiastic crowd led to Montero's return for some pure improv to the audience-suggested
(but not surprising) "Back Home Again in Indiana," offering a take worthy
of recording. Get this woman to the Indy 500.•
__________
Visit ibj.com/arts for additional reviews, previews
and arts discussion. Twitter: IBJarts
Please enable JavaScript to view this content.