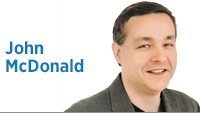 The month of May is like an awakening for Indiana. The peonies have begun to bloom, and the unmistakable, high-pitched sound of engines reverberates from the west side of the city. When most of us think of the Indianapolis 500, we think of traditions such as Carb Day, checkered flags and "Back Home Again in Indiana."
Nonetheless, it's the physics and engineering happening on the track and in the garages that determine whose face will be added each year to the Borg-Warner trophy.
The competition to win is fierce, and few are aware of the increasing role technology and data analysis are playing on the track and throughout auto racing as a whole. The data gleaned from race cars and the drivers themselves is enabling teams to direct incremental improvements in a car's performance—which could mean the difference between that coveted swig of milk and a brush with pit wall.
A race car is a data-making machine. In the last decade, engineers have used technology to measure suspension position, engine RPM, steering and longitudinal gravitational force in real time in order to make split-second decisions that help improve race times.
Small sensors connected to vital parts of the car collect millions of data points about internal and external performance—from brakes to tires, fluid levels, fuel levels, temperature in different parts of the car, etc. That information is sent wirelessly to the driver's dashboard and teammates who use the intelligence to make immediate decisions about when to make a pit stop and when to replace the tires. This data also gives clarity to the car's engine performance.
Because each car shares the same specifications as a means for leveling the playing field, data engineers face a lot of pressure to find added speed wherever possible. Knowing how to read this data quickly in order to calibrate the car in real time makes race-car data engineer one of the most coveted data-science careers in the industry.
Teams use this information during practice, qualifying and on race day to understand vital functions of the vehicle so they can make more strategic decisions. Drivers, along with the team, also use this data following a race to analyze driving patterns in ways that better equip them with knowledge of how to prepare for the conditions at the next track.
Additionally, when you're driving a car made of 1,570 pounds of metal that's powered by a 650-horsepower engine at speeds of 200 mph, it matters how you drive the car. With 5G gravitational force on some tracks, the slightest miscalculation could mean catastrophe.
In 2016, driver Tony Kanaan was the first to use a shirt under his fire suit that was outfitted with nanofibers to measure heart rate and breathing, even muscle tension, while he drove. Wearable sensor technology was able to help Kanaan's team determine he was expending additional energy by squeezing the steering wheel too hard. Being aware of these physical behaviors in real time and addressing them immediately are the competitive edge teams are seeking and receiving from connected tech.
Understanding the instantaneous needs and behaviors of both the car and the driver, the internet of things and the ability to quickly and seamlessly tap into a steady stream of data bring a whole new meaning to those famous words, "Start your engines," and eliminate many of the "what-ifs" in racing.•
__________
McDonald is the CEO of Fishers-based ClearObject and chairman of the Indiana Technology and Innovation Policy Committee. Send comments to ibjedit@ibj.com.
Click here for more Forefront columns.
Please enable JavaScript to view this content.