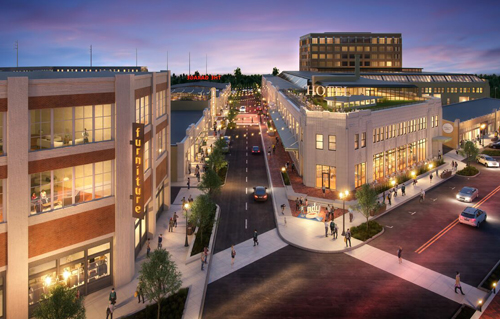 The developer of the Bottleworks District project on Tuesday announced that seven new vendors have agreed to lease space in the project's food hall, with most using the development to expand their operations.
Hendricks Commercial Properties President Rob Gerbitz said each vendor will occupy between 300 and 800 square feet. All expect to open when work on the Garage Food Hall is complete in spring 2020.
The food hall is part of the much larger, $300 million Bottleworks development at 850 Massachusetts Avenue that will include retail, residential, office and restaurants, as well as a hotel.
The seven vendors announced this week:
— Brick & Mortar, owned by Brandon Burdine: An old-school barber shop for men and women. The company opened its first location in 2015 across from City Market. The Garage location will feature a retail component with a variety of antique items.
— Blu Point Oyster Bar, owned by Gino Pizzi: A restaurant featuring East Coast oysters, lobster rolls and a variety of other classic seafood dishes. The location is the second for Blu Point, which is opening an eatery in a mixed-use development near the Ambrosia Italian Restaurant at 5858 N. College Ave., also owned by Pizzi.
— La Chinita Poblana, owned by George Munoz: An Asian-Mexican fusion restaurant, with a focus on tacos. The location is a both a resurrection of a Broad Ripple restaurant that closed in 2017 and a spin-off of Festiva, a Mexican restaurant at 1217 E. 16th St.
— Lick Ice Cream, founded in 2010 by sisters Meredith Kong and Kelly Ryan: An ice cream shop that serves made-from-scratch, all-natural ice cream. The original location at the Circle City Industrial Complex is expected to remain open, but will primarily become a wholesale shop.
— Poke Guru, owned by Adam Odgaard: A restaurant specializing in traditional Hawaiian cuisine with an Asian-fusion twist and fresh fish delivered daily. Featuring an expanded menu of plant-based options, including tofu and seitan dishes, this will be the second location for Poke Guru (the first opened in July 2018 in City Market).
— Simply Divine Cupcakes, owned by Sarah and David Duffy: A pastry shop featuring a variety of cupcakes and other desserts. The first Simply Divine opened at City Market in December 2018.
— The Tartine Station, owned by Alex Khoury: A restaurant combining Palestinian and Filipino influences through modern cooking techniques. The eatery will feature open-faced sandwiches and a signature Kanafeh dessert.
Gerbitz said the focus of the Garage is on locally owned "and maybe some regional" restaurants and businesses. He said Hendricks "isn't interested in national brands" for the project.
Hendricks was represented by CBRE brokers Steve Delaney and Dean Almas for the food hall leases.
Plat Collective, formerly known as Nottingham Realty, is also leasing about 2,300 square feet of office space in the Bottleworks District, Gerbitz said.
When it opens, the  food hall is expected to feature 26 vendors, including Pins Mechanical, Daredevil Brewing and Square Cat Vinyl, which have previously announced their intentions. Hendricks said four other tenants have agreed to lease space in the Garage, but declined to name them.
Please enable JavaScript to view this content.