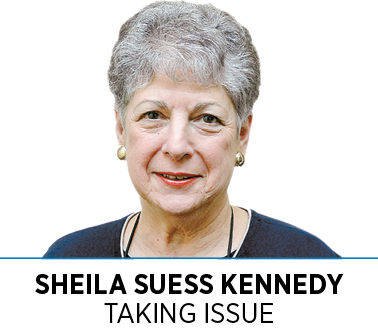 Alabama, Georgia and other states have passed abortion bans, aiming at a Supreme Court they believe has been politicized in their favor. Ironically, sending the issue back to the states, as a decision to overturn Roe would do, falls into the "be careful what you wish for" category.
Republicans have benefited greatly from the single-issue voters they cynically created.
Religious historian Randall Balmer reminds us that it wasn't until six years after Roe that evangelicals engaged the issue, prompted by right-wing politicians who realized they could motivate apolitical people to vote by emphasizing a "more palatable" issue than the one they really cared about—protecting segregated schools they'd established following the decision in Brown v. Board of Education.
Their calculus worked. "Pro-life" voters have become a critical mainstay of GOP support. Their ranks have been augmented by the deep-seated misogyny of (mostly white Republican) men and their resentment of social change and "uppity" women demanding equality.
Some measures of social progress aren't going to be reversed, however. Women aren't submissively going back to the kitchen, barefoot and pregnant.
Women also aren't returning to back-alley abortionists. As many people have pointed out, laws like this don't prevent abortions; they never have. They just prevent medically safe abortions. Women know such laws guarantee that many women will needlessly die—and the fact that proponents also know that makes a mockery of their pro-life protestations.
The hypocrisy is overwhelming. Attacks on reproductive autonomy—including, increasingly, efforts to deny women access to birth control—demonstrably have nothing to do with reverence for life. As many others—including genuinely pro-life people—point out, once those babies are born, any concern for their welfare disappears. In Alabama, 26.5% of children live below the poverty line. Over 30% of kids under 5 are impoverished, 22.5% face food insecurity, and 250,000 children in the state are destitute.
I used to disagree with pro-choice advocates who claimed efforts to curtail abortion had become part of a larger war on women. But it has become clear that the people to whom I was extending the benefit of the doubt are few and far between. Most (granted, not all) pro-life activists are only pro-birth, and they have made it obvious that their motivations have little to do with protecting life. (If they were really pro-life, they'd feed hungry kids and pass reasonable gun control laws, for starters.)
Whatever their motivation, however, they might be nearing a success they will come to regret.
Should Roe be overturned, pro-life zealots in states that continue to allow abortions would turn their attention to those legislatures. Of course, those would mostly be deep-blue states where they would be unlikely to prevail. Anti-choice activists in red states like Indiana with compliant legislatures would mostly cease to be activists; they would consider their "mission" accomplished.
The majority of Americans who support a woman's right to make her own decisions about reproduction, however, would take their outrage to their polling places. Most have been complacent until now.
A "victory" for opponents of reproductive rights will tamp down the passions of anti-choice warriors, and "activate" millions of Americans who would rightly see that victory as a theocratic threat. If research is to be believed, the latter is much larger than the former. Those angry people will vote. And they won't be voting Republican.•
__________
Kennedy is a professor of law and public policy at the Paul H. O'Neill School of Public and Environmental Affairs at IUPUI.
Please enable JavaScript to view this content.