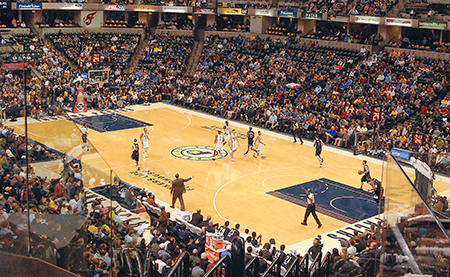 Pacers Sports & Entertainment is going down to the wire in lining up a new naming-rights sponsor for the fieldhouse. But the wait might give it extra leverage to strike an especially lucrative deal.
That's because the Capital Improvement Board just two months ago negotiated a 25-year deal with the team that paves the way for $360 million in improvements to Bankers Life Fieldhouse—upgrades that will make the 20-year-old venue more alluring to potential sponsors.
Carmel-based CNO Financial Group Inc., parent of the Bankers Life line of insurance products, announced a year ago it would not extend its naming-rights deal, which wraps up at the end of this month.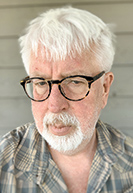 Reichard
Under that deal, CNO paid $2 million a year. CNO and its forerunner, Conseco Inc., have held the naming rights since the fieldhouse opened in 1999.
Industry observers say the franchise could at least double the per-year payment this time around.
That's partly because the value of naming-rights deals has swelled over the past two decades. But it's also a reflection of the planned upgrades and that the venue is set to host the NBA All-Star Game in 2021.
"Whoever signs on will get a lot of exposure from this deal," said Kevin Reichard, publisher of Arena Digest, an online publication that follows sports venues and industry trends. "There will be a ton of buzz locally about the renovations—that will have value" for both the Pacers and a potential partner.
Todd Taylor, PS&E's chief sales and marketing officer, agreed.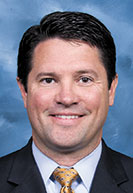 Taylor
"For us to be able to have a building brought up to current standards, there's certainly a lot of excitement, a lot of opportunity around that," he said.
Another plus is that the fieldhouse hosts hundreds of events a year, a more crowded schedule than it had in its early years.
The fieldhouse is "in a different position than when it opened," he said.
Striking a naming-rights deal is a huge undertaking, but the team ultimately is likely to secure one that brings in $4 million to $5 million a year, said Mark Rosentraub, a sports business expert at the University of Michigan.
"There's nobody doing this sort of deal off-the-cuff these days," said Rosentraub, a former dean at IUPUI. "And these deals bring a lot of exposure and a lot of revenue. That's to be expected."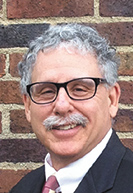 Rosentraub
Other NBA teams' recent deals give PS&E executives cause for hope—though the franchise's smaller-market status will limit some of the upside.
In 2017, Scotiabank signed a 20-year, $639 million stadium-naming-rights deal with the owner of the Toronto Raptors and the Toronto Maple Leafs hockey team. The next year, State Farm signed a $175 million, 20-year naming-rights deal with the Atlanta Hawks.
PS&E officials are playing their cards close to the vest. Taylor said the team is "in different stages of conversations with different companies," which he said are in "various industries."
While insurance companies are frequently naming-rights sponsors, Taylor said Bankers Life's replacement will not be another insurer.
Instead, he said, PS&E is eyeing "something a little different."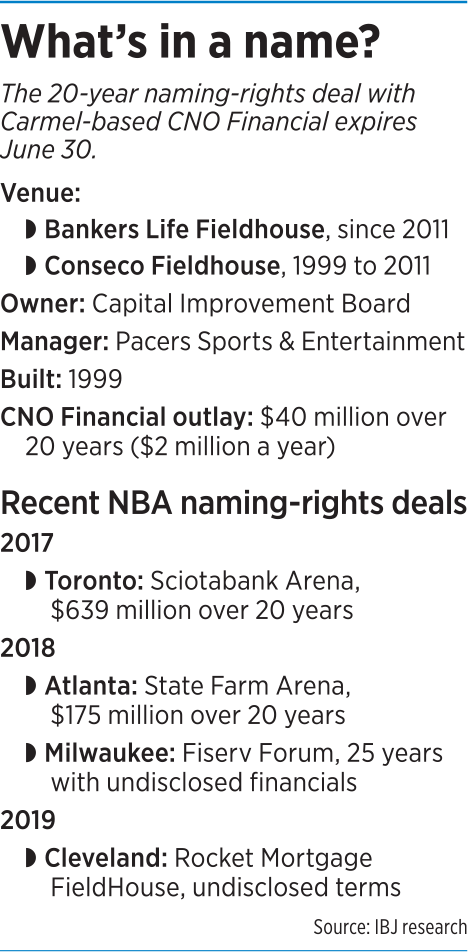 Rosentraub said he wouldn't be surprised to see San Francisco-based Salesforce jump aboard.
Indianapolis is the largest employment base for the tech giant outside its headquarters, and the company already has a close relationship with PS&E.
In 2018, Salesforce announced a partnership through which its technology helps PS&E develop personalized fan experiences on social platforms. This year, the company announced a deal with the WNBA's Indiana Fever that puts the Salesforce logo on team jerseys.
A spokesperson for Salesforce said the company does not comment on rumors.
Taylor declined to say whether Salesforce was being considered for the naming-rights deal but noted that tech companies are becoming "big players in the sports landscape."
Assisting PS&E in the discussion is Los Angeles-based Wagner Sports & Entertainment, a global player in the naming-rights industry.
Pacers Sports & Entertainment plans to reconfigure some seating in the fieldhouse to allow for more gathering spaces—a trend other recently updated arenas have embraced. (Rendering courtesy of the Indiana Pacers)
While Taylor said he hopes a deal is struck in the "very near future," he couldn't guarantee it would happen before the current deal expires.
"We're not going to rush into anything, to make a decision we regret a year or two from now, simply because we felt pressure to get something done," Taylor said.
Industry observers say PS&E likely is seeking a 15- to 20-year deal.
"It essentially has to be that way, because of the investment and the time that go into these sorts of deals by teams and companies," said David Morton, former principal of the Indianapolis-based consulting firm Sunrise Sports Group. He said fans and teams "need that continuity" as well.
He said companies often look for a shorter deal because their marketing strategies change over time, and they might not see a large return on investment later in the deal.•
Please enable JavaScript to view this content.