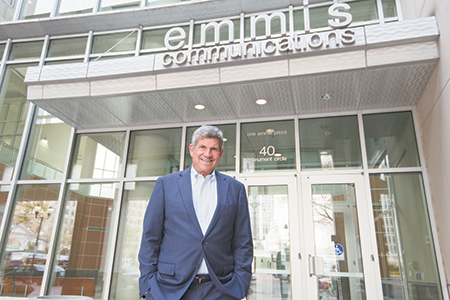 Emmis Communications Corp. on Monday announced it has sold its 50.1% controlling interest in six Austin, Texas, radio stations and two FM translators to its minority partner, Norfolk, Virginia-based Sinclair Telecable Inc., for $39.3 million.
The sale represents almost half of the radio stations controlled by Indianapolis-based Emmis.
Proceeds after transaction-related expenses and taxes are expected to be $28 million, which will be used to pay down debt and for general corporate purposes, Emmis officials said in a regulatory filing. The sale is expected to close later this year.
Emmis bought the interest in the stations in 2003 for approximately $105 million.
Sinclair Telecable is headed by Bob and David Sinclair, who have owned radio stations in Austin since 1995. The company also owns and operates seven FM stations, two AM stations, and two FM translators in Norfolk, Virginia, and in the Sonoma County California wine country.
A translator is a facility that rebroadcasts another station's radio signal—usually to a wider geographic region.
The Austin radio cluster includes eight station brands: KLBJ-AM, KLBJ-FM, Bob FM, La Zeta, Star 93.3, 101X, Austin City Limits Radio, and Latino 102.7. The Austin cluster will be rebranded as Waterloo Media.
"It's been a fabulous run in Austin, operating in one of America's best radio markets with such a special team and winning culture," Emmis Chairman and CEO Jeff Smulyan said in a written statement. "I can't say enough great things about the performance of our incredible team in Austin. Our focus at Emmis now will be on transitioning to new areas of growth. I'm thrilled to say we didn't need to look far to find a committed, well-known buyer who feels the same way about the Austin team. The Sinclairs have been great partners and will undoubtedly take the operation to new heights."
After the sale, publicly traded Emmis will own seven radio stations in total in Indianapolis and New York City.
Locally, Emmis owns country station WLHK-FM 97.1, news-talker WIBC-FM 93.1, soft rock station WYXB-FM 105.7 and sports-talk station WFNI-AM 1070.
In New York, its holdings are WLIB-AM 1190, WBLS-FM 107.5 and WQHT-FM 97.1.
Emmis also owns a controlling interest in Digonex, which provides dynamic pricing solutions across multiple industries, as well as Indianapolis Monthly magazine.
Emmis has been downsizing operations over the past few years. In 2018, it sold all four of its St. Louis stations and also closed its NextRadio and Tag Station operations. In 2017, Emmis sold four of its five magazines and its powerhouse Los Angeles hip-hop station. In 2016, the company sold four radio stations in Terre Haute
Revenue fell from $238 million in fiscal year 2015 to $148.5 million in fiscal 2018.
Emmis shares were up 35 cents Monday afternoon, to $3.95 each.
Please enable JavaScript to view this content.