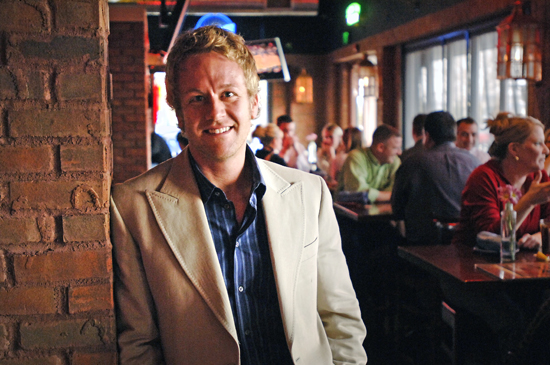 After selling his Scotty's Brewhouse chain and dealing with a flurry of lawsuits after that business later filed for bankruptcy, Scott Wise is ready to get back to basics.
The Indianapolis resident is set to open his latest venture, Roots Burger Bar, by the end of next week at 1700 W. University Ave. in Muncie, in a building owned by his parents that housed the original Scotty's Brewhouse location he founded in 1996.
When Wise sold Scotty's in 2016, the chain had 17 restaurants in multiple states, and he said he had lost the passion he'd felt in the earlier years. And he's still dealing with lawsuits related to the business that were filed after the bankruptcy.
"Toward the end, it became an office job," Wise told IBJ.
In contrast, Roots will be a single location with a slimmed-down menu, allowing Wise to do what he's always loved best—getting hands-on and interacting with customers and staff.
"I'm so excited to just go back to that," he said.
Wise described Roots as "an all-American burger cafe" with a classic diner vibe and a focus on smashed burgers. The menu will include a handful of other entrees including tenderloins, chili dogs and fish and chips.
"I want it to be messy, and I want people to have to use lots of napkins," Wise said.
Roots also will offer appetizers, salads, children's meals and a selection of beer, wine and liquor.
Wise worked with Craig Baker to develop the menu. Baker was co-owner of now-closed Indianapolis restaurants Plow & Anchor and Bent Rail Brewery & Restaurant.
In developing Roots, Wise said he's drawing on his Scotty's experience.
"You try to learn from the good and the bad, mistakes that you might have made along the way," he said.
Wise established Scotty's after graduating from Ball State University. He sold it 20 years later to Arizona-based Due North Holdings LLC and Japanese firm Sase Kosan K.K., who paid around $10 million.
Scotty's Holdings LLC and numerous related entities filed for Chapter 11 bankruptcy protection in December. The Muncie location is among several Scotty's that has since closed.
Scotty's recently submitted its Chapter 11 plan of reorganization. The plan, which still must gain court approval, would wipe out Due North's equity stake and give ownership to debtors-in-possession Sase Kosan and ZGrowth Capital Fund L.P. Sase Kosan and ZGrowth provided Scotty's with $890,000 in debtor-in-possession financing to see Scotty's through bankruptcy.
Wise also is listed as a defendant in four Scotty's-related civil suits filed in Marion and Allen counties. Wise declined to comment on the cases, all of which are pending, though he generally described the last few years as "the washing machine and the roller coaster of what I've just been through."
At Roots, Wise is borrowing some concepts that worked at Scotty's—and leaving behind others that weren't as successful.
Roots, for instance, offers a more focused menu than the sprawling selection he developed at Scotty's. Customers loved the big menu, Wise said, but it posed an operational challenge.
Wise has experience running restaurants with focused menus.
About nine years ago, Wise managed a restaurant called Scotty's Lakehouse in Geist for MSCB Group. He also managed another MSCB restaurant in Columbus, Scotty's Burger Joint. Both places offered a limited selection of items.
"The thinned-down menu was something that was working for us when he was managing for us," said local attorney Mark Maddox, a member of the ownership group. "There's less to mess up in the kitchen when you have fewer things on the menus."
Wise parted ways with MSCB in 2013. The Geist restaurant changed its name to Detour American Grill, and the Columbus restaurant has since closed.
Wise said he's also being more discerning in developing the Roots brand. Scotty's, for example, used plates stamped with the restaurant's logo. In retrospect, Wise said, he views that as an expensive and nonessential detail. Roots will serve its food in paper-lined baskets.
Other aspects of the Roots brand: Free popcorn at each table and self-service soft-serve ice cream cones with each children's meal.
Steve Delaney, a real estate broker for CBRE who specializes in restaurants and retail, said the Roots concept seems promising.
"People are looking for a place that's fun for the adults and fun for the kids, and he's trying to provide that," he said.
Delaney described Wise as "an excellent restaurateur" and believes he has "learned from his mistakes over the years at Scotty's."
After selling Scotty's, Wise went to work for Luke Family of Brands, a Hobart-based developer and fuel supplier. Wise left that job earlier this month.
Wise has a handful of financial partners in Roots. He said he holds less than a 50 percent interest in the venture but is the largest single shareholder.
Wise declined to identify his partners but said none were Scotty's investors.
Muncie restaurateur Phil Wills will be Roots' general manager. Wills owned Dill Street Bar and Grill in Muncie, and one of Wise's early jobs was as a dishwasher there. After Dill Street closed several years ago, Wills managed the Muncie Scotty's Brewhouse until it closed.
A few other Roots features will be familiar to long-time Scotty's fans. Wise plans to establish a loyalty program as well as a mug club where customers can buy a personalized mug to get discounts on drinks. Wise ran both at Scotty's.
At least for now, Wise said he's content to have just one Roots location. As Scotty's grew, Wise couldn't be as involved in store-level operations—his favorite part of the job. He plans to be at Roots several days a week and take an active role in operations.
Observers say a hands-on approach can help a restaurant's chances of success—especially when the restaurateur is well-known.
Maddox said the Scotty's Brewhouse bankruptcy might hurt Wise's standing with some customers—even though Wise sold the company before it sought reorganization..
But Maddox also said Wise's involvement brought many customers into both Scotty's Brewhouse and the restaurants Wise managed for Maddox's group.
"I think that in developing a new brand…having him a lot more hands-on is something that could be a very important factor."
When patrons know that the owner is on site, "you just feel like things are going to be taken care of a little better," said Indianapolis chef Greg Hardesty.
Hardesty does all the cooking at his latest venture, a 54th Street establishment called Studio C that does pop-up meals, private dining and other food-related offerings.
Hardesty, who built his reputation at restaurants such as Meridian-Kessler's Recess, Mass Ave's Elements and H20 Sushi near Broad Ripple, opened Studio C earlier this year to get back to cooking without the pressure of running a restaurant.
Hardesty said he doesn't know much about Wise's new venture but agreed that a limited menu simplifies operations.
A smaller menu means you don't need to stock as many ingredients, Hardesty said, and employees can be more focused.
"There's just so many tasks, as a cook, that you can do well without getting overloaded," Hardesty said. "Keeping the menu small is very important for manageability."
Please enable JavaScript to view this content.