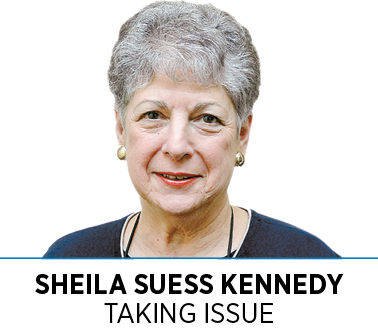 When the city completes its new criminal justice center, it will terminate its contract with CoreCivic, the private company that has run the Marion County jail for two decades.
The decision to sever ties with CoreCivic is part of a nationwide shift away from the private prison operators that have profited hugely from the war on drugs and mandatory minimum sentencing laws.
There is a mountain of data detailing what's wrong with privatizing prisons. (When my graduate students choose to write their research papers on the subject, their conclusions range from highly critical to horrified, and for good reason.) As Zach Adamson, vice president of the Indianapolis City-County Council has put it, "Criminal justice is not getting better as long as our primary concern is looking to cut corners and save costs." Then-corporation counsel Andy Mallon agreed. "The goal of the jail system shouldn't be to fill the beds. We're trying to reduce crime and reduce the number of people who are involved in crime."
The issues facing Indianapolis are hardly unique. Some 40% of people detained in the country's jails are mentally ill; up to 85% suffer from substance abuse. (With respect to those who are mentally ill, psychiatrists tell us substance abuse is an effort at self-medicating.) Private prison companies, however, aren't in business to rehabilitate offenders; their business model is to fill beds as cheaply as possible. Their goal isn't public safety, it's profit, and the big private prison companies donate generously to politicians in order to protect those profits.
During the Obama administration, the U.S. Department of Justice and several state governments began terminating contracts with companies like GEO and CoreCivic. Then we elected Donald Trump, whose first year in office was hailed as the private prison industry's best ever, and whose immigrant detention policies massively benefit private prison companies.
So—kudos to Indianapolis for recognizing the perverse incentives of privatized incarceration. That's an important first step, but only a first step.
Last year, Track Group announced a $20 million contract with the city to provide electronic monitoring devices (mostly ankle bracelets). Now, I'm a big fan of electronic monitoring; the GPS system it's based on saves taxpayers the considerable costs of incarceration by allowing many low-level offenders to remain in their homes and even continue working and paying taxes.
But one of the ways the city saves money with electronic tracking is less salutary—and arguably both unfair and counterproductive: Each offender is ordered to pay an estimated $85 weekly "user fee" for the privilege of wearing the bracelet rather than occupying a cell.
Tracking technology is beneficial—in most cases, a criminal justice step in the right direction. Moreover, purchasing equipment and monitoring from the private sector doesn't create the perverse incentives and other negative consequences of prison privatization. But funding it through user fees that burden the poorest people in our community is unfair.
Gregg Keesling of RecycleForce (the much-applauded not-for-profit whose innovative recycling services support workforce training and job placement for ex-offenders) has applauded the decision to terminate CoreCivic. But as he has also pointed out, "In one way, CoreCivic is less egregious than charging for electronic monitoring. At least all of us taxpayers paid for the private prison. With electronic monitoring, the only people who pay are poor people."
Indianapolis is making impressive strides in modernizing its approach to criminal justice. The mayor and council should continue that progress by examining the negative impact of imposing "user fees" on low-level offenders.•
__________
Kennedy is a professor of law and public policy at the Paul H. O'Neill School of Public and Environmental Affairs at IUPUI.
Please enable JavaScript to view this content.