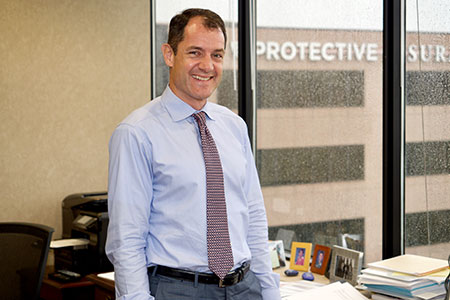 A double whammy of industry-wide challenges—more motor vehicle accidents and bigger insurance payouts—led Carmel-based Protective Insurance Corp. to a $34.1 million annual loss last year, its biggest in decades.
For a variety of reasons, the transportation-industry insurer has seen "a number of what we call 'nuclear verdicts,' extraordinarily large verdicts," in which the company was required to pay, said Protective CEO Jeremy Johnson, 48.
He joined the company in May after its previous CEO, Randall Birchfield, resigned abruptly in October.
But Johnson, and some of Protective's biggest shareholders, say the company is taking the right steps to regain its financial footing by raising rates and making better use of big data as a risk-management tool.
They also say they're untroubled by leadership changes that have seen more than a dozen executives and board members leave the company since 2016. Most recently, CFO William Vens notified the company in May that he intends to leave in August.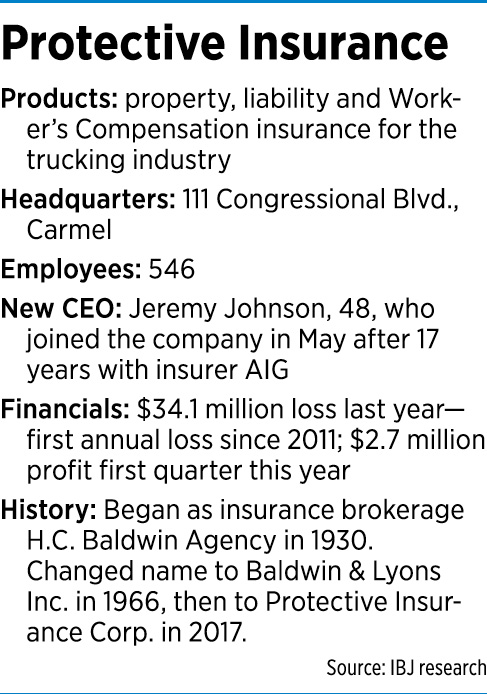 "We have a very solid, experienced leadership team and are confident the company is very much on the right track," board member and investor Robert Shapiro told IBJ by email.
Shapiro's Chicago-area family has been a major investor in the company for decades. Members of the Shapiro family and associated business interests own 49% of Protective Insurance's Class A stock and about 20% of its Class B stock, according to public filings. Class A stock comes with voting rights but Class B stock does not.
Protective, which operates in what's known as the commercial auto insurance segment, offers property and liability insurance for commercial trucks and public transportation fleets. It also offers Worker's Compensation insurance. In 2018, two-thirds of Protective's premiums came from its commercial auto business, and a third came from its Worker's Compensation business.
Protective's Worker's Compensation business has been a bright spot recently, helping to mitigate the numerous challenges it faces in its commercial auto segment.
The growth of e-commerce and a stronger economy mean more commercial vehicles are on the roads delivering goods. That is especially relevant to Protective, which counts Memphis-based FedEx Corp. as its largest single customer—including the logistics company itself and many of the independent contractors who drive its local routes.
The increase in vehicle traffic, along with a rise in distracted driving and poor road conditions in some areas, has set the stage for more accidents. And when Protective's customers do have an accident, a separate combination of factors means the company is on the hook for larger and larger payouts.
Vehicle repair expenses are on the rise, Johnson said, as are medical costs for those injured in accidents.
For cases that end up in court, a trend toward more prolonged litigation has led to higher legal bills and potentially larger settlements when those cases do get resolved.
'A difficult line'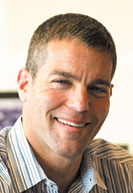 Steven Shapiro
All those factors have taken a financial toll on Protective. Its combined ratio, a key measure of an insurer's profitability, was 108.6% last year, climbing as high as 124.3% in the third quarter of that year. A ratio above 100% means an insurer is paying out more in claims than it's earning in premiums.
In comparison, Protective's combined ratio was 108.4% in 2017, 98.1% in 2016, and 91.4% in 2015.
Protective is not alone in its challenges.
"The commercial auto space, within property and casualty insurance, has been one of the most difficult and challenged subsectors," said Robert Shapiro's nephew, Steven Shapiro, who is also a major Protective investor. "Commercial auto's always been a difficult line, and the past five years have been especially tough."
Steven Shapiro joined Protective's board in 2007 and became its executive chairman in October 2015. He resigned from the board in June 2018.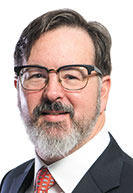 Newsome
"They're not very much different than many of their peers in commercial auto," said Paul Newsome, an insurance industry analyst in the Chicago office of New York City-based Sandler O'Neill & Partners LP. "For whatever reason, the commercial auto business has been more and more litigious."
In March, the insurance-company ratings agency A.M. Best maintained a negative outlook on the U.S. commercial auto insurance industry.
"Years of inadequate pricing and woefully inadequate reserving have resulted in a premium base that has been unable to keep pace with deteriorating loss frequency and severity trends—just one of the causes of the segment's poor results," the report said.
In 2017, A.M. Best said, commercial auto insurers had an average combined ratio of 111%, the highest in a decade.
Protective has been actively implementing larger and more frequent rate increases to get ahead of loss trends.
During the first quarter, the company achieved rate increases of nearly 20% on certain product lines.
And, Johnson said, these rate increases haven't driven away a significant number of customers. "I'm very encouraged by not only the rate that's come through the portfolio, but the number of customers who are staying with us notwithstanding the fact that we're asking them to pay more money for our product."
More data tools
The company is also leaning more heavily on big data as a way to reduce its losses.
Insurers have always used actuarial data to help them assess risks and set premium prices. But Protective is now looking at tools like telematics—equipment that records information on how and where insured vehicles are being driven.
To that end, Johnson said, Protective has formed partnerships with two outside companies over the past six months. He declined to identify the companies other than to say both have a national footprint and experience in data analytics.
"I think over time you'll see us doing more and more of that," Johnson said. "You'll see us increasing the digital partnerships that we have externally, as we experiment with different state-of-the-art data analytics companies and different data sources. Then you'll also see us invest in our own data analytics capabilities."
Information on where insured trucks are traveling, their drivers' driving habits and even the financial strength of the trucking company might also provide insights that could be useful in understanding insurance risks.
"The more data that we can get externally and match it up with our own claims data, the more insightful we can be in terms of risk selection, risk pricing and risk advice," Johnson said.
"You can hypothesize, and then you can prove or disprove your hypotheses, with access to broader sets of data."
Sandler O'Neill's Newsome said commercial auto insurers haven't been able to get ahead of loss trends through rate increases alone. But they are seeing good results from the use of big data and telematics.
"It's having an impact," he said. "There are an enormous number of data points that can be gained from these sensors, and every company is using them differently."
Steven Shapiro, who also co-manages a hedge fund called the New Vernon Insurance Fund, said Protective can improve its performance, though he was circumspect as to the difference data analytics might make.
"I've never talked to an insurance company that hasn't talked about how it uses data," he said. "Will it help? All I can say is, if you're not running on the treadmill, you're falling behind."•
Please enable JavaScript to view this content.