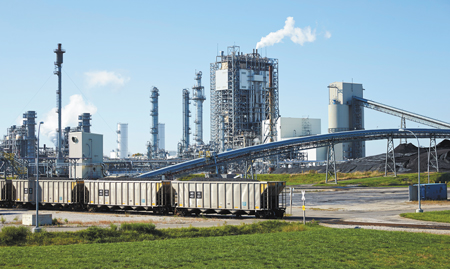 Duke Energy Indiana, the state's largest electric utility, says it wants to retire its aging fleet of coal-fired generating units and replace it with cleaner, more renewable sources of energy.
The big question: How fast can it make the transition?
The answer: Apparently, not nearly as fast as some other Indiana utilities.
In plans filed this month with state regulators, Duke Energy said it wants to keep most of its coal-fired plants in Indiana running through much of the next decade, while it gradually invests in wind, solar and other renewable energy sources.
By 2038, the company said, it hopes to retire all nine of its coal-fired units and build two large natural-gas plants.
"We view this as the beginning of our transition to a more nimble, diversified fleet," Stan Pinegar, president of Duke Energy Indiana,
told IBJ.
But environmentalists say Duke is dragging its feet. They point to other Indiana utilities that are moving faster to retire old, dirty, coal-fired units, which spew carbon dioxide and other pollutants into the sky. They say Duke Energy should be pushing harder to go green.
"Duke's plan is exceptionally disappointing," said Kerwin Olson, executive director of Citizens Action Coalition
of Indiana.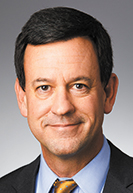 Pinegar
Every three years, all electric utilities in Indiana are required to file 20-year plans that lay out where they will get their power. The plans are not firm commitments, and utilities sometimes change their minds about when to retire old generating capacity and when and how they will replace it. But the forecasts—known as integrated resource plans—are road maps that tell the public how the companies plan to make big investments in coming decades.
Duke Energy filed its integrated resource plan July 1 with the Indiana Utility Regulatory Commission. It also telegraphed its intentions in advance in slideshows on its website and in community meetings around the state. The company said its plans balance the demands of customers, government rules and environmentalists.
"There's pressures on all sides with respect to this kind of planning," Pinegar said. "But, you know, we have stakeholders who think we're moving too fast; we have stakeholders who think we're moving too slow. It's a balancing act."
Nearly 90% of the power Duke Energy produced in Indiana last year was coal-fired. Under its new lineup, however, that dependence will lessen over time. Retirement plans target two coal-fired units at Cayuga Station in Vermillion County by 2028, all five coal-fired units at the Gibson Station in Gibson County from 2026 to 2034, and both coal-fired units at its Gallagher Station in Floyd County
by 2022.
As Indiana's biggest provider of electricity, Duke Energy is attracting plenty of notice; it operates a sprawling fleet and serves 840,000 electric customers in 69 of Indiana's 92 counties.
That includes suburban areas near Indianapolis, Louisville and Cincinnati, along with the cities of Bloomington, Terre Haute and Lafayette.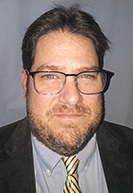 Olson
In some cases, the company would retire the coal units several years earlier than previously planned. But even so, many would continue to run for more than a decade—with three of them running for another 15 years or more.
To replace its coal fleet, Duke Energy proposes to build two 1,240-megawatt natural-gas generating units, one in Vermillion County and another at a site to
be determined.
It did not disclose how much the plants would cost to build. It also plans to install 700 megawatts of wind energy and 1,650 megawatts of solar energy.
Two of its newer facilities would keep running for more than a decade. A 264-megawatt natural-gas-fired plant in Noblesville would run until 2034 (closing eight years earlier than planned), and a 595-megawatt coal-to-gas plant in Edwardsport would run until 2045.
Faster pace
Meanwhile, some other Indiana utilities are moving away from coal much faster. Last fall, Merrillville-based Northern Indiana Public Service Co. said it aims to retire four of its five remaining coal-fired electricity-generating units within five years and the other within a decade.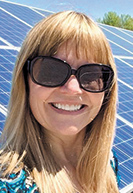 Bredhold
It plans to generate 65% of its power from solar, wind and other renewables by 2028, and at least 25% from natural gas, as it shifts toward less-costly
energy sources.
Vectren Corp., owned by Houston-based CenterPoint Energy Co., plans to retire three of its four coal-burning generating units in southern Indiana by 2024. In their place, Vectren wants to substantially increase the use of natural gas as a fuel source and build a 50-megawatt solar farm, even though it is running into resistance. In April, state regulators rejected Vectren's program to build a large, gas-fired power plant near Evansville, saying it would obligate customers for 30 years "in a time of
rapid change."
Three years ago, Indianapolis Power & Light converted its Harding Street Station power plant—which used to burn 2 million tons of coal a year—to natural gas, ending a coal tradition that began when the plant opened in 1931.
A few months later, IPL converted the coal-fired units at its Eagle Valley power plant in Martinsville to natural gas. IPL has not yet outlined its longer-range plans; it is not scheduled to file its 20-year plan until November.
So compared to some of its Indiana brethren, Duke Energy is giving itself a long runway from coal to clean energy.
"We hoped Duke would join the many utilities across the country, including NIPSCO, which recognize the economic realities of today's energy marketplace and are embracing a transition to affordable and clean energy," said Olson at Citizens Action Coalition.
He said Duke Energy is missing the mark by making no investments in solar or wind capacity before 2023, little or no new investment in energy efficiency until 2037, and almost no investments in renewable energy battery storage over the entire 20-year plan.
"It's as if the company operated in a vacuum for the past decade, ignoring the explosion in wind and solar investment by many other utilities," said Grant Smith, senior energy policy adviser for the Environmental Working Group.
Too much, too long?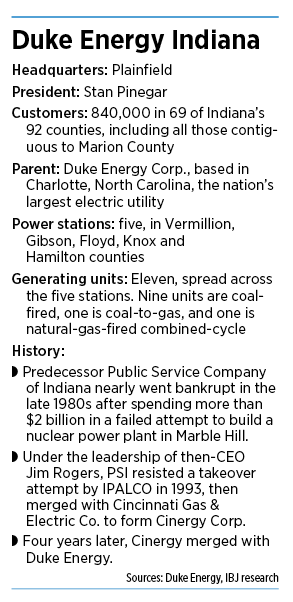 In response, Duke Energy said it is not retiring its coal fleet faster because the fleet still has a useful life. It would make little sense to add new power projects before they are needed, the company said.
"These coal units have been very good to Duke Energy and our predecessor companies," Pinegar said. "They've been maintained. They've been efficient. They're called upon by [the Midcontinent Independent System Operator, the regional transmission group] on a regular basis, which means they're economical."
But as the cost of natural gas continues to fall below the cost of coal, more and more utilities are retiring their coal fleets ahead of schedule, saying they could save millions of dollars while polluting less.
NIPSCO, for example, projected that it would save $4 billion over the next 20 years by retiring its coal fleet in favor of renewables and natural gas.
And many environmentalists are pushing for utilities to step up their schedule to move into clean energy, pointing out that the climate is getting warmer and weather is becoming more severe, much of it due to higher emissions of carbon dioxide into the atmosphere. Power plants are one of the largest industrial sources of carbon dioxide.
Wendy Bredhold, senior campaign representative for the Sierra Club's Beyond Coal Campaign in Indiana, called Duke Energy's plan "costly and dangerous," while failing to respond to the
climate crisis.
"Sierra Club is glad to see some modest coal retirements in this plan, but Duke is still burning too much coal for too long, and those gas plants should never be built," she said.
The Indiana Office of Utility Consumer Counselor, which aims to protect utility consumers, said utilities' 20-year plans don't immediately affect rates, nor are they binding on the utility. But OUCC still will scrutinize Duke Energy's plans.
"In addition to potential cost impacts, we look closely at reliability and how best to maintain a reliable power supply throughout the transition from coal-dominated portfolios," said Anthony Swinger, a spokesman for the consumer counselor's office.•
Please enable JavaScript to view this content.