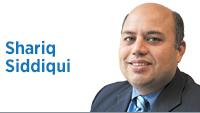 Philanthropy has long been embraced as a defining feature of being American. Our voluntary action and philanthropic giving have long been considered an important feature of our nation's vision of how we organize ourselves and tackle social problems.
Public policy has furthered philanthropy by creating tax deductions for giving and expenses related to voluntary action and limiting oversight of the voluntary sector.
The fact that Indiana University Lilly Family School of Philanthropy's Giving USA 2019 report shows that 2018 saw a decline in giving for the first time in a non-recession economy should concern us greatly. Giving USA is an annual study released by Indiana University to show the size and scope of giving in the United States.
This decline is despite historic connections between the GDP, stock market and levels of giving. In essence, when GDP and/or the stock market rises, so does charitable giving. However, in 2018, this wasn't the case.
Economists like Patrick Rooney suggest this decline is associated with President Trump's tax breaks. Greater disposable income for the wealthiest did not directly result in greater charitable giving.
Perhaps even more alarming is that the number of donors declined, especially at the lower end of the social economic ladder—people who received fewer benefits from the president's tax overhaul bill. Pluralism has long been one of the important purposes of the charitable deduction. The belief is that charitable deductions allow Americans the opportunity to direct social-good activities more broadly than government action at the grass-roots level.
America's greatest asset is our incredible diversity. This diversity fuels the diversifying of our social-good activities through charitable giving. The decline in giving and number of donors (especially at the middle- and working-class levels) hurts this goal.
Another area of alarm is the sectors that saw a decline in receiving charitable donations. Americans gave less to religion, education and public society benefit organizations in the United States, while international giving increased. Giving for human services and health care remained flat.
These alarming numbers during a period when our nation's GDP and stock market are strong should concern us greatly—especially as we see a decline in government spending as well as near paralysis of policymaking at the national level. Citizens should demand that our state and federal policymakers examine the data from this important annual study and consider ways to mitigate the negative aspects of the tax overhaul bill.
First, both at the state and federal level, we should consider providing tax credits or deductions for those who do not itemize. Second, we should provide tax credits for sectors that are vital for grass-roots social good but are seeing a decline in charitable giving. Third, we should reduce the need for not-for-profits in affected sectors to provide matching funds for government grants or contracts. Unfortunately, the level of dysfunction among our elected policymakers and the onset of further paralysis due to next year's election make it unlikely that we will see much action.
It falls upon not-for-profits to find ways to engage donors in their missions in more effective ways. In particular, not-for-profits must find ways to engage non-wealthy donors in meaningful ways.
Sadly, there is little alarm on either side of the political aisle about the loss of ordinary people as donors. The effect on our collective and individual senses of agency as political actors is more than concerning. It challenges one of the defining features of our American identity rather than making our nation great.•
__________
Siddiqui is an attorney, has a doctorate from the Lilly Family School of Philanthropy at IU and leads the Association for Research on Nonprofit Organizations and Voluntary Action. Send comments to ibjedit@ibj.com.
Click here for more Forefront columns.
Please enable JavaScript to view this content.