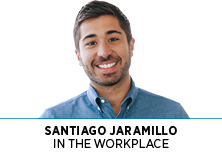 I was a bad manager for about six months.
In the fall of 2017, I was essentially doing four full-time jobs. I was in the midst of selling two of my company's business units (to two separate companies), while simultaneously acting as vice president of marketing and CEO of my new company.
The urgency I felt to drive hard toward achieving our business outcomes and goals was pressing and constant. As a result, my job as CEO and culture leader unintentionally got pushed to the backburner. I failed to communicate proactively and authentically. I wasn't investing in the team's growth and development. I missed signs of people struggling in the midst of high change and uncertainty.
Before this season of change took place, we measured employee engagement for the first time in order to create a benchmark and scored very well as an organization. But six months into juggling my various new roles, we saw a notable decrease in engagement. To make matters worse, my personal score as a manager dropped significantly.
I couldn't deny it any longer—I was not managing well, despite my all-in efforts to succeed in this season. I knew I needed to get some help carrying the workload, delegate more, and start focusing on being the most effective leader I could be.
What makes for an effective and engaging people manager?
Peter Drucker had it right when he said, "Management is doing things right; leadership is doing the right things." The struggle for many employers, however, is identifying and replicating what those things are that make managers successful.
So, what qualities do effective managers have? My team recently looked at employee-engagement data trends from more than 5 million individual data points to try to answer that very question. We learned that the drivers that most affect manager-employee relationships are trust, professional development, feedback, fairness and psychological safety.
Given that information, here are things managers can do to increase their effectiveness and create more engaged teams:
Demonstrate trustworthiness and fairness. Great managers treat direct reports with fairness and make employees feel they have their backs. Building trust doesn't happen overnight, but effective managers consistently demonstrate they can be trusted to balance what's best for their teams and the organization at large.
Prioritize employee development and invest in the whole person. Professional development is always important, but usually not urgent, which explains why it often gets deprioritized. Effective managers set aside time to identify opportunities for their teams to grow both personally and professionally.
Regularly solicit and give feedback. Feedback must be a two-way street. Managers who give and receive constructive feedback are more aligned and better equipped to make thoughtful and impactful decisions for their teams.
Create a culture of candor. While feedback is critical, it's effective only when delivered in a safe environment. Within the context of employee engagement, "psychological safety" refers to the degree to which an employee trusts that work can be pursued without fear of negative consequences. Leaders should create work cultures in which employees and managers feel safe delivering and receiving candid feedback—honest truth delivered with authentic kindness and the intent of "building up," not "cutting down."
When I realized the spaces I'd created weren't setting people up to achieve their potential, it was difficult to grapple with, but I couldn't argue with the feedback I'd received and the data backing it up. I knew I had to lean into that discomfort if the team was going to get back to the level of high engagement we had experienced before (and that I knew we needed) to accomplish our business outcomes.
In the months that followed, we focused on employee engagement. We monitored the engagement data feedback loops and made adjustments accordingly. We clarified our purpose. I communicated with the team with more frequency, authenticity and candor. I got help on tasks so I could prioritize people and culture. Our engagement score bounced back and so did the energy, morale and performance of our team.
The journey toward a highly engaged team is never over; it's a continual "practice" that we can become increasingly better at. Leading people is much more complex than managing assets or widgets or parts. But the opportunity to help those we manage become better versions of themselves is deeply rewarding.
As long as we focus our time on the right things, managers can create highly engaged teams, which in turn creates high-performing businesses and inspires growth in the individuals we have the privilege of leading.•
__________
Jaramillo is co-founder and CEO of Emplify.
Please enable JavaScript to view this content.