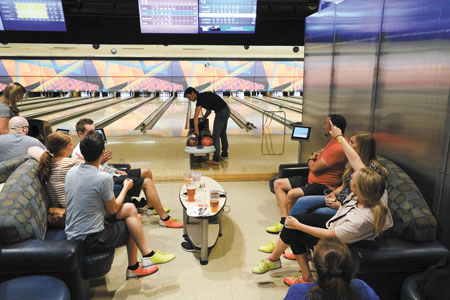 Five years ago, Indianapolis-based Royal Pin Leisure Centers Inc.—a longtime fixture for both local bowlers and national championships—was in need of new revenue sources.
Participation in league bowling was in decline and so was bowling revenue. That was a big problem for a company whose very name is bowling-centric and that for years has hosted Pro Bowlers' Association tour events.
"We knew that we needed to expand our entertainment experiences in order to grow our business in another direction," said Royal Pin President Craig May. "Up until that time, we were such a league-focused business."
So in 2014, the company set its sights on group events. It spent $4.2 million to upgrade its north-side facility, adding non-bowling attractions. It also added both staff and resources and worked to land everything from corporate fundraisers to company parties and team-building retreats.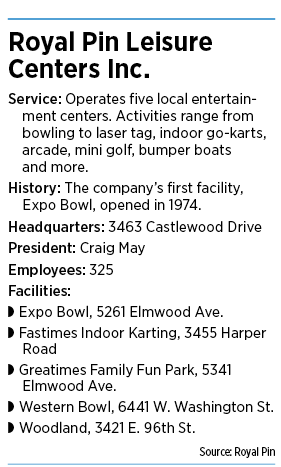 The gambit appears to have paid off. Royal Pin's group-events business has grown 20% each year over the past five years, and its Woodland facility alone hosts 60 to 120 group events each month. The company's two other bowling facilities, Expo Bowl on the southeast side and Western Bowl on the west side, each host 12 to 24 events a month.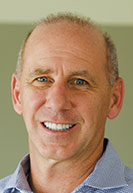 May
"Our revenues have doubled," May said, adding that the company saw a payback on its $4.2 million investment in about four years.
The company is privately held and declined to disclose revenue figures. But, May said, league play now represents only about 20% of Woodland's business. (At Expo Bowl and Western Bowl, league play accounts for 60% and 40% of revenue, respectively.)
During most of the year, about 70% of the company's group events are corporate gatherings—office parties, team-building events, charity fundraisers and the like. The mix changes in the summertime, when summer camps and other youth-related groups make up about 75% of group events.
Royal Pin's diversification strategy is in response to larger industry trends.
"Competitive bowling has become less popular," said Bob Johnson, who edits several bowling industry publications for Chicago-based Luby Publishing Inc. "People have so many other options for their limited free time."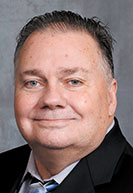 Johnson
The U.S. Bowling Congress, the sport's national governing body, had 1.34 million members in 2017-2018 and 33,368 certified bowling leagues. Just four years earlier, the organization had 1.69 million members and 57,472 certified leagues.
Non-league bowling hasn't seen the same precipitous drop, but the decrease in league bowling is significant because it represents a steady and more predictable stream of income than do casual bowlers.
In response to the trend, Johnson said, many bowling centers have diversified by adding activities like arcades, laser tag, escape rooms, mini golf and go-karts. "I think we started seeing it in earnest about 10 years ago."
Group events are also a popular diversification strategy, he said. Bowling facilities have long been venues for children's gatherings such as birthday parties, so "when they started to realize there was money to be made from adult events, it was a fairly easy transition."
Royal Pin took a multipronged approach to growing its events business.
As part of its 2014 investment in Woodland, the company took out 10 of the facility's 80 bowling lanes, using that space to build a 6,000-square-foot, two-level indoor laser tag arena. It also added 36 holes of miniature golf to an outdoor space between the Woodland facility and Fastimes Indoor Karting, which is an indoor go-kart track Royal Pin owns in a separate building.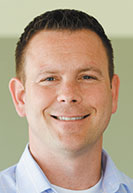 Clapper
The laser tag and mini golf not only provide additional entertainment options for all guests, they also offer team-building experiences for corporate groups.
Woodland added a separate bar to one end of the bowling facility, with separate lighting and sound systems along with more sofa-style seating and a movable privacy wall. The result: a private space for both group events and adult-oriented weekend gatherings.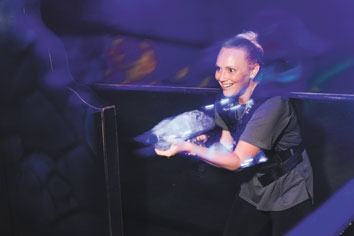 Woodland Bowl upgrades included removing 10 bowling lanes to make room for a laser tag arena. (IBJ photo/Eric Learned)
Royal Pin also upgraded its menu offerings beyond typical snack-bar foods. It now employs two chefs, plus a supporting kitchen staff, that can prepare buffet-style meals for up to 600 guests.
The company is preparing to expand its Woodland kitchen facility and add equipment that will enable it to better handle group events. Once that's complete, May said, Royal Pin plans to also expand the kitchens at its Western and Expo facilities.
Royal Pin has hired two full-time salespeople to book outside events. And it now has five special-events employees who oversee the details of each gathering.
Earlier this year, the company also invested in new project-management software to aid in event planning.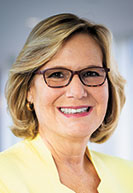 Donahue
"We really make sure the group, from A to Z, is taken care of," said Jimmy Clapper, Royal Pin's director of sales, marketing and event planning.
Many of the sales and event employees came from similar roles at national hotel chains.
Bringing on employees with specialized experience—especially a dedicated sales staff—seems like a smart move to Kim Donahue, a senior lecturer in marketing at Indiana University's Kelley School of Business at IUPUI.
Getting a family to visit for an afternoon of bowling and arcade games is different from persuading a company to book a corporate team-building retreat, Donahue said. One involves business-to-consumer marketing and the other involves business-to-business marketing, which requires a whole different approach.
Businesses might be able to rely on digital marketing to reach consumers, she said, but that approach won't fly in business-to-business communications.
"Most business-to-business sales are relationship-based," Donahue said. "The role of the personal salesperson is extremely vital."
Royal Pin's push to diversify has not been without road bumps.
Several months ago, the company began planning to add attractions to Southern Bowl, its 40-lane Greenwood facility.
After spending $300,000 on plans, the company couldn't make the numbers work, May said. Even a scaled-back version of the upgrades would have cost $8.1 million—more than Royal Pin was willing to spend. Southern Bowl closed last month.
Royal Pin also faces competition from other entertainment venues that are also going after the group-events business. Right now, Top Golf in Fishers is Royal Pin's biggest competitor for customers in the 25 to 40 age range.
But Clapper said he also sees groups who check out the latest competition, then return to Royal Pin. "We see a lot of repeat events."•
Please enable JavaScript to view this content.