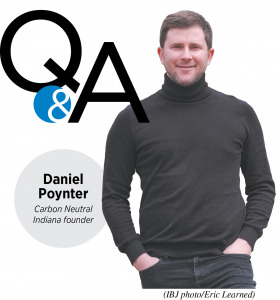 Daniel Poynter, a former software developer and executive coach to social entrepreneurs, spent 11 months in 2019 using his savings to study climate full time. He interviewed more than 200 people working in environment-related professions throughout the Midwest.
He shared what he learned from those interviews with more than 50 associates on Faceback and gathered feedback and ideas. From that process, Poynter, 34, and his friends "distilled the strategy for Carbon Neutral Indiana," he said. The project became part of the not-for-profit Indiana Forest Alliance in April 2020.
Its goal is to help Indiana become carbon-neutral by 2050—a challenge in a state that ranks among the top 10 in carbon emissions because of its reliance on coal and manufacturing.
Explain carbon neutrality.
Carbon neutrality means taking responsibility for our greenhouse gas emissions. It means investing in projects that soak up as much as you put out. It's like cleaning up your carbon trash—you don't just throw it out the window; you pay a trash company to take it away. By 2050, we need the entire world to be carbon-neutral, and we need Indiana to be carbon-neutral, too, by taking responsibility for all of our greenhouse gases.
Explain what Carbon Neutral Indiana does?
We're a not-for-profit, but we're a highly entrepreneurial one. We generate our own revenue. We sell monthly subscriptions to households and businesses to high-quality carbon offsets, and we earn a margin on that—it's a fundraiser for us. That's how we're creating a financial base, so we can do political work, education and so forth.
In the long run, we're going to be a facilitator. We're going to facilitate solar and wind, and maybe nuclear, [and] vegetarian diets—all the different climate solutions.
How does a business go about working with you?
It's a 1-2-3 process. First, we help the business, or a household, measure their carbon footprint. The second thing is, if they want to invest in high-quality carbon offsets to clean up their carbon footprint, they can buy them through us, and that supports our work. The third thing is, reduce. We can help them over time reduce their carbon footprint.
What have you found to be the biggest challenge so far in getting people to invest in what you do?
The biggest challenge is education, getting people to be aware that carbon offsets are an option. If they're aware, most people want to participate. The second challenge has been getting support from the philanthropic community. We've received no financial support from the philanthropic community so far. If we were a for-profit company, we'd have already received angel investment. Business investors are extremely interested in getting involved in climate right now.
Is there a reluctance on the part of some people to care about this locally, because they feel like it isn't going to make a difference if major countries and big companies don't do anything to deal with carbon?
Oh, yeah. A lot of people do say, "What about China?" or, "What about our competitors?" You can't win that argument on a strictly pragmatic basis. Carbon neutrality is just the right thing to do, and everybody needs to do it for the problem to be solved.•
Please enable JavaScript to view this content.