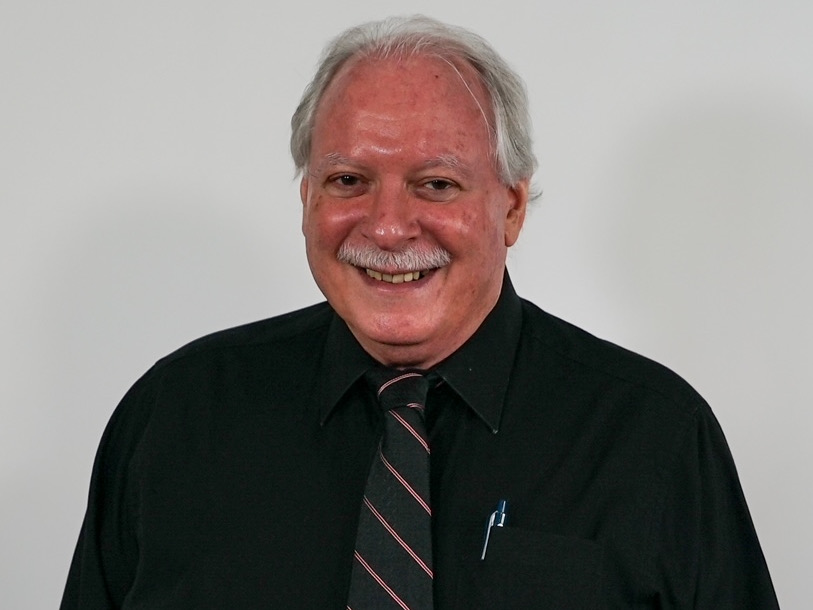 WIBC-FM 93.1 news anchor Stan Lehr said he's unaccustomed to the attention that's arrived since his retirement plans were announced last week. The 70-year-old native of Trenton, Missouri, doesn't make news, he covers it.
Reflecting on nearly three decades of reporting in Indianapolis, Lehr mentioned one memorable assignment as an example of what's deserving of the public's attention.
In 2009, Lehr delivered updates from the trials of James Stewart and Desmond Turner—two men convicted in the murders of seven people in an east-side house on Hamilton Avenue. Lehr said viewing a crime scene photo of 5-year-old Luis Albarran, the youngest shooting victim in the mass slaying that prosecutors said began as robbery, left an enduring impression.
"I want Luis Albarran to be remembered," Lehr said. "What counts is the story, not the storyteller. It's nice if you find yourself remembering me, but I don't need that. I've lived a good long life. Luis didn't get that."
Known for his full-bodied, resonant voice, Lehr will work his final on-air shift Friday afternoon.
He was hired by WIBC in 1993, the year before Emmis Communications purchased the station from the Horizon Broadcast Corp. In 2007, WIBC moved from an AM home at the 1070 frequency to FM and 93.1.
"Stan's voice has been with Indy through 9/11, the war in the Middle East, the loss of the space shuttle Columbia, the stock market troubles of 2008/9, the inaugurations of four presidents," wrote Chris Davis, WIBC news director, in a June 22 email to the station's employees. "And (Lehr) remained a calm and collected presence during the coronavirus pandemic."
Before his lengthy run at WIBC, Lehr worked for radio stations in Nebraska, Iowa and Kansas City, Missouri.
"I guess I always did have kind of a dominant voice," he said. "I could walk in a room and everybody turned and listened to what I was saying."
Lehr remembers writing a history report based on Texas Gov. Sam Houston when he was a second-grader in his hometown of Trenton, 90 miles northeast of Kansas City. The second-grade teacher selected Lehr and a classmate to read their reports to the school's fifth grade class.
"The fifth-grade teacher had a big smile on her face after I read mine," Lehr said. "She leans over and says to me, 'Young man, with a voice like that, you should be on the radio someday.' "
But Lehr downplays the importance of a "radio voice" in the field of broadcast journalism. As Davis wrote in his staff email, "Though Stan is gifted with a voice that could have taken him far on its own, he has never wanted recognition for that gift. Instead he has made it clear to all who work or have worked with him that strong writing, accuracy and excellence in delivery are the best ways to serve the listeners."
"Anybody's voice works, if it's just of modest quality," Lehr said. "So long as you're good at writing and presentation. You have to be a good reporter. No matter how good you sound, if the content isn't there it doesn't matter how much they like listening to you."
Lehr said he's had the age of 70 in mind for retirement for several years. He celebrated that milestone birthday in April, and his decision to exit the airwaves is unrelated to the pending sale of WIBC and other Emmis stations to media company Urban One.
Although listeners know Lehr for his straightforward on-air demeanor, WIBC afternoon hosts Jason Hammer and Nigel Laskowski have introduced a comedic side of Lehr on their "Hammer and Nigel" show.
The duo once pranked Laskowski's mother by playing out-of-context Lehr soundbites as one side of a phone conversation, and they've enlisted the news anchor to read tweets posted in response to social media commentary by O.J. Simpson.
"When I do those funny little things like I'm reading the tweets directed at O.J. Simpson, that's not me," Lehr said. "Hammer has written those things. I just read them. I email him the audio and he puts it all together. So I don't have to be that funny. Somebody else is being funny."
Please enable JavaScript to view this content.