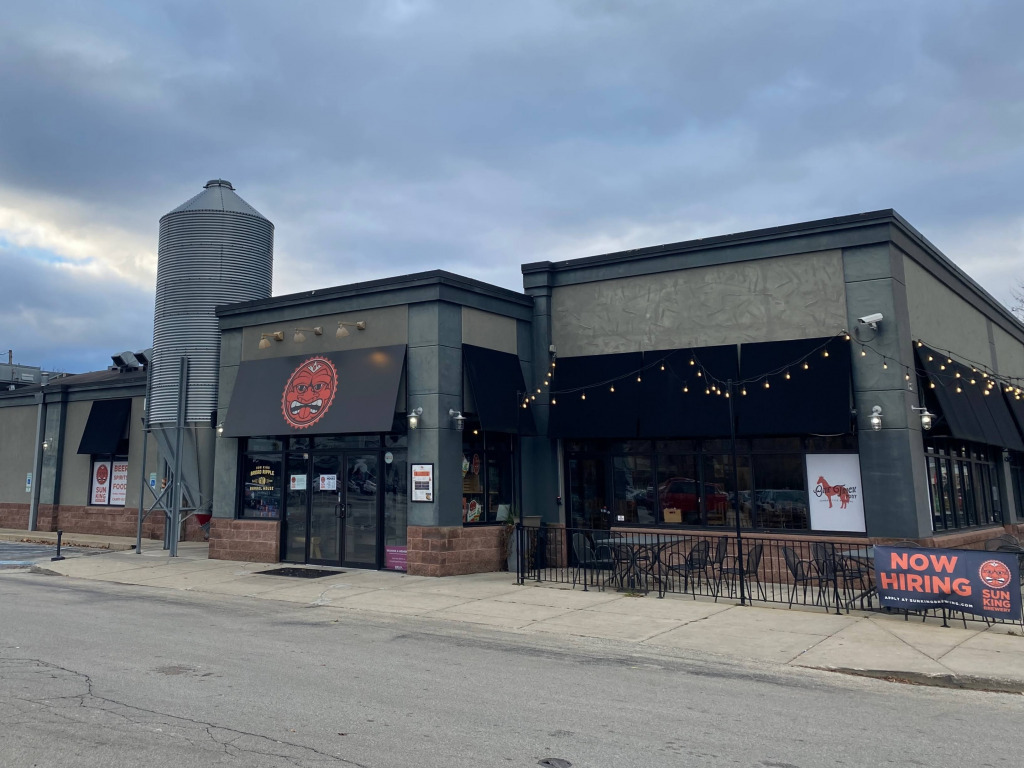 Citing an increase in rent costs and upcoming roadwork on Broad Ripple Avenue, Sun King Brewery plans to serve its final customers at the company's Broad Ripple taproom on Dec. 19.
Sun King co-founder Dave Colt described the decision to close Sun King Barrel House Broad Ripple as a "temporary break" from the neighborhood known for entertainment and nightlife.
Colt said Indianapolis-based Sun King likely will have a Broad Ripple presence in the future, but not at the same 1021 Broad Ripple Ave. address where Thr3e Wise Men Brewing Co. sold beer and food from 2011 to 2019. Sun King purchased the Thr3e Wise Men business at auction in 2019.
The Sun King site is part of the Broad Ripple Station retail center managed by Indianapolis-based LOR Corp. Attempts to reach a representative of LOR for comment were unsuccessful.
With construction on Broad Ripple Avenue between College and Primrose avenues planned for several months in 2022, Colt said a decrease in traffic and potential customers is inevitable. According to the Indianapolis Department of Public Works, segments of Broad Ripple Avenue will be closed across four months next year. The closures will affect one block at a time. The makeover will include upgraded stormwater infrastructure, widened sidewalks and new traffic signals.
"We are very thankful for the folks who visited our Broad Ripple location," Colt said. "We are sad to say we are ceasing operations momentarily."
Colt said no staff layoffs will accompany the taproom's closing.
"Everybody who works for Sun King Broad Ripple has been offered an opportunity to pick another location and go to work," he said.
Sun King, which opened its owntown brewery in 2009, has satellite locations in Fishers, Carmel, Kokomo and at Indianapolis International Airport.
Thr3e Wise Men was a Scotty's Brewhouse property. Indiana native Scott Wise sold the Scotty's Brewhouse chain in 2016, and Scotty's Holdings filed for Chapter 11 bankruptcy protection two years later.
Wise and a team of investors presently own Roots Burger Bar in Muncie. He plans to open Roots locations in Indianapolis and Carmel by February.
When Sun King opened its Broad Ripple location, the company brought on seafood restaurant Offshore as the onsite food vendor. Offshore subsequently was replaced by burger restaurant One Trick Pony.
Although One Trick Pony will exit Broad Ripple with Sun King, the companies will maintain an association in Hamilton County. One Trick Pony occupies one of the counter-service stalls at Fishers Test Kitchen, which operates at Sun King's taproom at Fishers District.
Please enable JavaScript to view this content.