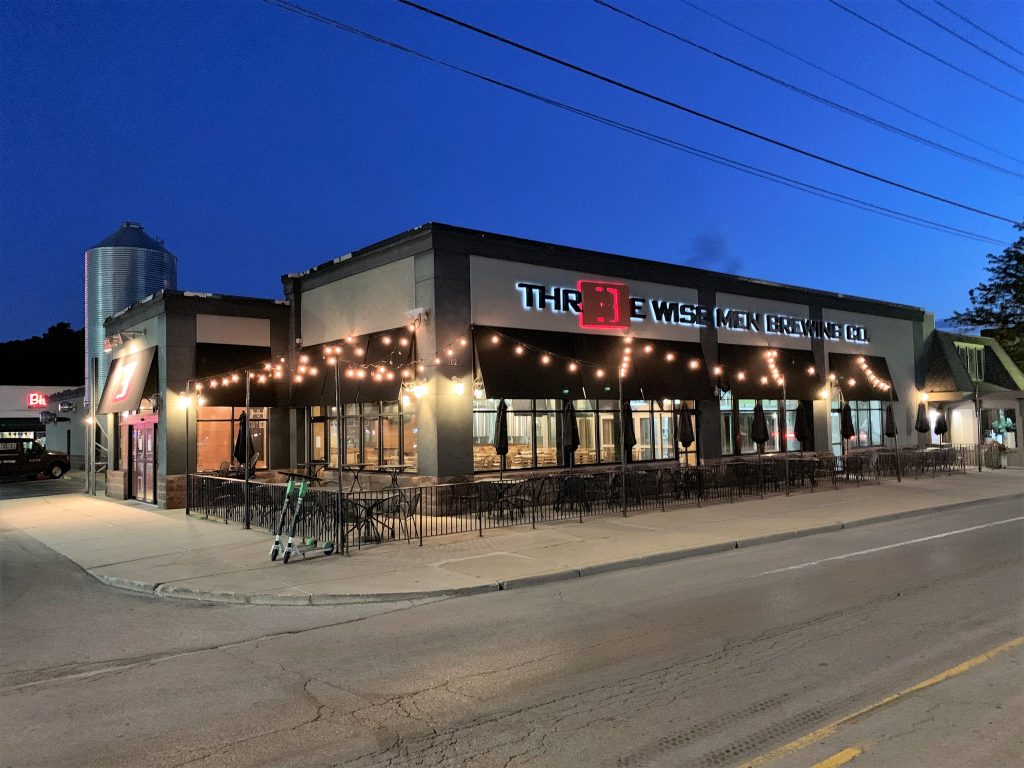 Sun King Brewing Co. plans to open a taproom in Broad Ripple this fall after taking over the microbrewery and restaurant recently closed by Thr3e Wise Men Brewing Co.
Indianapolis-based Sun King acquired the business assets of the Thr3e Wise Men location in an auction Thursday. It was the only bidder.
Sun King agreed to meet the minimum bid requirement of $299,000 for the lease, a three-way liquor license, dining room and patio furnishings, and brewing, kitchen and bar equipment at the site at 1021 Broad Ripple Ave.
The Thr3e Wise Men location, part of the fading Scotty's Brewhouse chain, shut down June 9. The microbrewery, which opened in 2011, supplied the Scotty's chain with its own brands of craft beer.
Sun King said it expects to take over the site Aug. 6 and begin rehabbing it.
The taproom will serve a wide array of Sun King beers, including core, seasonal, small batch, barrel-aged and sours, as well as spirits from Sun King's distillery and adult and non-alcoholic slushies.
Sun King said it will develop partnerships with independent local restaurants to provide food options for patrons, as it does at its locations downtown and in Carmel. It plans to take the same approach at the soon-to-open location in The Yard at Fishers District.
"The Broad Ripple area has been huge supporters of Sun King since our inception 10 years ago." said Sun King co-founder and owner Clay Robinson in written comments. "We already work with an abundance of non-profit and community organizations throughout the area, and this gives us the opportunity to have a greater presence and truly be a part of the Broad Ripple community."
Locally based Key Auctioneers promoted the auction as a turn-key business opportunity.
A potential bidder withdrew before the auction began, so Sun King had no competition for the package. Omar Robinson, Sun King co-founder and former president, conducted the transaction on behalf of the company over the phone.
The bid package included a lease for the property that runs until January 2021 and has extension options through 2036. The equipment includes a 30-barrel brewing system.
Sun King has three existing locations—a tasting room and brewery downtown, a tap room and small-batch brewery in Fishers, and a distillery and spirits bar in Carmel.
Key said nearly 20,000 cars pass by the Broad Ripple site daily. The property includes 54 parking spots, and the restaurant and patio have seating for more than 200.
"It's important to note that we couldn't have gotten to where we are today without support of the bars, restaurants, and liquor stores throughout Broad Ripple," Sun King co-founder and owner Dave Colt said in written remarks. "It is our goal for this taproom to help increase awareness and grow consumer demand for Sun King at our retail partners in the area."
Scotty's Brewhouse filed for Chapter 11 bankruptcy protection in December. Since then, at least 14 Scotty's and one Thr3e Wise Men locations have ended operations, leaving the chain with just three independently operated stores in Ohio and Illinois.
A Thr3e Wise Men tap room and restaurant location in Muncie, which previously had been owned by Scotty's, also remains open.
Please enable JavaScript to view this content.