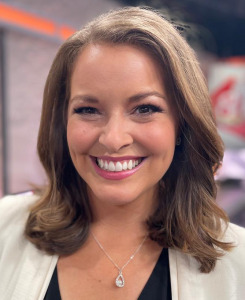 Brenna Donnelly, a weekend anchor and senior reporter for WISH-TV Channel 8 for the past four years, has left the station for a job outside the TV news business.
Donnelly's last day at WISH was Oct. 31. She said in a social media post last week that she would be taking a position "telling health care stories with Ascension St Vincent starting in November, working daytime hours and spending nights and weekends with my growing family."
The departure of Donnelly follows several recent exits at WISH. Statehouse reporter David Williams left in late September and anchors Nina Criscuolo and Brooke Martin departed in August.
Donnelly, a Fishers High School graduate, joined WISH in July 2017 as a reporter and became a weekend Daybreak anchor the next year. She also served as a fill-in anchor on weekday mornings.
Prior to joining WISH, Donnelly spent two years as an anchor with KFDX-TV, an NBC affiliate owned by Nexstar in Wichita Falls, Texas.
A graduate of Brigham Young University, Donnelly had internships in Phoenix, New York City and Salt Lake City, then put her career path on hold for two years to serve as a missionary in Japan.
She didn't rule out returning to broadcast news in the future.
"I may go back to TV journalism, but for now I'm signing off and signing onto a more stable adventure for my family," Donnelly said.
Criscuolo, a weekend evening anchor and community reporter who spent more than seven years at WISH, left the station to become a self-employed birth doula and videographer based in Avon.
Williams spent four years covering politics for WISH before taking a job as evening anchor and reporter at Spectrum News in Louisville.
Martin spent almost nine years at WISH as an evening anchor before her resignation in August. She has since launched her own website and is offering her services as a personal life coach and public speaker.
Please enable JavaScript to view this content.