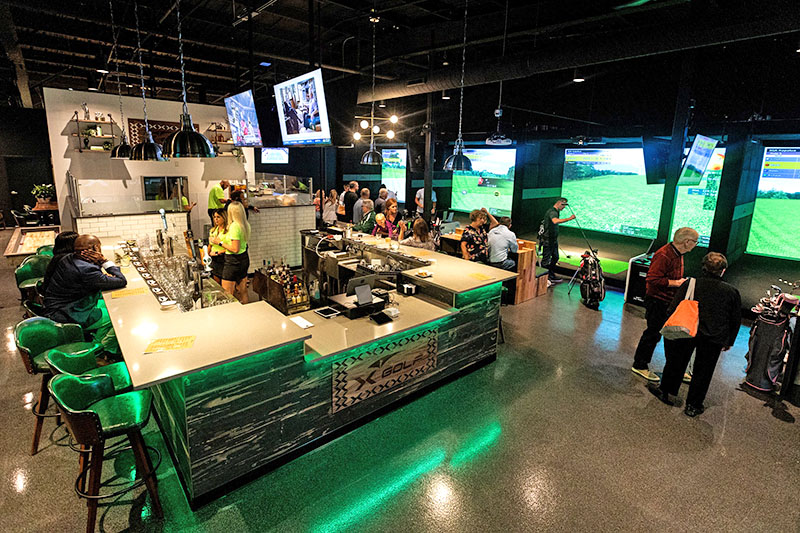 The franchisee who opened the state's first X-Golf golf entertainment center in Carmel two years ago is now working to open a second spot in Plainfield, with plans for additional Indianapolis-area locations after that.
The Plainfield store will occupy a 7,800-square-foot spot in the Shops at Perry Crossing shopping center. Franchisee Jared Perras of Carmel said he expects to have the venue open in November.
X-Golf locations are indoor centers built around the company's golf simulators, which offer virtual play at dozens of different courses of varying difficulty levels. The Plainfield center will feature six golf simulators, along with televisions, food and a large bar. Perras is pursuing a three-way liquor license that will allow the location to serve beer, wine and liquor.
According to X-Golf's website, franchisees must pay a franchise fee of $30,000, and the cost to build out an X-Golf center typically ranges from $400,000 to $600,000.
X-Golf also offers league play, lessons and memberships.
Perras grew up in the Detroit area, where his parents owned and operated two McDonald's restaurants. He went on to earn an undergraduate degree in marketing and a master's degree in management, and currently works in sales in addition to being an X-Golf franchisee.
Perras opened his Carmel store, located in the Clay Terrace shopping center, in October 2019.
He said he's already thinking ahead to additional locations. "As long as they're [the Carmel and Plainfield locations] doing well, the plan is to continue to grow in the Indianapolis area," he said.
Perras said he will likely start scouting for a third location early next year, maybe in downtown Indianapolis. He believes the metro area could handle up to five stores total, although his franchise agreement does not obligate him to open a set number of stores.
X-Golf began developing golf simulators in 2005 in South Korea and has since sold more than 3,000 simulators worldwide. The simulators use a combination of camera systems, infrared lasers, impact sensors and advanced gaming software to create accuracy and realism for players.
The company launched its U.S. franchising operations, X-Golf America, in California in 2016. It currently has 34 X-Golf centers operating in 11 states, including 12 locations in Michigan. Another 37 locations are currently in development.
Please enable JavaScript to view this content.