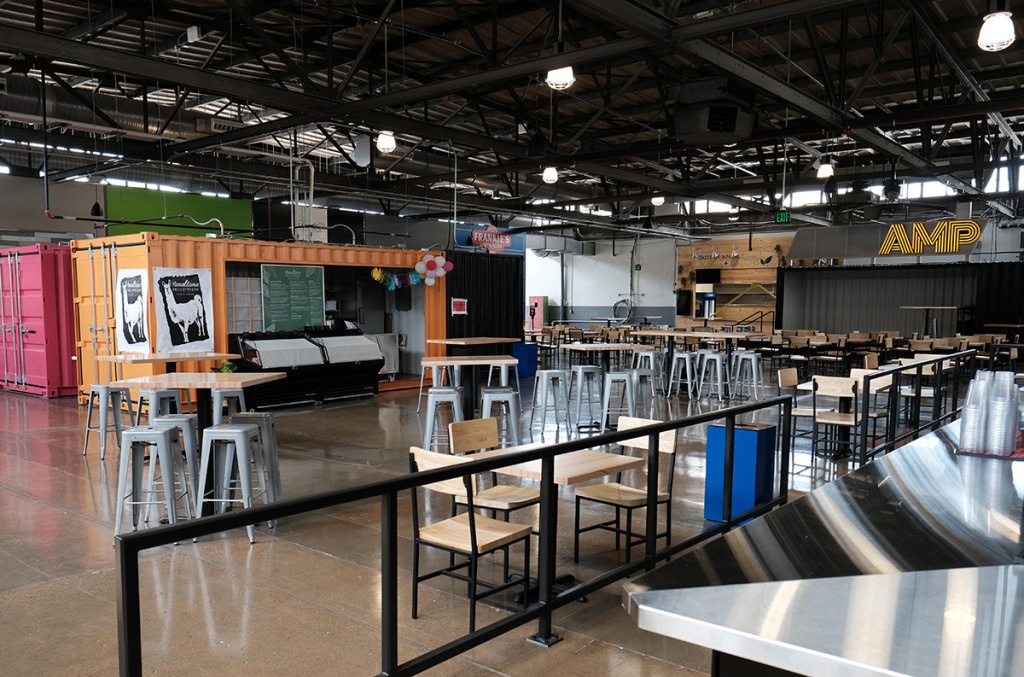 Nine of the 20 signed tenants at 16 Tech's artisan food hall, The AMP, have already opened for business. And most of the rest are set to do so before the facility's grand opening June 21-27.  (See below for tenant descriptions.)
The AMP is a 40,000-square-foot space in the HqO building at 1220 Waterway Blvd., on the campus of 16 Tech, just north of IUPUI. The facility was built in 1959 to house the Indianapolis Water Co. Other HqO tenants include 1776, a co-working space; and Machyne, a maker space. Both opened in March.
The AMP features vendor spaces feature both walk-up restaurant stalls and converted shipping containers, as well as a stage and seating area designed to host gatherings and special events.
All but one of the signed tenants operates a restaurant or other food- or drink-focused establishment, ranging from coffee-and-dessert places to a deli, fish market, pizza parlor and more. Two more vendor spaces are available.
"We have a little bit of every cuisine," said restaurateur and chef Craig Baker, who designed The AMP and oversees its operations.
Of these businesses, 65% are minority- or woman-led or owned business. And 56% of the businesses are new concepts.
Still to come is Melon Kitchen, a restaurant accelerator for Black chefs. The three-month program will take five chefs at a time through a curriculum where they learn the business aspects of running a restaurant, while also making and selling food to The AMP's patrons. The program is expected to launch within the next few months.
Baker is working to secure tenants for two larger vendor spaces at The AMP. He's seeking a full-service restaurant operator for a 3,500-square-foot space, and a brewery operator for a 3,000-square-foot space.
The AMP's big-picture goal, Baker said, is to provide a place where chefs and restaurateurs can build their businesses and develop a following.
"I want to find out who the next Jon Brooks is," said Baker, referencing the renowned local chef who operates restaurants Milktooth and Beholder.
To that end, rent costs as little as $20 a day, utilities included, for the 20-foot shipping containers, which represent the smallest of the vendor spaces.
And The AMP's event space, which could be used for anything from concerts to lectures to a farmer's market, creates a potential catering opportunity for vendors.
"It is really designed to be more of a community center than a food hall," Baker said of The AMP.
The AMP is open six days a week. Hours are 7 a.m. to 10 p.m. Mondays through Thursdays, and 7 a.m. to 11 p.m. Fridays and Saturdays. Individual tenants' hours may vary.
Details on the tenant lineup:
Open now:
Andre's BBQ and Seafood: Owner Andre Louissaint offers meats, seafood and side items flavored with international seasonings.
Boba and Everything: A bubble tea and bagel shop owned by Liza Christian.
Circle City Sweets: A French and American bakery specializing in croissants, artisan breads and pastries. Owner Cindy Hawkins moved the business from City Market in March.
Frankie's Pizza Parlor: New York-style pizzeria owned by George Turkette, who also owns Turchetti's butcher shop and deli in Fountain Square.
Hiatus Bar: Owned by Josh Baker, who also owns the Hi-Fi concert venue in Fountain Square.
Prox Salads: Owner Hayden Haddox also has a location at City Market.
Punkin's Pies: Bakery specializing in chocolate-dipped fruit and gourmet apples. Owner is Joanna Wilson.
Tinker Coffee: Coffee shop with breakfast and lunch items and treats. This is the first retail location for owners Jeff Johnson and Steve Hall, who operate Tinker's Coffee Co. roastery on West 16th Street.
Yamallama Deli: Grab-and-go salads, sandwiches and soups from owner Rob Frye.
Opening soon:
Azucar Morena: Venezuelan cuisine. Owner Andreina Paredes Angulo also has a location at The Garage Food Hall at the Bottleworks District.
Black Orchid Barber Lounge: Owner Travis Moore also has locations at 613 N. East St. in Mass Ave , and at 820 E. 116th St. in Carmel.
The Food Architect Natural Drink and Sea Moss Bar: Offers whole-fruit, herb-infused drinks, alkaline water, sea moss and herb mixes. Owned by Corey McDaniel.
Fresko: Italian and Latin cuisine including traditional pastas, Latin street foods and a fusion of both. Owner is Kevin Pillco.
Healthy Soul: Healthy farm-to-table soul food. Owner is Tawana Gulley.
Limon: Taco bar owned by Violeta Moranchell.
Mambo's Cheesesteak Grill: Philly cheesesteaks and sandwiches with a South American influence. Owner Carla McDaniel also operates a Mambo's at City Market.
PB&J Factory: A sandwich shop and cereal bar operated by Sam Campbell, the co-founder of tech-focused not-for-profit Code Black Indy; and Nicco Edwards, who also operates Exotic on the Run seafood restaurant.
Poke Guru: Rice, seafood and other sushi ingredients served in a bowl with scratch-made sauces. Owner Adam Odgaard also has locations at City Market and The Garage Food Hall.
Taste of Innova Wings and Greens: Offers chicken wings, greens and sides. Owner is Kara Hawkins, founder of the marketing firm Innova Artis.
Waterways Fish Market: A fish market operated by Kathy Jones, executive chef at not-for-profit Second Helpings Inc.
Please enable JavaScript to view this content.