Australia-based Telix Pharmaceuticals Limited announced Wednesday that it has moved its U.S. headquarters to a new location in Fishers.
Telix Americas is leasing 10,000 square feet of office space in the 40,000-square-foot Crew CarWash headquarters building at 11700 Exit Five Parkway, near Interstate 69 and East 116th Street.
Telix Pharmaceuticals previously established its United States base of operations in a 2,600-square-foot space in the Flexware building on Fishers' municipal plaza in spring 2020.
The radiopharmaceutical developer and manufacturer will house 33 of its approximately 100 U.S.-based employees at the new headquarters. The company has almost tripled employment in Fishers over the past 15 months.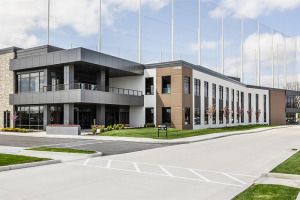 "Telix's growth, combined with top-tier workforce and lifestyle amenities, is what continues to establish Fishers as a leader in life sciences in central Indiana," Mayor Scott Fadness said in written remarks.
Telix Pharmaceuticals primarily focuses on the development of diagnostics and therapeutic products using molecularly targeted radiation, including a portfolio of clinical-stage products related to oncology and rare diseases.
In addition to its operations in Melbourne, Australia, and Fishers, the company has operations in Belgium, Switzerland and Japan.
Telix Pharmaceuticals developed its first commercial product, Illuccix, following millions of dollars worth of research and clinical tests. The U.S. Food and Drug Administration approved the prostate cancer imaging agent in December 2021.
Fishers officials are positioning the city as a hub for the life sciences. That includes planning the Fishers Life Sciences and Innovation Park at the southwest corner of 126th Street and Cumberland Road that will be anchored by Italy-based Stevanato Group, which plans to invest $512 million in its facility and hire 515 employees by 2031.
INCog BioPharma Services in 2020 announced plans to build a $60 million biopharmaceutical manufacturing facility at the northwest corner of Exit 5 Parkway and Cumberland Road. Fadness has pointed to that announcement—and others from Bangs Labs, Genezen and Project Process—as evidence of the life science industry's interest in the area.
The recently completed two-story Crew Carwash corporate headquarters was developed by Meyer Najem and designed by Cripe Solutions and Parallel Design Group. Crew occupies the first floor of the building.
Please enable JavaScript to view this content.