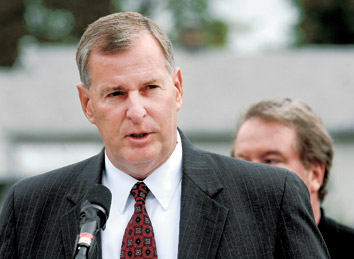 Former Indianapolis Mayor Greg Ballard has ruled out a run for Congress next year.
Ballard, 64, had been one of several Republicans suspected of being interested in running for Indiana's 5th District, which is being vacated by Rep. Susan Brooks next year.
Brooks, who has represented the district since 2013, announced in June she wouldn't seek re-election. The district includes the northern portion of Indianapolis along with at least parts of Hamilton, Madison, Grant, Tipton, Blackford, Boone and Howard counties.
Ballard released a statement Thursday afternoon that said he is moving to Hamilton County with his wife, Winnie, but he's not running for the open seat.
"During the past few weeks I have been heartened by the kind words of encouragement to run for Indiana's Fifth District in the U.S. House of Representatives," Ballard said in a statement. "While Winnie and I have decided to downsize, and move to Hamilton County as part of that process, I will not be running for Congress. I'm grateful for the expressions of support and I look forward to continue to serve my community, state, and nation in other ways."
Ballard served two terms as mayor of Indianapolis, from 2008 to 2016.
The Democratic Congressional Campaign Committee has the district on its list of targeted races for 2020. Former Democratic state lawmaker Christina Hale announced in July that she is running for the seat, and Dee Thorton, who unsuccessfully ran against Brooks in 2018, is also running.
Please enable JavaScript to view this content.