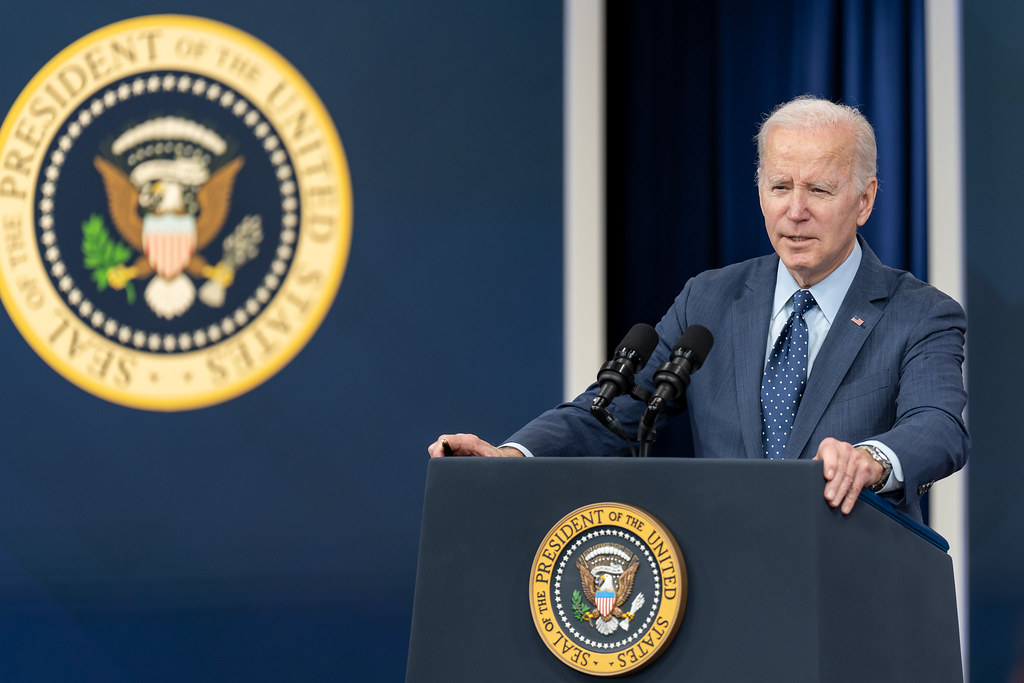 President Biden is expected to issue the first veto of his presidency after the Senate passed a bill Wednesday that would revoke a Labor Department rule allowing the managers of the agency's vast retirement funds to use climate-oriented and social criteria when making investments.
The Senate passed the measure after Sens. Jon Tester, D-Mont., and Joe Manchin III, D-W.Va., crossed party lines and joined the Republicans, providing the key pieces of the 50-46 majority needed. Both senators are up for reelection next year in heavily Republican states. Four senators abstained. The House passed the bill on Tuesday.
The measure takes aim at big asset managers who often use criteria that they believe are crucial for building a portfolio that can withstand changes, especially climate changes, over the coming years. These criteria are known as ESG—environmental, social and governance—and have become sensitive political and cultural touchstones, with critics calling them evidence of "woke" financial institutions.
Manchin defended his vote, calling ESG "an example of how our Administration prioritizes a liberal policy agenda over protecting and growing the retirement accounts of 150 million Americans." He said the White House was pursuing "a politicization of Americans' 401(k)s."
Tester posted a statement on his webpage saying that "we need to be focused on ensuring Montanans' retirement savings are on the strongest footing possible." He said, "I'm opposing this Biden administration rule because I believe it undermines retirement accounts for working Montanans and is wrong for my state."
Both lawmakers come from states whose economies rely heavily on fossil fuels.
Senate Majority Leader Charles E. Schumer, D-N.Y., criticized Republicans for seeking to undo the Labor Department rule, which is voluntary and doesn't require fund managers to do anything.
"Republicans talk about their love of the free market, small government [and] letting the private sector do its work," Schumer said. "But their obsession with eliminating ESG would do the opposite, forcing their own views down the throats of every company and investor."
Senate Minority Leader Mitch McConnell, R-Ky., said on Tuesday that "the Biden administration wants to let Wall Street use workers' hard-earned savings to pursue left-wing political initiatives."
The bill falls under the Congressional Review Act, which allows Congress to claw back rules issued by a federal agency provided the rule has not been in effect longer than 60 legislative days. It comes against a backdrop of state-level officials who have been attempting to block the use of ESG by the managers of state pensions and investors in state and municipal bond offerings.
If Biden vetoes the measure, a two-thirds majority of Congress would be needed to override. President Donald Trump vetoed 10 bills and presidents Barack Obama and George W. Bush each vetoed 12.
"Today's bipartisan vote makes clear what we have long said: ESG is an attempt to circumvent the democratic process to advance an inherently political agenda," said Derek Kreifels, the chief executive of the State Financial Officers Foundation, which has worked with state attorneys general and treasurers. "Any move to supplant or dilute the fiduciary duty would undercut the foundations of our economic freedom and harm the American worker."
But climate activists called the vote bad policy and bad for the environment. While big asset managers who use ESG tools have been accused of violating their fiduciary obligations, the asset managers have replied that ESG choices are often needed to fulfill their fiduciary obligations.
"Today, the American people lost, and big oil and gas lobbyists won," the Climate Action Campaign, a coalition of major environmental and public health groups, said in a statement. "The Senate just took a big government action that limits free market investing, further threatens our climate and environment, and endangers the retirement security of millions of Americans," the coalition wrote.
Despite the victory in Congress for critics of ESG, members of state legislatures around the country, including Republican strongholds, have balked at interfering with investment decisions by major financial institutions, in part because such restrictions cause substantially high borrowing costs.
Please enable JavaScript to view this content.