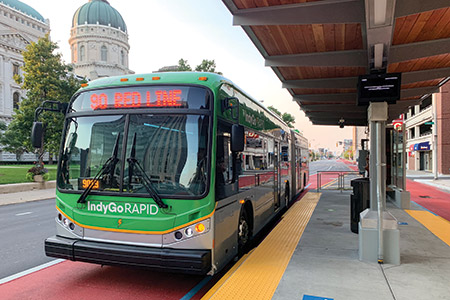 The Indiana Senate voted Thursday to put teeth in a 2014 state law that required IndyGo to raise private dollars to help finance its mass transit operations, including the Red Line—something it has not done to date.
IndyGo officials say the legislation—which still requires final votes in the House and Senate—could significantly jeopardize its operations and its ability to build the planned Blue and Purple rapid transit lines. And they say the move comes just as IndyGo is launching a foundation that will allow it to raise money.
Sen. Aaron Freeman, the Indianapolis Republican and former city councilor who authored the language, said his goal is not to cripple IndyGo's operations but to hold it accountable to the 2014 law.
That law authorized a 0.25-percentage-point increase in the city's income tax rate to fund IndyGo operations and new services—with approval from the City-County Council and Marion County voters. The law also said that IndyGo would be required to provide a 10% match of that new income tax revenue, raised only from private sources, not fares or taxes.
The tax went into effect in October 2017 and is generating about $60 million per year. Freeman said that means IndyGo would need to raise about $6 million per year to meet the law's threshold, but the agency has so far not raised any private money.
The law, however, did not include any penalties. Freeman said that's what he is seeking to change.
"They've raised zero dollars since November 2016 when the referendum was passed," Freeman told IBJ. "We all knew that's what the law was. It's disingenuous now to say they don't think they have to follow the law."
The original requirement that IndyGo use private funding to match the income tax revenue grew out of concern that private companies—some of the biggest advocates for an expanded transit system—would not be required to foot the bill for any of its costs. Initially, the 2014 legislation included a tax on corporations that would cover 10% of the system's operating costs. But lawmakers removed that tax in favor of the provision requiring IndyGo to raise private money—with the belief that area companies would be willing to contribute.
Freeman's amendment—which the Senate voted 35-12 to add to House Bill 1279—would require the state to withhold 10% of IndyGo's local income tax revenue in years that it failed to meet the private funding threshold. Freeman said the money would be released once IndyGo raised its match.
The amendment would also ban IndyGo from moving forward with expansion projects—including the planned Blue and Purple lines—until it secured the private funding.
Several Indianapolis lawmakers argued that could be devastating for IndyGo, its customers and the city.
"It will stunt what is progress right now," Sen. Jean Breaux, D-Indianapolis, said as she urged senators to vote no. "We need to give this a chance to be completed, give it a chance fulfill its mission."
Sen. Greg Taylor, D-Indianapolis, said the IndyGo has issued bonds based on the revenue from the income tax. "If you change the structure, you're going to make those bonds callable," he said.
He urged senators to vote against the amendment, saying that no other local transit system is required to raise private money for operations. "This is not the way to do this," he said.
Mark Fisher, who serves on the IndyGo board, said the agency has been working since 2018 to set up a foundation that will be used to raise private money. The foundation, which just received approval for its tax-exempt status, is housed at the Central Indiana Community Foundation.
Fisher, who is also the Indy Chamber's chief policy officer, said it took time for IndyGo to find the right partner for the foundation and that it now has a CEO and board. Fisher is the foundation's treasurer.
"We are now in a position to start to do what was required in the 2014 legislation," Fisher said. "This language is going to halt our progress."
The Senate put the language in a bill that otherwise addresses a regional development group in northwest Indiana. The bill is eligible for a final Senate vote on Monday, and if approved, will return to the House, which will consider Senate changes.
Senate President Pro Tem Rodrick Bray said the bill is "not really trying to overtake or even kill or cancel a mass transit project that Indianapolis is working on." But he said the original law "was pretty clear" that IndyGo needed to raise private money for its operations.
"They simply did not do it," he said. "This is trying to say, 'No, no, we meant that.'"
In a statement on Thursday night, IndyGo said that nearly 60% of Marion County voters had approved the tax that made mass transit expansions possible.
"IndyGo has already made changes to the network to increase service and plans for future capital projects with a goal of a 70% increase in service," the agency said. "The amendment, as it's written today, would jeopardize IndyGo's ability to implement the plan voters supported, and the additional service IndyGo has already introduced."
City-County Council President Vop Osili said the legislation threatens to silence the votes of those who said yes to a transit tax.
"Even more concerning, it threatens to disrupt connectivity to food, health care, education and employment for our city's most vulnerable residents," Osili said in a statement. "Public transit is not only critical to economic development in Indianapolis, it is key to addressing the racial and social disparities in our community that our council just this week unanimously pledged to end."
Sen. Jim Merritt, R-Indianapolis, was among the no votes on the amendment. But he told IBJ his opposition is not to the language but to adding it to HB 1279.
He said Freeman's proposal should be considered in a committee, where lawmakers could seek more information about the problems IndyGo has had rolling out the Red Line.
"I truly believe IndyGo and the whole operation should come forward with an explanation and just a complete report on what's going to be different next time, when they start working on the Purple and Blue lines," Merritt said.
IndyGo's launch of the Red Line last September was marred by problems with technology and a shortage of bus drivers that combined to make the buses run significantly later and less reliably than promised. Problems with its payment system—which IndyGo has blamed on private vendors—meant it did not begin collecting fares until December.
And the electric buses it purchased have not been able to go the distance on a single charge promised by the manufacturer.
Please enable JavaScript to view this content.