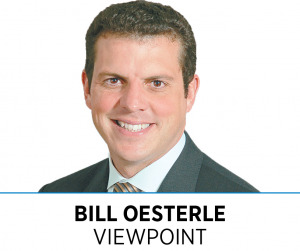 Recently, local blogger and self-described urban consultant Aaron Renn penned an article ["Revisiting Mitch Daniels' 'Truce' on Social Issues," May 4, aaronrenn.substack.com] dismissing the gubernatorial achievements of Mitch Daniels and advising Hoosier Republicans to pursue his version of a socially conservative agenda instead.
Aaron's piece is remarkable for its revisionism, tortured logic and factual errors. I don't have nearly the space to attempt a point-by-point rebuttal. Mark Lubbers wrote a good one that you can find here. Instead, I will focus on his broader themes.
Aaron completely disregards Indiana's perilous economic condition in 2004. He seems to imply that erasing $700 million in debt, reforming a broken property tax system, solving a massive infrastructure funding gap, negotiating the Great Recession and so on had no positive impact on the state. Instead, he bemoans that Mitch and his lingering "Indianapolis Establishment" influences have cost Indiana its socially conservative soul.
It is a strange anti-elitist conspiracy argument that attempts to appeal to rural Republicans by painting them as oppressed little guys. It also completely ignores the fact that Mitch crushed the self-styled social conservative Eric Miller by 50 points in the 2004 primary. Eric made similar arguments back then, and rural Republicans overwhelmingly supported Mitch.
In spite of the many problems with Aaron's historical analysis, his policy advice is worse. He thinks Indianapolis "Establishment Republicans" run everything. They don't, by the way. He warns that they better pay more attention to the issues that matter to rural Republicans. As an example, he advises Gov. Eric Holcomb to conduct a "victory tour" promoting the passage of a law that allows Hoosiers to carry a gun without a permit.
That suggestion sounded odd to me, but, according to Aaron, I am a "Metro Elite."
So, for a fresh perspective on this, I called my buddies at the Cass County Fine Arts and Crappie Fishing Society. These are some 70-year-old guys that I hunt, fish and drink beer with from time to time. Unlike Aaron, they have owned and shot guns their entire lives. They are card-carrying NRA members, never attended college and all became successful fathers, farmers and business owners. They stepped out of central casting as Hoosier Rural Republicans.
When I asked their titular leader Gary Yeakley his opinion of the permitless carry law, he called it "the dumbest idea I ever heard" and "a solution missing a problem." I don't have statewide polling to support it, but I suspect Gary's opinion is widespread. The problem with Aaron's is that he assumes rural Republicans are stupid. He thinks they can't recognize pandering when they see it. Oddly, he seems to be the elitist.
I have always found rural voters smart. They are practical and discerning. In 2004, Mitch appealed to that practicality when he asked, "Why don't we start with the problems we all agree on?" They responded overwhelmingly.
Fast forward to the recent Republican primary. Aaron warned of a "coming rupture" in the party. He pointed to 21 legislative primary challenges as evidence. Interestingly, 19 of those challengers lost—by wide margins.
Indiana still has a lot of big problems that we can all agree on. Hoosier leaders would be wise to follow Mitch's lead and work on those.•
__________
Oesterle is the co-founder of TMap and Make My Move. He was the campaign manager for Mitch Daniels' first run for governor.
Please enable JavaScript to view this content.